Archived News
Tribal housing reorganization still stalled
Wednesday, November 14, 2018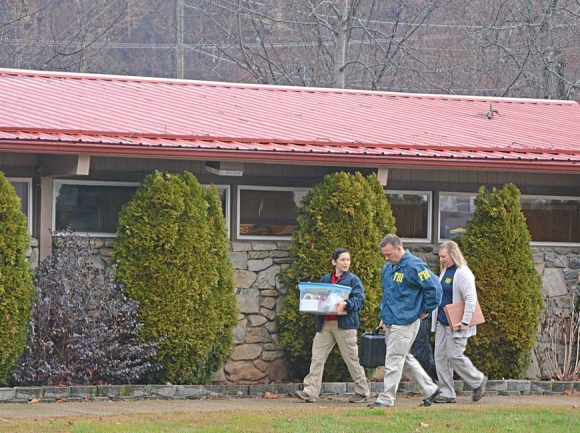 FBI agents raid the Qualla Housing Authority in February 2017. Holly Kays photo
For the second time in less than a month, an ordinance that would abolish the Qualla Housing Authority and place all Cherokee's housing services under the Department of Housing and Community Development has been tabled.
Councilmembers in favor of tabling said that the plan to abolish the department and reassign services is not yet well enough developed to move forward.
"I can't vote to pass without knowing exactly what I'm passing besides just a merger," said Chairman Adam Wachacha, of Snowbird. "We can merge stuff all day long, but without the plan, is it going to work or not?"
As soon as the resolution was read during the Nov. 1 meeting, Councilmember Perry Shell, of Big Cove, moved to table it, saying that "I think we owe it to the tribe and the employees and the department" to give it more thought. Councilmember Tommye Saunooke, of Painttown, seconded the motion.
The move drew visible frustration from Secretary of Housing Travis Smith and Principal Chief Richard Sneed, who were asking for the merger. Smith requested that council either pass it or allow him to withdraw it — tabling would do no good, he said.
"We've had a lot of discussions on this. We've had multiple work sessions. We've met with employees twice, we've met with Tribal Council in a separate visit to discuss this," agreed Sneed. "We've met with the housing board. If it remains tabled and we do another work session there's really nothing else to say that hasn't been said already."
Ten years' worth of audits have shown that something has to change in Qualla Housing, Sneed said, those audits revealing lax recordkeeping and questionable accounting practices.
History of turmoil
The FBI has also found Qualla Housing's practices questionable.
In October 2016, the bureau sent the program's then-director Charlene Owle a letter informing her that the program was under investigation for "possible criminal conduct related to certain loans and loan applications, among other matters" and that destroying pertinent documents would be considered a federal crime. Agents raided Qualla Housing offices in February 2017, removing two U-Hauls full of documents. According to then-Principal Chief Patrick Lambert, the raid took place following multiple reports of forbidden document shredding.
In May 2017, days before the impeachment proceedings that would culminate in his removal from office commenced, Lambert released a forensic audit his administration had commissioned from RGL Forensics to look into alleged wrongdoing at Qualla Housing.
The 210-page document contains a multitude of examples in which Qualla Housing — the authority is overseen by a six-member board composed of Tribal Council members — had allegedly bent the rules, broken the law and failed to keep proper records.
Red flags included questionable business trips Owle went on with Qualla Housing funds, a laundry list of accounts with suspicious charges and poor internal controls. Auditors requested documentation for 525 transactions they had selected as a sample but were never provided with any documents for 149 of the transactions, which included 39 checks, 100 deposits, one credit and nine debits.
"This lack of documentation indicates potential problems with record-keeping and, in some cases, raises some suspicion as to the nature of these transactions," the report reads.
Owle was never fired from her position, but Qualla Housing has been without a director for the past three months because she eventually resigned, Sneed said. No charges have been filed related to activities at Qualla Housing, but the FBI has not finished its investigation in Cherokee.
This is not the first time somebody has attempted to dissolve Qualla Housing. In February 2017, on the same day that FBI agents were raiding the authority's headquarters, Lambert submitted an emergency resolution directing the tribe's secretary of housing to take control of all Qualla Housing functions and property and begin the process of dissolving Qualla Housing to merge its functions with the Department of Housing and Community Development.
Tribal Council did not support the idea then, either, voting to table it in February and keeping it tabled through March and April until it eventually disappeared from the agenda. At that time Lambert would have had difficulty receiving support for any legislation he submitted, as the political atmosphere was extremely contentious and culminated with his removal from office by impeachment in May.
Tabled again
Qualla Housing has slowed down considerably from its heyday, when it was building 30 homes per year for low-income tribal members. Now that number is more like two or three. According to Sneed, that's because higher per-capita payments mean that fewer tribal members qualify for the HUD-funded homes, and because most of the easily buildable land in mountainous Cherokee has already been taken. Today, Qualla Housing employees spend most of their time rehabbing old rental homes.
"We're spending all this money recycling it through properties that should have been depreciated out years ago," said Sneed. "That's not sustainable. That's not responsible. If you worked in the construction industry or as a property manager, you wouldn't do that. You wouldn't do that with your money, but we're doing it with the tribe's money."
While the majority felt that the resolution wasn't ready to pass, some councilmembers agreed with Sneed.
"I think we're still kicking the can down the road," said Councilmember Boyd Owle, of Birdtown.
"We're all afraid of change but this has been coming for 11 years, this change, and I think we've got most of the information we can get on it," agreed Councilmember Tom Wahnetah, of Yellowhill.
Part of the urgency to pass the resolution stems from the funding situation, Sneed said in October. Qualla Housing is set to run out of money, but if Tribal Council approves the reorganization soon, it can save the tribe $2.5 million and ensure that nobody loses their job, he said.
Wachacha said that ultimatum felt like "having a gun barrel pointed over your head" but said he wasn't confident the merger would be successful given the information he had in front of him. He told Smith that, should the merger fail, it would be on his hands.
"All the pressure's on yourself in that position, because if it's not successful who does it look bad on then?" he said. "That's what I was trying to foresee and look ahead. If it works it works. Prove me wrong, but I don't see it because I don't have a plan in front of me."
"You say this is a lot to take on and it falls on my shoulders. It will," said Smith. "This is one of the things we have to look at as an overall. I'm not doing this for myself. I'm not doing this for the chief. I'm doing this for the tribe and the employees."
However, Smith said, he can't give Wachacha all the information he's looking for, because he doesn't have it.
"You have to look at the overall picture," Smith said. "It's not what the plan is today. We have to look further down the road. We talk about how many houses we're going to build. It's still unknown."
Smith said that's because none of the tribal programs track how many people need homes, how many people need land and other such metrics.
"To get to a point where we need to be I've got to fix some internal problems first so we can start tracking those things," he said.
The resolution wound up with three moves — a move to table from Shell, with a second from Saunooke; a move to pass from Wahnetah, with a second by Councilmember Albert Rose, of Birdtown; and a move to withdraw from Councilmember Bo Crowe, of Wolfetown, which failed to gain a second.
Wachacha called for a vote on the move to table. As when the vote first took place in October, the decision to table was a close one. This time Owle, Wahnetah, Rose and Councilmember Bucky Brown, of Snowbird, voted against the motion. In October, Brown had voted in favor of tabling.
In favor were Vice Chairman David Wolfe, of Yellowhill and Councilmembers Richard French, of Big Cove, Shell, Saunooke, Crowe and Wachacha. Councilmembers Jeremy Wilson, of Wolfetown, and Lisa Taylor, of Painttown, were absent.
Editor's note: This story was reported using online meeting videos, as Tribal Council's April decision to ban non-Cherokee media from its chambers prevents The Smoky Mountain News from attending in person.