Archived News
Sylva to choose new TWSA board member
Wednesday, November 14, 2018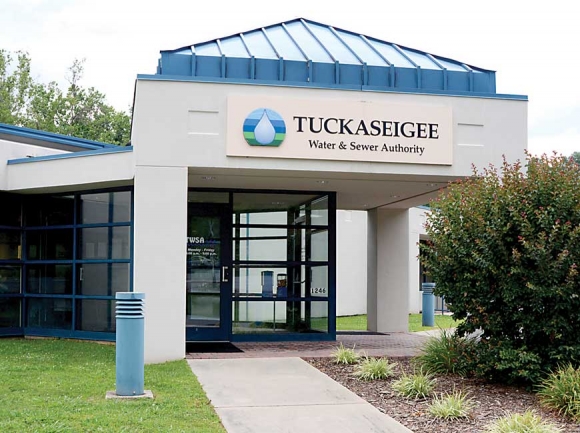 The Sylva Town Board is considering who it should choose to replace Commissioner Harold Hensley on the Tuckaseigee Water and Sewer Authority Board when the calendar turns to 2019.
TWSA board members serve three-year terms and are required to rotate off after three consecutive terms, so the town can't reappoint Hensley, who will have completed his ninth year on the board by the end of December.
When the town board discussed the appointments at its Nov. 9 meeting, Hensley advocated for appointing Town Manager Paige Dowling to the position.
"She needs to be on the TWSA board," said Hensley. "Who else would know better about what the town needs for water and sewer?"
"I don't know anybody that could handle that job better than Paige," he added.
However, Commissioner Mary Gelbaugh said that local attorney Jeffery Goss also wanted to be considered for the appointment, and Commissioner David Nestler — who also sits on the TWSA board — said he's spoken to two people who plan to submit an application.
"I think there's a little bit of a disconnect between that board and the community it serves, in particular the business community since those people are greatly impacted by TWSA's policies," he said. "Paige (Dowling), I think you would be a good choice for that but I really think we need to get somebody from the business community on this board."
Ideally, said Nestler, the new member would be someone from the downtown N.C. 107 business districts.
The TWSA board has a full plate over the past year, coming under fire for what some say are policies unfriendly to new and expanding businesses. In order to pay for future expansion projects required as capacity is used up by new or expanding customers, TWSA had charged an impact fee — a hefty upfront fee for water and sewer connections that often reached five figures for business connections. TWSA had to reduce those fees and rename them system development fees earlier this year following passage of a state law in 2017, but some still feel like they are too high.
Nestler and Hensley, both Sylva appointees to the TWSA board, had been at opposite ends of this spectrum of opinion, with Nestler advocating for severely reducing or altogether getting rid of the fees and Hensley maintaining that to do so would be unfair to existing customers who have already paid them.
Nestler's reappointment to the board last year turned contentious when Hensley voiced his support for replacing Nestler with someone else. Nestler said Hensley did so because he disagrees with Nestler's stance on the impact fees, calling the move "really petty," while in response to Commissioner Barbara Hamilton's statement that it's good for the town to get more young people involved with politics — Nestler is in his 30s — Hensley suggested that Hamilton wanted to "get rid of us old folks." Nestler's reappointment ultimately succeeded with Hensley being the only no vote.
When the appointment for Hensley's seat was discussed last week, Dowling said that she has not yet received any applications from the community. Because Hensley's term doesn't expire until Dec. 31, the board has until the end of the year to make a decision. Should it take them longer than that, Hensley will continue to serve until he is replaced.
"I urge us to wait, but I also urge us to pick someone from the business community," said Nestler.
Hensley again reiterated his support for Dowling as the new board member, pointing out that she represents the perspective of the town board and downtown too. As well as being town manager, her position includes directing the Downtown Sylva Association.
"If the board wants me to do it, it would be part of this job," said Dowling. "I work at the pleasure of the board and whatever the board wants me to do. I certainly see the need for having business owners represented too. I think whoever the appointment is needs to represent Sylva's interests."
The board agreed to table the vote until its next meeting, scheduled for 5:30 p.m. Thursday, Dec. 13, at Sylva Town Hall. Anybody wishing to submit an application for the TWSA appointment can find one at bit.ly/2B3v9wt.