Archived News
Amazing Grace makes a full recovery
Wednesday, November 14, 2018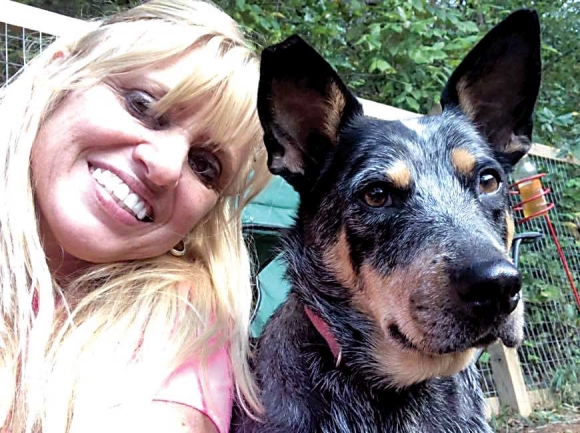 Amazing Grace, a 2-year-old blue heeler mix, is making a miraculous recovery after being rescued by PAWS in Bryson City. Grace was found with an arrow through her midsection and severe burns on her back, injuries that appear to be acts of animal cruelty. She is temporarily staying with PAWS Director Beth Cline-Stroud who is nursing her back to health. Donated photos
Beth Cline-Stroud, the executive director of PAWS in Bryson City, was on her way to an important event when a call came into the shelter about another dog in need.
A man in Swain County had a little cattle dog wandering through his yard with an arrow through her midsection. As she often does, Stroud turned her car around and headed to the caller's house to help the dog.
"We searched for her that Friday through the night but there was no evidence of blood or her so we left notes with everyone in the area," she said. "Early Saturday we got a call she was back at his house — she was laying in an old wicker chair. You could tell she had given up, she was dying."
Stroud rushed her to REACH Emergency Veterinary Hospital in Asheville since Junaluska Animal Hospital was temporarily closed for renovations. In addition to the arrow sticking through her, she had no skin or fur on her back. The vet determined someone had probably put lighter fluid or some kind of chemical on her that burned her skin.
"We think someone just tortured her," Stroud said.
The dog had to stay at REACH for about 10 days to undergo surgery and treatments for her burns. The arrow couldn't immediately be removed while the dog was still in critical care, but it was successfully removed once she was stabilized. Amazingly, the arrow was an inch away from hitting her spine and 2 inches away from hitting her bladder, but the bladder did shift and had to be stapled back in place.
"The vet said she had been carrying that arrow around for seven to nine days. Why she lived God only knows," Stroud said. "She was supposed to be at REACH until the middle of November but she's made an amazing recovery."
Everything Stroud has experienced with the dog has been amazing, which is how Amazing Grace finally earned her name.
"When we ran her to REACH the last thing on our mind was a name for her so they put her in the system as Arrow, but I told them she can't be Arrow with what she had been through," Stroud said. "I started calling her Miss A, but then she made such amazing progress and everything about her was just amazing. The day she finally was able to walk outside in the grass by herself, I knew she had to be Amazing Grace."
After 10 days, Amazing Grace was released from REACH's care to a PAWS veterinarian in Bryson City and then was able to go home with Stroud since she still had to be sedated every day in order to change the bandages on her back. She can still feel the hard knot on her side where the arrow once was and she has a nasty scar from the burns, but her fur is beginning to grow back.
The 2-year-old blue heeler mix has to have something over her back at all times to protect it from sunburn. Stroud has been using it as an excuse to put Amazing Grace in the cutest little sweaters and dresses, but she doesn't seem to mind.
"It will be seven weeks Saturday since we found her. She's doing great. She's the most loving and trusting dog and gives everyone kisses," she said. "She loves everybody but she's a little apprehensive around teenage boys — they make her nervous, which makes me think that's who did this to her."
Amazing Grace has been welcomed in by Stroud's other dogs that seem to understand she's a temporary houseguest like the others their mom has brought home over the years. Just this year alone, Stroud said she's cared for about 42 dogs at home that needed to be nursed back to health before they could be adopted out.
"All my dogs have been good with her. We have a thing in our house where if we have a sick or injured animal we use the word baby so the other dogs know what that means and they are gentle with her," she said.
Stroud has had a few potential adopters for Amazing Grace, but she still might not be ready for it. She took Grace to visit with a couple for a few hours who were interested in adopting her, but the cattle dog just cried at the door the minute Stroud left.
"She definitely doesn't like to be without me right now — my vet says she's imprinted on me," Stroud said. "She's still traumatized and it's usually a hard transition, but I think after a while she'll forget about some of the trauma and we'll be able to get her adopted."
Even though Amazing Grace's veterinarian bills totaled several thousands of dollars, Stroud said private donors stepped up to ensure every bit of her care was covered so that PAWS wouldn't have to reach into its own limited coffers to pay for it.
"We really appreciate the donations because it would have been really hard for us to come up with it on our own. We pleaded for donations but also for thoughts and prayers for her and I think that helped just as much," Stroud said.
A report was filed with the Swain County Sheriff's Office after PAWS rescued Amazing Grace. While the county doesn't have any animal control ordinance or enforcement staff, Stroud said there are state laws against animal cruelty.
"Someone is looking into it and I think they questioned some people," she said. "This is scary because it was such a heinous and horrid torture — you worry about the person that did something like this. It's a fact that's how serial killers start out, by torturing animals."
If you have any information that could help law enforcement find the culprit, contact the sheriff's office. PAWS, the only shelter in the county, is always in need of volunteers and donations. For more information call 828.488.0418 or visit www.pawsbrysoncity.org.