Archived News
Blue Rooster steps up for kids
Wednesday, October 31, 2018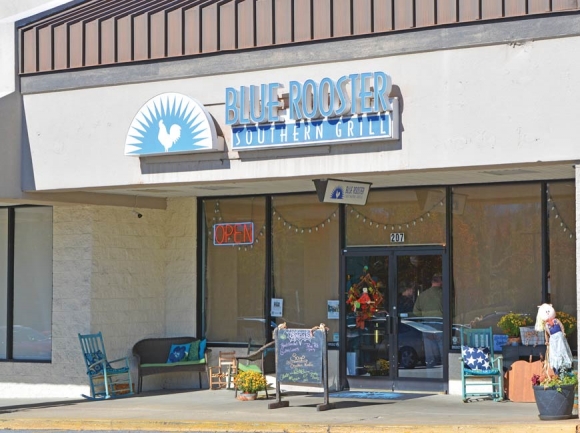 The Blue Rooster in Clyde is looking to expand upon its history of charitable activity. Cory Vaillancourt photo
The crew at The Blue Rooster Southern Grill is known for some of the best fried chicken in the region, but for the past eight years they've also been serving it up with a side of kindness.
"Over the years they've assisted us during the holiday season, working with another group who were doing a Christmas party for us here on campus. The Blue Rooster would provide the meal for free," said Linda Morgan, Statewide Director of Child/Residential at Baptist Children's Homes of North Carolina, which operates the Broyhill Home in Clyde.
Founded in 1885 in Thomasville, N.C, Baptist Children's Homes provides residential and emergency care services to children, women and families in all 100 counties of North Carolina with locations in 21 North Carolina communities, as well as an orphanage in Guatemala. BCH served almost 33,000 children in 2017.
"Our first year, when we did the party at Broyhill, what we saw and got to be a part of was our team coming together for an alternate purpose," said Mary Earnest, co-owner of the Blue Rooster with husband Steve Redmond. "We asked for volunteers, and we've essentially gotten 100 percent participation every year. Every team member wants to find a way to give. That has been so beneficial, not just to the kids, but to our family here, our team coming together not just to make money – it's something a little bit more than that."
With Blue Rooster handling the food, the other group, the Pigeon Valley Bassmasters, would purchase gifts for the 70-some school-age children at the home, but after 30 years, the group felt it could no longer do so.
"They said they were getting to where it was really hard for them to raise the money, so it was time to pass the torch," Earnest said.
This year, the Blue Rooster will not only provide the catered meal for the party as it has in previous years, but it will also raise the funds for gifts.
To that end, they'll hold a charity brunch with Haywood County-based contemporary bluegrass supergroup Balsam Range, which will also serve as the launch of something Earnest calls "Children of the Mountains."
"We named this effort 'Children of the Mountains,' because that's just one of the good things we could do, and I feel like there are some other good things we could do," she said. "We've got our sights on adding more children net year, and maybe another Christmas event."
Earnest said the new non-profit entity is a companion company to the Blue Rooster, and that Broyhill won't be its only beneficiary; she hopes to start awarding a scholarship next year.
"I've got a lot of team members that are putting themselves through school, and we want to support them," she said, adding that her fundraising goal this year of $10,000 has already been "greatly exceeded."
"We're thrilled to have the Blue Rooster involved with us, and I'm just totally amazed at what they've got accomplished this year," Morgan said.
How to donate
The Nov. 4 Bluegrass Brunch at the Blue Rooster featuring Balsam Range is sold out, but gifts to the Children of the Mountains project can still be made in person at the Blue Rooster, 207 Paragon Parkway in Clyde, during normal business hours. For more information call 828.456.1997 or visit www.blueroosterbroyhillchristmasproject.org.