Women in Business
Journey to the top of Soaring Mountain
Wednesday, October 24, 2018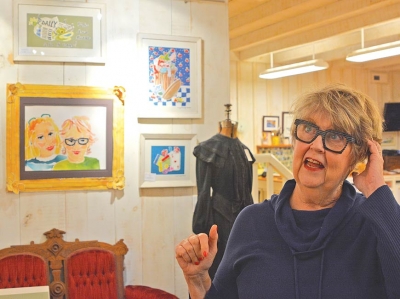 Margaret Pennington Roberts in her brightly-lit studio. Cory Vaillancourt photo
Sitting at a low desk in a cozy nook of her mountaintop studio and gallery, Margaret Pennington Roberts, brush in hand, contemplates a canvas perched precariously on an easel.
"I remember when I was 5 years old, we took a family vacation through here, and I remember thinking, 'I would love to live in these mountains,'" she said.
The mountains of Haywood County are a long way from Roberts' birthplace of Chase City, Virginia, where almost 23 percent of the population lives in poverty.
"It's a very poor area. It used to be a tobacco town. Of course, there's no tobacco anymore," she said. "My brother, who was trapped in the family business, said, 'I'm so glad you got out.'"
Roberts went on to study art education at Radford University, which was founded in 1910 as the State Normal and Industrial School for Women but by 1924 was renamed the State Teachers College. She then returned home to teach for a year, spent a year teaching in Raleigh and then in Greensboro, and then got married.
"It's unusual, but I married a guy from my hometown. To be honest, we were probably the only two people of datable age in the whole county," she laughed. "So it was by default I think."
That marriage led to a move to St. Louis, because her husband Hughes worked for IBM — which she noted stood for "I've Been Moved" — but it also led to a hiatus for her educational and artistic pursuits.
"I have a child who's deaf, so that kind of ended any teaching career, and I didn't get back into painting for 20 years," said Roberts, who herself has been partially hearing impaired since birth. "I always was pretty crafty when I couldn't paint, and I really didn't have much of an art education, at college. When I ended up in St. Louis, I was able to take some classes."
She also began giving lectures at Barnes & Noble, and began teaching people how to paint from books.
Roberts said she considers that the beginning of her career in art, but despite the challenges she'd already overcome — a rural upbringing, family hearing impairments and a husband with a demanding job — it was actually a series of failures that got her where she is today.
"I do two kinds of artwork. I do something I developed myself, because I was wanting to do watercolor and it's very difficult and I had tons of bad watercolors," she said. "And it's expensive. So I made a New Year's resolution that I was going to work on these watercolors with acrylic, oil or anything, until I finally made something happen."
What finally did happen was the synthesis of a unique style born from adversity and immediately identifiable as her work.
"I developed this by taking old watercolors and tearing them up and gluing them on top of another one in a collage, and then I started to refine them, like leaving white edges on it, which makes it pop, or giving it depth by adding foamcore to the back to actually give it a 3-D effect," she said.
Even the multidimensional aspects of Roberts' work come from what she says are shortcomings in her own skills.
"Because I'm a very poor matte cutter, and measuring and math is not my deal, I started having part of the collage come over the top of matte, and that's something that customers seem to like," she said. "So if I have a vase of flowers I'll have some of them going over the matte."
Roberts' business model is as unconventional as her art; she remains remarkably detached from the financial side of things, freeing her up to do what she does best — make art. In Haywood County, she deals exclusively with Main Street Waynesville gallery Twigs and Leaves.
"As far as having my own website, I don't bother with it. I pay no attention to any of that," she said.
Roberts does pay attention to the needs of others in the community and uses art as a way to raise money for local charities. She's hosted a number of art classes and visiting artist workshops in her home studio and gives the class fees to a nonprofit cause, whether it's Mountain Projects, Sarge's Animal Rescue or REACH of Haywood County.
Still seated in that cozy little nook in Soaring Mountain studio, it's clear that Margaret Pennington Roberts wasn't contemplating that precariously perched canvas at all — she's been contemplating her journey between the there and the here, between the then and the now, between adversity and perseverance.
Being a woman in business, she said, has never been one of those challenges.
"No, not really. I have really never seen that. Rarely do you sell a piece of artwork because you are a man or a woman. You sell it because it's there and somebody comes in and it appeals to them, and then they have to look closely to see, and a lot of times, it's just a last name. I can see it in other things," she said. "But as far as being an artist, I don't."