Archived News
Health, social services changes upheld in Jackson
Wednesday, October 03, 2018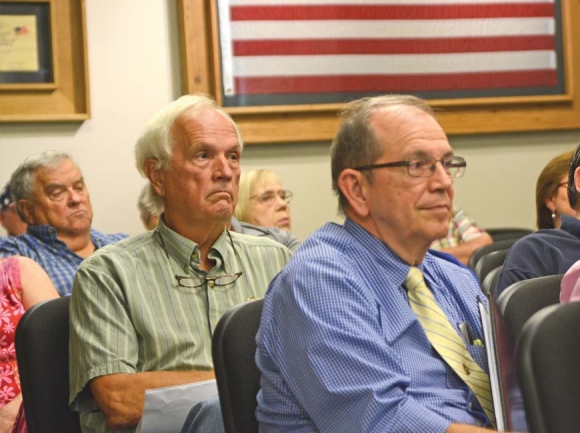 Dr. Cliff Faull (green shirt), a member of the former consolidated board, listens to public comment Oct. 1. Holly Kays photo
There was no discussion as the Jackson County Commissioners voted 3-2 Oct. 1 to uphold a vote they took in August to abolish the Consolidated Human Services Board and put themselves in its place.
But there was plenty of discussion in the public hearing held before the vote, which drew 19 speakers and lasted for 75 minutes, even though it was scheduled for the middle of the afternoon during the workweek.
The board originally voted to consolidate the county's health and social services departments with a party-line vote in January, in which Republican Commissioners Ron Mau, Mickey Luker and Charles Elders voted in favor of consolidation and Democrats Chairman Brian McMahan and Commissioner Boyce Deitz were opposed. All 11 of the speakers at that public hearing were opposed as well.
When a consolidated board was seated this June, members had questions about the decision and many made it clear that they did not agree with consolidation. During their August meeting, members voted 10-1 to delay hiring a director for the consolidated department until after the November elections, with Luker the sole no vote. In a meeting the next week, Republican commissioners responded by voting to split the consolidated department back into separate health and social services departments and to dissolve the consolidated board, seating themselves as the board of health and board of social services.
Commissioners took that action without holding a public hearing, stating that the original hearing held in January should be enough to satisfy the public hearing requirement. However, they later decided to schedule a public hearing after the fact — Monday, Oct. 1 — with a vote to reaffirm their original decision afterward.
Of the 19 speakers Oct. 1, 15 opposed the action, with many speakers reading rapidly from prepared comments and still coming up against the three-minute time limit. Seven of the 16 consolidated board members were among them, with six of those seven against commissioners' actions.
"My understanding of the purpose of a public hearing is to allow the public to express their thoughts on an upcoming vote of the county commissioners," said Dr. Cliff Faull, a member of the former consolidated board. "I expect many times the county commissioners have already made up their minds and do not listen. However, this time the majority of the board has not only made up their minds but has already voted."
Speakers accused commissioners of injecting politics into the departments tasked with serving the county's most vulnerable residents and criticized them for electing to simply do away with a board that disagreed with them rather than trying to work out those differences.
"Normally if you have a partnership, which I thought this was supposed to be, you're going to have some arguments and you're going to have some disagreements and you're going to have some give-and-take," said Charles Wolfe, who had been vice chair of the consolidated board. "The reason you do that is to come up with the best decision possible."
Wolfe said he's glad his wife "didn't dissolve me" the first time they had a disagreement in their 50 years of marriage.
Multiple speakers accused Luker of pursuing the consolidation as part of a grudge against the health department, which he sued in 2015 when a permit application for his business was denied. Then a candidate for commissioner, Luker accused his opponent Mark Jones, a member of the Board of Health, of getting the permit denied for political reasons. Jones vehemently denied the accusation, saying that he'd have little ability to interfere in day-to-day business even if he wanted to. Luker ultimately dropped the suit.
"I think he brought an animus against the health department into this," said former consolidated board member Kim Cowen.
Luker, meanwhile, has said consolidation is simply a common-sense measure to improve services, accountability and cost savings.
Other speakers argued that commissioners don't have the professional expertise necessary to adequately guide the departments and expressed concern that having commissioners in charge would open the door to political manipulation in the future.
"Communicable diseases do not recognize political affiliation and can be spread quickly to everyone," said Lorna Barnett, reading written comments from former Health Director Paula Green. "What will happen if a health director is required by law to quarantine a relative of a commissioner? What will happen if a restaurant owned by a commissioner is given a low grade by an inspector? Decisions about these health threats must not be political."
While comments were overwhelmingly opposed to commissioners' actions, four people spoke in support.
Former consolidated board member Debbie Stanley said that people opposed to consolidation had not been forthright about the potential savings of combining the departments and that her vote to delay hiring a director was made using incomplete information and under pressure.
"One would have thought we would have gone on with the business of the new board, but we were swamped with overweening verbosity from those who wanted a change in the political setup of the county commissioners," she said. "They beat that poor horse almost to death — or maybe they were verbally beating me. I felt trapped, as if I didn't need to be held captive here listening to such haranguing."
Cashiers resident Ralph Slaughter, president of the Jackson County Republican Party, expressed his confidence in consolidation to do good things for Jackson County.
"I know if other counties can do this that the five commissioners we've got in Jackson County are well capable of being able to utilize the extra money that would go back to this county," he said.
As comments concluded, Deitz thanked the former consolidated board members for their service and expressed his disagreement with his board's decisions.
"I wish this had never come up," he said. "It's kind of like a dog running the car, and he catches it and he doesn't know what to do with it. This board has caught the car and we don't know what to do with it. I for one am not qualified to either run or advise these two departments."
Elders followed up by reaffirming his belief that consolidation was simply an attempt to streamline and improve services.
"My hope was that board would be made up of the same people that we had on the Department of Social Services and the Health Department," he said. "But it's got all blown away, and yes it's got political and it shouldn't have done. There should never have been politics brought into it."