2018 Midterm Elections
Elders and Woody vie for Jackson County Commission seat
Wednesday, September 26, 2018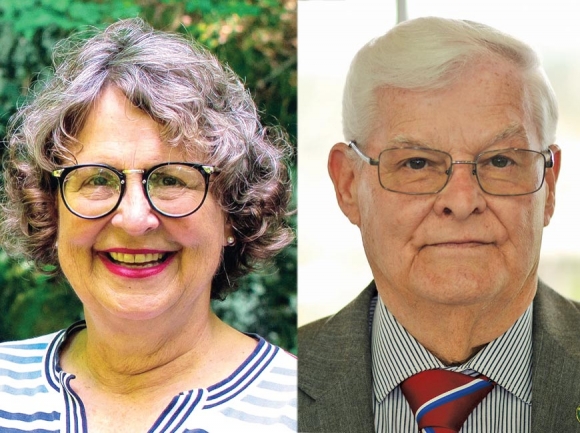 Democrat Gayle Woody (left) is running against incumbent Republican Charles Elders to represent District 1 on the Jackson County Board of Commissioners. Donated photo/Holly Kays photo
Jackson County Commissioner Charles Elders is seeking a fourth term in office this campaign season, but challenger Gayle Woody is hoping election results will instead seat her for a first term.
Woody, a Democrat, said that her major goals if elected include supporting education, protecting the environment, expanding greenways, addressing the opioid crisis and being responsive to the priorities of Jackson County residents.
Elders, a Republican, said that he would look forward to continuing work on the current board's 15-point list of goals. Completing the park in the Savannah area and creating one in the Qualla/Barkers Creek area is high on his priority list, and he would also like to secure a location for an industrial park in Jackson County.
Elders and Woody are contending to represent District 1 on the Board of Commissioners, an area that includes the northeastern section of the county comprised of the Qualla, Barkers Creek, Greens Creek and Dillsboro/Sylva North voting districts. The winner of the contest will take office in December and serve four years. Two other seats on the five-member board are also up for election — the chairman's seat, currently held by Democrat Brian McMahan, and the District 2 seat currently held by Democrat Boyce Deitz. While candidates represent specific districts, all county voters can vote for all commission seats.
For the winners, the election will be only the beginning — the new board of commissioners will be handed a full plate of issues to navigate when the new term starts.
How should the county's health and social services functions be organized?
The issue: Following the November 2016 elections, Republican commissioners became interested in combining the county's health and social services departments. A public hearing Jan. 29 drew 11 speakers — all vehemently opposed — but commissioners voted 3-2 to proceed with consolidation. Once seated, members of the consolidated board made it clear they didn't agree with the reorganization and in August voted to delay hiring a director of the consolidated department until after the November elections. Commissioners responded by voting 3-2 to abolish the consolidation and instate themselves as the board overseeing the two departments.
Elders: In Elders' view, what started out as a genuine attempt to streamline county operations and improve services has been twisted into a political issue. While he appreciated public input on the matter, he felt that input wasn't based on a correct interpretation of what was being proposed.
"This got all blowed up and turned around," he said. "When we first come up with this, this was just to consolidate the two boards and crosstrain. I didn't see that would cause all of this corruption of how they have made a big political issue out of this, which it shouldn't have never been."
Elders said his primary interest is having the department heads report directly to the county manager in order to correct complaints he'd heard about long wait times for various construction permits and inspections from the health department. Elders said he has not personally discussed those complaints with the health director but believes the reorganization will improve things.
Woody: Woody believes the decision to change the structure of the health and social services departments was a mistake and said that, if elected, she would vote to put things back the way they were, with two separate departments overseen by independent governing boards.
"My point of view is that it's become an issue of trust and of power, and I believe that we need to trust the excellent people that we have in place," she said, citing her confidence in the department directors and staff.
Setting commissioners in a place previously held by a board of experts concerns Woody — a former health department employee, she said she knows enough about what it takes to run a health department to know that she isn't qualified.
What should the county's role be in addressing homelessness?
The issue: When the economy crashed in 2008, Jackson Neighbors in Need formed to offer emergency assistance for those hit hardest, including overnight shelter in local motel rooms. Over the years, need has grown enough to outstrip the ability of the volunteer-run organization to keep up. The Southwestern Child Development Center is now running the shelter as a stopgap measure, but commissioners are debating a permanent solution — whether the county should open a dedicated shelter building, and if so who would fund and administrate it.
Woody: Woody believes commissioners have a responsibility to counteract homelessness in the community but said that different types of homelessness require different treatment. Homelessness caused by a single event such as a divorce or eviction is a different animal than chronic homelessness brought on by mental illness or drug addiction.
"We need to support those people to get back to being self-sufficient," Woody said of the situational homelessness category. "When we do that, they're not going to fall into the next cycle, which is chronic homelessness."
While Woody believes the county should have a role in funding the homeless shelter, she doesn't think it should manage the program. The "best-case scenario," she said would be for commissioners to fund the shelter with another organization administrating it. By "fund," Woody said, she means apply for grants, find donations and supplement those sources with taxpayer money.
Elders: While Elders has consistently voted to provide emergency funding for the homeless shelter in years nonprofit funds have come up short, he's hesitant about the idea of a more permanent shelter building.
"This is something we need to be real cautious on," he said. "We can't just leave them out to hang, but we've got to work with the other organizations and try to get this down to where we don't have any homeless people."
While Elders acknowledges that the county is likely to always have some homelessness, by and large he would rather see resources put into "continuing to educate people and get them back in the workforce rather than encourage them to come into homeless shelters day after day and maybe make a permanent life there."
However, he said, "We have to be prepared. We can't let anybody stay out on the streets in zero weather."
What does WCU's growth mean for Jackson County?
The issue: Western Carolina University, which this year enrolled a record 11,639 students, sits at the geographic center of Jackson County and is projected to continue growing. As more students come to WCU and more alumni consider building a life in the community where they earned their degree, Jackson County's government will have to navigate the opportunities and challenges that situation creates.
Elders: Elders is excited for the opportunities afforded by WCU's growth and its leadership's willingness to work with local government. The plan to remake the Green Energy Park is a great example, he said — the partnership between Jackson County and WCU is expected to result in a campus featuring classroom and artist workshop space, an animal shelter and a park area.
To truly capitalize on the university's growth, Elders said, Jackson County must work to bring in more jobs and businesses so WCU graduates who want to stay and contribute to the community can do so.
"As long as we're not growing in those areas it will be hard to get them to make this home," he said. "They're going to go places where the employment is easier and make an easier living."
Woody: Woody, like Elders, is enthusiastic about the Green Energy Park project and hopes to see the cooperation between the community and the university that was "greatly enhanced" under the leadership of the late Chancellor David Belcher continue once a successor is chosen.
In addition, she said, the county must work to increase affordable housing opportunities for first-time homebuyers.
"It worked for a long time when it was pretty isolated from outside people moving in," she said of the traditional system of young people building homes on family land. "But now we have this influx of great people who want to stay and live here. I'm not talking about retirees. I'm talking about younger people starting out."
How should the county navigate increasing education funding requests?
The issue: In North Carolina, the deal is that the state pays for school personnel and the county pays capital costs. However, counties have repeatedly found themselves asked to do more, with many hiring teachers to keep class sizes smaller and supplementing teacher salaries to better compete for employees. A 1-cent tax increase in Jackson County's 2018-19 budget was enacted to increase security and mental health personnel in the schools following the February school shooting in Parkland, Florida.
Woody: A retired art teacher, education is a topic close to Woody's heart. She strongly believes in keeping music and art in schools, saying that they enrich students' lives and improve test scores. Woody expressed confidence in the school system's current leadership and said county government has done a good job of meeting the challenges thrown at it by the state. However, she said, the county shouldn't simply accept the situation.
"I am proud that Jackson County has worked very hard to fulfill the needs of our students, but it's put a big burden on our county government, so we need to work hard to get the legislature to recognize their responsibility so we in Jackson County can fulfill what's best for our students," she said.
Elders: Elders recognizes that the cost of extra school security measures enacted this year was substantial but said those measures were necessary, because it's the county's job to "make our children as safe as we possibly can, because they are our best resources."
To balance the various budgetary demands coming from the schools, he said, commissioners should work with the Board of Education to come up with the funding solution that best suits Jackson County, ensuring that something is "absolutely a need" before it's funded and not "just something we're creating to try to keep up with another school on the other side of the mountain."
What should be the priorities in parks and recreation?
The issue: From expanding greenways to building community parks, Jackson County has many priorities for parks and recreation improvements that will need funding to become reality.
Elders: There's a good deal of repair work needed on community buildings that exist now, Elders said, and keeping completed parks in good shape should be the first priority. After that, he wants to see a community park in the northeastern part of the county become a reality — the county has been working on that for some years, but finding a location has proven difficult.
Elders said that greenways are also important and he supports expanding them.
"That's something that we are looking closer at now and will be discussing more in the very near future," he said.
Woody: When it comes to recreation, Woody's top priority is expanding the greenway.
"An overarching priority for me is to build on the social infrastructure of Jackson County, and what I mean by that are spaces that encourage community involvement, community interaction," she said.
A greenway is the epitome of that, she believes, though Woody also believes other recreation amenities — such as a park in the Qualla/Barkers Creek area — are important to pursue.
Meet the candidates
Charles Elders
Charles Elders, 75, is a business owner and lifelong Jackson County resident.
His entire working career — a career that's still ongoing — has been in retail sales, managing various companies and opening stores. But for the past 30 to 35 years he's owned his own stores. Currently, Elders and his son operate the Elders Superette, an Exxon station along U.S. 74 in Barkers Creek.
"These goals that we have (as commissioners), I do want to see them completed and I feel like I'm in good health," Elders said of his reason for running again. "I feel like my experience, being 12 years that with my knowledge and knowing the county like I do — I really feel like the county needs me another four years."
Elders is seeking his fourth term in office, having served his first term in the early 1990s and now finishing up the second of two consecutive terms, 2010-2018.
Gayle Woody
Gayle Woody, 66, grew up in Wheaton, Illinois, but has spent every summer in Jackson County since age 5, when her parents bought Holly Cove Campground near Barkers Creek. She moved to the county full-time after getting her first teaching job in 1974, and in 1982 she started work with the Jackson County Department of Public Health as a health educator in pregnancy prevention. A mother of four, she worked as an art teacher in Jackson County Public Schools from 2002 to 2016 and has been a trainer at the North Carolina School Health Training Center since 1995.
Woody said her decision to run was a response to political polarization at the national level.
"In our culture it's just become very divisive," she said. "I thought, 'I want to bring civility and an attitude of being a servant back into civil service. I was talking to my husband and he said, 'Gayle, you've been talking about this for a while. If you're going to do this you better do it now. You're not getting any younger.' So I said, 'OK, now is the time.'"
If elected, this would be her first term in office.