Living Well
Coaching you through it: Physical therapy can tackle number of ailments
Wednesday, September 05, 2018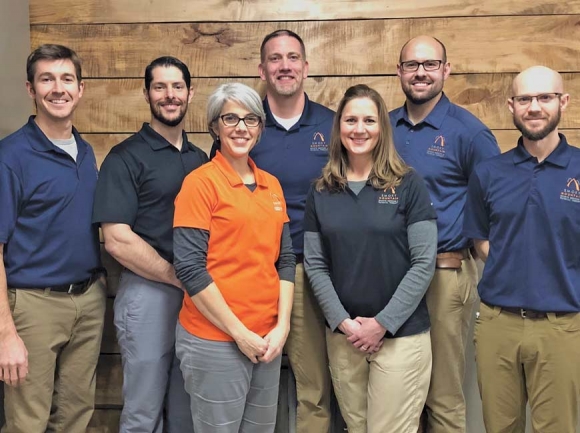 The staff of Smoky Mountain Sports Medicine & Physical Therapy Ben Rickert, (from left) Erik Watkins, Robyn Duncan, Carlyle Schomberg, Mary Curtis McCracken, Blake Queen and Gabe Peterson. Donated photo
A majority of people wait until they're ordered to undergo physical therapy after a surgery or injury, but physical therapy treatments can also be taken as a preventative measure.
In addition to helping someone through a recovery, physical therapy can also help a patient avoid surgery, reduce or eliminate pain, improve balance and manage a number of conditions including diabetes, arthritis, osteoporosis and even heart and lung disease.
Carlyle Schomberg, one of the owners of Smoky Mountain Sports Medicine & Physical Therapy, has seen amazing outcomes from the physical therapy process, which is why he chose it as a career. As a former college baseball player, he saw a close friend recover from a knee injury thanks to physical therapy, and he's also spent several years in Birmingham, Alabama, working in a world-renowned sports medicine clinic alongside several well known orthopedic surgeons and physical therapists.
"That's why there's such a satisfaction in what we do," he said. "We can have someone who can't do the basic daily stuff and by the time they leave us they're back to their normal physical activity whether it's a sport or just gardening. We love seeing that progress."
SMSMPT has opened three local clinics since last August to serve patients in need of outpatient physical therapy. It's an employee-owned private practice committed to providing high-quality rehabilitation to the populations of Jackson and Swain counties.
Between the seven owners — Robyn Duncan, Mary Curtis McCracken, Ben Rickert, Blake Queen, Gabe Peterson, Erik Watkins, and Schomberg — the clinicians have over 100 years of experience in all areas of physical therapy, including sports medicine and orthopedic conditions, manual treatment techniques and vestibular rehabilitation.
Schomberg said all the clinicians have been practicing in Western North Carolina for a number of years and he really wanted to bring a group of like-minded people together to start a private practice.
"We really wanted to collaborate and partner with the patients we see and provide them with what they need — we felt this was a good opportunity to do that," he said. "When we see people repeatedly like we do, you get to know them really well and they become part of the family and vice versa."
Forming those relationships with patients is an important aspect of physical therapy because the patients have to be just as committed to their treatment as the therapist. Ideally, someone undergoing physical therapy would be treated five days a week for a serious injury or recovery, but most private insurance will only cover two or three days a week.
"Patients have to buy in to the program — especially with insurance limitations. We can teach you strategies and exercises when we can see you twice a week but if you go home and don't do anything, you're not going to get better," Schomberg said. "Coaching you through things you can do on your own is something we strive to do."
SMSMPT sees a variety of patients from student athletes to patients recovering from a hip replacement surgery. Someone recovering from surgery might need treatment for two to three months, while someone who has thrown their back out might only need a couple of weeks.
In addition to rehabilitation services, the practice offers specialty expertise such as dry needling, soft tissue mobilization and cupping techniques, therapeutic taping techniques and custom orthotics. Schomberg said three of his clinicians are certified to do dry needling, which is similar to acupuncture and effective at reducing muscle spasms and back or neck pain. Some clinicians are also certified in helping people suffering from vertigo improve their balance.
SMSMPT is a direct access practice, which means many patients can be seen without a physician referral.
"A majority of our patients are referred by physicians or health care providers, but we are a direct access state for physical therapy. So if you have a sprained ankle or something your insurance allows for that," he said. "It's underutilized and we're trying to promote that more in the community. It's better to come in immediately rather than waiting until it progressively gets worse."
SMSMPT participates with all major insurances, including Medicare and Blue Cross Blue Shield.
Patients can expect to see the same clinician for the duration of their treatment. Patients will be welcomed and treated with attention and compassion. Due to the extensive experience of SMSMPT clinicians, patients will achieve their goals for treatment in a timely and effective manner. Most patients can be seen within 48 hours of referral or initial contact.
"I think treating the whole body and the whole person is something we try to do. You might have a knee problem but it's causing something else to be inflamed. We can help with all those issues," Schomberg said.
To receive treatment or inquire about services, call 828.550.3923, visit a clinic location at 80 Songbird Forest Road, Bryson City, 594 Centennial Drive, Cullowhee, or 90 East Main Street, Sylva, or visit the website at smsmpt.com.
Each location is recently renovated and incorporates the most up-to-date equipment, and is easily accessible for all patients.