Living Well
Cherokee program yields harvest of self-reliance
Wednesday, September 05, 2018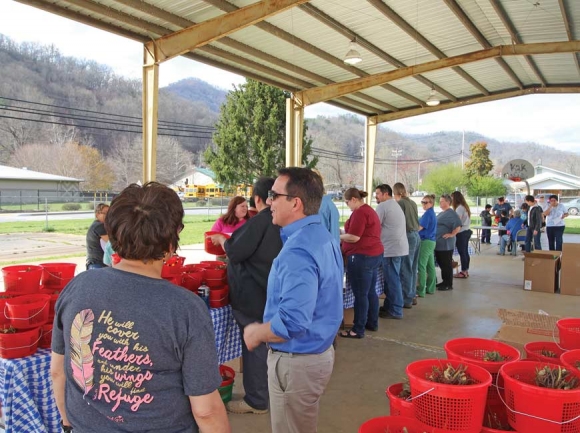 Tribal members choose their starts and seeds during the Community Garden Kit Giveaway. The kits include a variety of traditional and heirloom seeds. Donated photo
With harvest season underway, members of the Eastern Band of Cherokee Indians are now reaping the benefits of a springtime program the tribe has sponsored for 15 years running.
Each year, EBCI Cooperative Extension distributes garden kits containing seeds and starts for a diversity of heirloom and traditional produce varieties, this year passing out more than 700 kits. The idea is to encourage self-reliance, gardening skills and cultural connection in tribal members while providing them with a way to feed their families healthy, fresh food.
"Overall it's an event and a program that our community really looks forward to," said Joey Owle, Secretary of Agriculture and Natural Resources for the EBCI. "I know I participated over several years with giving them out. The lines are very long."
The seed kits are typically distributed in early April at several different locations — the Tsali Manor Senior Center and EBCI Cooperative Extension Office, both in Cherokee, and at locations in the Snowbird and Cherokee County areas. This year's kit contained nine different types of seed as well as strawberry crowns and onion bulbs. The tribe orders the seeds through the Long Family Farm and Gallery, owned by tribal members Harold and Nancy Long.
"We consult with them through the year to say, 'Are we sticking with the game plan or are we switching it up?'" Owle said.
In the future, said Owle, he'd like to do some more engagement with the community to assess the garden kit program for a better idea of what the impact is and how the kits are used. More educational opportunities as to how to get the most out of a gardening effort — especially principles of raised-bed gardening, since flat land is at a premium on the Qualla Boundary — will also be important.
"We want to encourage our community members and families to pursue self-reliance in growing their own food and becoming food secure, because that's part of our culture, to grow our own food," Owle said.
He also wants to see people save seeds from the plants they grow each year, as the kits' contents vary from year to year.
"We want to provide people that opportunity to build their seed bank," Owle said, "to grow their own food and to become more food secure or offset grocery costs in the summer, early spring and into the fall by not having to go buy some of the things they can grow."