Archived Reading Room
Joy's third novel rooted firmly in Jackson County
Wednesday, August 29, 2018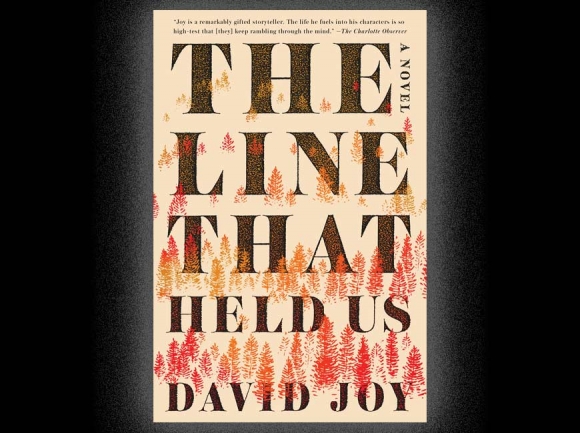 In that moment, he knew that he was standing in the midst of something that would never be forgotten, something that he would carry from this place and bear for the rest of his life.
— The Line That Holds Us, p. 26
When Darl Moody drew a bead on what he thought was a wild hog in a patch of ginseng, felt his rifle recoil, and saw his quarry collapse; he clamored to the ridge top to find, not a hog, but a dead man: Carol Brewer, nick-named Sissy, "a half-wit born to a family that Jesus Christ couldn't have saved." Both men, the living and the dead, were trespassers and poachers on Coward land. The landowner was away at a family funeral.
Although the killing was an accident, there were complications. Poaching was a crime and Darl could ill afford a prison sentence, regardless of how brief it might be, as he had a family that was dependent on this young man who worked in construction (which is a lucrative business for young men in Jackson County who have the skills and an access to equipment and tools).
In addition, Sissy Brewer's father, Red, a suicide, had a reputation for "a meanness that coursed through him that was as close to pure evil as any God-fearing man had ever known." Although Red was gone, his son, Dwayne, was thought to have inherited his father's penchant for cruelty and madness. So it was that by the time that Darl found his way off the mountain and to his truck, he had decided to conceal his crime. He would need the help of his best friend, Calvin Hooper.
Thus begins David Joy's third novel, a dark Appalachian noir that probes deep into this region's culture and tradition. If the reader is a native of Jackson County, he/she will find that David Joy's finely crafted narrative sparkles with the names of this region's rivers, mountains and trout streams. Joy's characters bear the named of the families that have farmed, fought, married, loved and died here for over 300 years, leaving their names to the coves, hollers and carved into hundreds of graveyard tombstones: Hooper, Moody, Moss, Stillwell, Cowan, McCoy.
Joy has become that rare writer, one who is mindful of our legends and our history, much of which you will find woven into the rich fabric of this novel.
In addition, The Line That Held Us moves at a pace that resembles a runaway train: one that leaves the train yard at a moderate speed, but quickly accelerates, acquiring a reckless speed that threatens to leave the rails for a nightmare passage through forest and stone. At times, readers are likely to find Joy's narrative a white-knuckled ride with gritted teeth.
The major characters are memorable and each one is painstakingly etched. Doomed Darl Moody, a skilled construction worker who has a passion for hunting, spends much of his free time in a deer stand where he dreamed of a legendary old stag who "has a rocking chair of a rack." Calvin Hooper is Darl's best friend, a skilled rock mason and brick layer who shares Darl's love of hunting.
Without hesitation, he agrees to share in his friend's guilt — a decision that will alter his life. Angie Moss, Calvin Hooper's pregnant girlfriend, has enrolled in Southwestern Community College's nursing program with plans to pursue additional training. Angie is blond and attractive, devoted to Calvin until she finds herself a pawn in a deadly game of revenge.
Finally, there is Dwayne Brewer, Sissy's brother, who is physically imposing, perverse and mentally unstable. It may come as a surprise to discover that this novel is, essentially, Dwayne's story.
Dwayne's anger and frustration is mostly due to his bitter resentment at being judged by his neighbors to be "trash." He has grown up resenting the contemptuous laughter he hears directed at both his family and his brother, Sissy. He comes to perceive himself as "his brother's keeper," and views him as the epitome of innocence. Due to his contempt for his neighbors, Dwayne lives an outlaw existence, stealing chainsaws and expensive, flat-screened TVs which he sells to pawn shops and using his money to finance a classic car (Buick "2 and a quarter") and quality groceries for Sissy and himself. So it is that Dwayne loses all restraint and acts with terrifying rage. Unable to abandon his brother, he brings his corpse home where he continues to talk to Sissy's rotting corpse in the family root cellar.
However, there is more to The Line That Held Us, than a riveting revenge tale. Dwayne believes in the judgment of his religion, and he shares passages in his Bible with Sissy. He finds himself unwilling to accept the fact that his brother's death was an accident. No, someone must pay. Dwayne will bring a harsh justice to anyone who contributed to his brother's death and he readily perceives himself as God's instrument. Could he be wrong? Dwayne admits that he has been in an "argument with God" all of his life.
Dwayne acknowledges that his argument is as old as Job, who lost everything just as Dwayne has done ... all on a whim. All of his life, he has felt that God has turned his face away from the suffering multitudes in Appalachia. Why has he allowed the rich and corrupt to flourish while the hard-working people are afflicted with sickness and hardship? Is this the question that drove his father to drive his truck off of a curve, killing himself and his wife?
The concluding pages of this novel have a surprise. It may be that the reader will find them unexpected. It may be that Dwayne Brewer and Calvin find a point in their conflict where they acknowledge "a line that held us."
(Gary Carden is a writer and storyteller who lives in Sylva. This email address is being protected from spambots. You need JavaScript enabled to view it.)