Archived News
Jackson abolishes consolidated health, DSS agency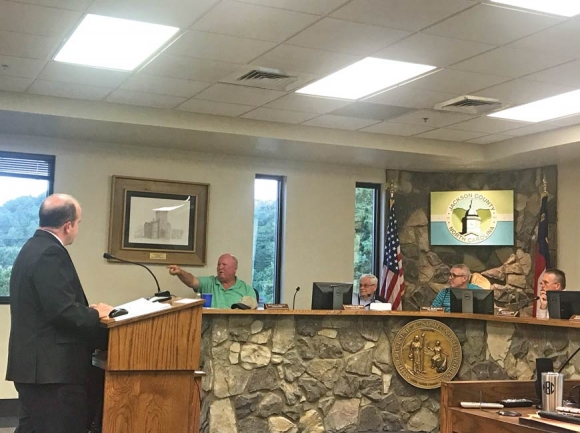 Jackson County commissioners discuss the future of the consolidated human services agency and board. Jessi Stone photo
Jackson County commissioners are back to square one after voting to abolish the newly consolidated human services agency and its newly seated board Monday night.
Just as the vote to consolidate the health and social services departments back in January, the vote to dissolve was split 3 to 2 with the three Republicans on the board — Charles Elders, Mickey Luker and Ron Mau — in favor and Democrats Brian McMahan and Boyce Deitz opposed.
Luker, who has been the main proponent of the consolidation since being elected in 2016, introduced two resolutions during the meeting — one to abolish the new board as well as the consolidated agency and the other to authorize the board of commissioners to assume all powers and duties of the county's board of health and board of social services.
The split vote followed public comment and a lengthy debate regarding the controversial consolidation process and questions about how best to move forward given that the issue had become so politicized in the community. Luker's proposed resolutions came just days after the human services board voted at its Aug. 14 meeting to delay hiring a director of the new consolidated department until after the Nov. 6 election.
With Elders, McMahan and Deitz all up for election this fall — and Mau running against McMahan for the chairman seat — the board didn't want to hire a new position that a new commission could potentially do away with in a few months.
Jerry DeWeese, who resigned from the human services board during its first meeting, said Luker only introduced the resolutions because he wasn't happy about the decision to delay the hiring process.
"Last Tuesday, Mickey did not get the answer he wanted from the consolidated board that he conceived. This week he wants to dissolve the board and have you assume their duties," DeWeese said during the Monday meeting. "This week he believes that you five commissioners can do a better job than 15 skilled and passionate professionals? Removing authority from one's critics in Jackson County smells a lot like what is happening on a national level. Also, just a year ago, you all stated that you did not want to assume the role of these two boards. Why the change now?"
DeWeese further accused Luker of trying to circumvent the process simply because members of the new board were demanding explanation as to why he and the two other Republican commissioners wanted to consolidate two well-functioning agencies in the first place.
"Mickey, please just go ahead and tell everyone that you have already picked out your human services director to help you fulfill your hidden agenda and want to get him seated with a long contract before the November election. You just have to sit through some pesky interviews first," he continued.
Carol Ann Cope, a retired county social services employee, said she didn't understand why consolidation was moving forward when no one from the public or within the departments supported the move or could see any benefit to it. Even when Luker was asked to attend the human services board meeting to give an explanation, Cope said he couldn't give any good reasoning.
"That astounded and deeply concerned me. You should know what your reasons were at that meeting," she said. "Commissioner Elders, I know you want to do what's best for the county … in this case I think its frighteningly clear someone is being misled about what the benefits will be."
County Manager Don Adams then gave the board a summary of the Aug. 14 human services board meeting in which the members still had many questions regarding their role and the overall process of hiring a director for the consolidated agency.
"Where do we stand right now?" Elders asked Adams. "What is the next move?"
Adams said it's a hard question to answer given the controversial nature of the issue. He said he feared the consolidation had become too politicized, which puts his staff in a difficult position when trying to carry out the wishes of the board and constantly fielding questions and resistance from the human services board.
"This whole process in my mind has become politicized. It's openly being discussed about what may or may not occur in the next election. As manager representing the staff, it's a position we don't need to be in," Adams said. "I'm not sure how we proceed forward, Charles."
Elders said there was no place for politics when it comes to services provides by the health department and social services. Though accused of just voting along party lines, Elders said meeting minutes would show his record of voting with the Democrats when it was for the betterment of the county. He also said he did his research and saw the potential benefits of consolidation before making his decision.
"It bothers me the board we appointed went against us. I don't want to be political in this deal at all," he said.
There was a long silence before Commissioner Deitz spoke up.
"I don't remember the board asking to do away with the consolidated board — they asked to wait for the election," he said. "There's no use hiring someone for several weeks and bringing their family in and the election change it and a new board decides another route. Seems like common sense."
Adams said he wasn't sure how to move forward with the process at this point.
"Why would we even continue to meet if there's a chance we're going to remove it all anyway," he asked. "I'm not sure I want to move forward at all until the election. It's hard to proceed on and act like it's not happening."
Luker finally spoke up, expressing his distain for the way the process had been politicized by fellow commissioners and members of the human services board. He said a decision by the board whether unanimous or not should be the directive to push forward.
"It's disturbing the fact you sat right over there and drew on a white board and said, 'I sure hope political aren't involved in this decision' and it's become nothing but a political battle — which is shameful," Luker said to Deitz. "They did a political debate and pandering of promises that could end up being broken promises … that's just not right."
"I don't care if I get a vote in this whole county," Deitz shot back at Luker. "I'm not politicking with this. This thing is something that was brought up simply because — they ain't nobody knows why we're doing this."
He went on to say the reasoning Luker gave for the consolidation was ridiculous and that there wasn't a problem with departments until Luker and Mau came up with a problem.
Luker said he hadn't made any board decisions political and that his push for consolidation came after hearing from people in the community and trying to find a solution to streamline services and improving county services. He said he'd spent multiple hours in Haywood, Stokes and Graham counties talking to directors about their consolidation process.
"There's no denying we have two good agencies but something's not broke, don't fix it — if we played everything in life by that we wouldn't win a whole lot of ballgames either," he said. "Always looking for ways we can improve our services."
Luker then made a motion to approve the two resolutions abolishing the consolidated agency and board and giving authority for commissioners to assume authority over health and social services boards.
Commissioner Mau seconded the motion and then gave his thoughts on the issue. He said he's already received positive feedback about the consolidated services and believes it can save the county money in the long run just as it has for Buncombe County.
McMahan asked County Attorney Heather Baker if a public hearing was required before dissolving the agency and board.
Baker said, in her opinion, that it would be wise to hold a public hearing before taking a vote on the resolutions.
"To avoid any legal ramifications and to go extra mile to be transparent, the best option is to hold public hearing and then take action on these resolutions," McMahan said, asking Luker if he wanted to amend his motion.
Luker said he wouldn't amend his motion. He said there were varying legal opinions on the issue, but no case law providing a clear-cut directive.
McMahan said he still believes consolidation isn't needed in Jackson County.
"I didn't see any reason to change. Yes, there's always an opportunity to dream about saving a dollar here and there but at the end of the day it's all hypothetical. We may end up spending more money," he said. "But I have not politicized this — I haven't asked a single board member to vote one way or another and you'll never find a record of me trying to politicize it."
Luker's resolutions passed 3 to 2 with McMahan and Deitz opposed. The resolutions are effective immediately.
The Jackson County Board of Commissioners will hold a public hearing at 2:30 p.m. Oct. 1 at the Justice & Administration Building, 401 Grindstaff Cove Road, Room A201, Sylva, to receive public input concerning abolishing the Jackson County Consolidated Human Services Agency and Consolidated Human Services Board and exercising the authority of the Jackson County Board of Commissioners to assume all powers, responsibilities and duties of the County Board of Social Services and the County Board of Health in accordance with NCGS §153A-77. Citizens are invited to make written or oral comments.