Archived News
Jackson human services board votes to delay director hire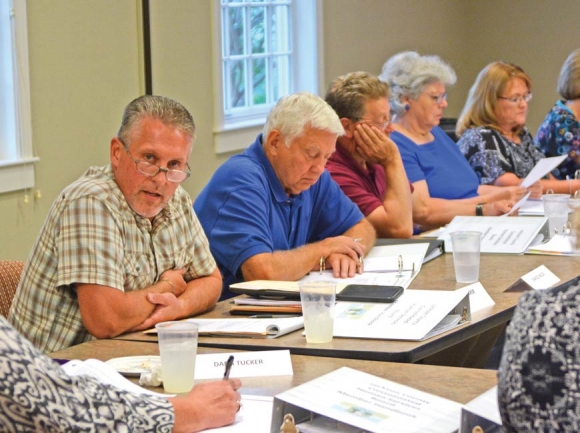 Commissioner Mickey Luker, a member of the human services board, explains the reasons for consolidation. Holly Kays photo
Eight months have passed since the Jackson County Commissioners voted to merge the county's health and social services departments, but members of the Consolidated Human Services Board newly created to oversee the consolidated department are still holding out hope that the decision will be reversed. During its Aug. 14 meeting, the board voted to delay hiring a director for the merged department until after the November elections.
"They might be hired for a period of a month or two and if the election goes a certain way, it could be that this is rescinded," said board member Dr. David McGuire, who made the motion to delay the hire.
That wouldn't be fair to the candidate, who would have uprooted his or her life to take the job, and if the job came with some sort of extended contract, it wouldn't be fair for the taxpayers who would foot the bill to buy it out, McGuire said.
Vice Chair Charles Wolfe seconded McGuire's motion, adding that with all the well-documented contention surrounding the consolidation the county might wind up with a better pool of applicants if it waits to hire somebody until the issue is better settled.
"My thought is it could affect somebody's decision," Wolfe said. "Because of the uncertainties in that situation they might decide they don't want to take that risk."
Of the 11 board members present, 10 voted to delay the hire, with County Commissioner Mickey Luker, who sits on the board and voted in favor of consolidation, the sole opposing vote. In a follow-up phone call, he said he was frustrated with the decision and sees it as evidence of the board falling down on the job they are charged to carry out.
"Basically by the charter that was set forth by the board of commissioner for that board, they had a job to do and they have just been delaying this and delaying it," Luker said by phone. "They just did not fulfill the request of the board of commissioners."
A split decision
The vote to consolidate came following a Jan. 29 public hearing that drew 11 community speakers — the speakers included current and former professionals, volunteers and board members with the health and social services departments — all of them opposed to consolidation. The vote split cleanly along party lines, with Republican commissioners Ron Mau, Charles Elders and Luker favoring consolidation, while Chairman Brian McMahan and Commissioner Boyce Deitz, both Democrats, were adamantly opposed.
In the November elections, Elders, McMahan and Deitz are up for election, so depending on the outcome the majority could flip.
The consolidated board was created at the May 7 commissioners meeting, with slots filled based on state-mandated requirements and nominations from the then-existing health and social services boards. The new board met for the first time June 11, with multiple members questioning County Manager Don Adams on the mechanics of and rationale for consolidation. Board members said they hadn't heard any real reasons given for why the consolidation had taken place or anything to indicate the existing boards weren't doing their jobs just fine.
The board also took issue with commissioners' intent to hire a new director to oversee the consolidated department. The position would be additional to the existing health and social services director positions and carry a salary range of $74,000 to $145,000, plus benefits. The application period for the position is now closed, with 15 candidates applying for the job.
Board members aren't the only ones who have voiced concern over the department's future. Henry Dowling, who has been involved with the Jackson County Department of Social Services for decades, as an employee and upon his retirement as a volunteer, gave public comment to that effect Aug. 14.
"Like with the popular song a few years ago 'Just Get Over It,' I may be having trouble getting over the Jan. 29 meeting where 11 really knowledgeable people went before the commissioners and gave well thought-out, well-stated reasons why this should not take place, the consolidation," Dowling said. "Of course, it did. I understand that. My concern has been to date as far as I know we've never gotten any specific reasons for why exactly this was done."
Looking for answers
McGuire made a motion during the June 11 meeting as well, asking that commissioners write a letter explaining their reasons for the consolidation. The move passed 8 to 3, with Luker, Bill Mobley and Board Chair Kathy Farmer opposed. However, commissioners responded that, because the consolidation vote was split and each commissioner likely had his own reasons for voting one way or another, it wouldn't be appropriate to write a letter like the one requested. The human services board in turn replied with a July 10 vote to ask the three commissioners who voted for consolidation to send a representative to share some common reasons for the decision.
During an Aug. 14 work session held the afternoon before the human services board's evening meeting, commissioners asked Luker, who is also a member of the Human Services Board, to fulfill that request.
Luker gave each board member a sheet of paper that listed three bullet points. He said that consolidation would "help maintain, streamline, strengthen and when possible improve services to our most vulnerable citizens," "facilitate the implementation of coordinated services between the Health Department and Social Services," and create "a system that will be responsible to its citizens in both accountability and in service delivery."
"Coordinated services," Luker said, could include legal, finance and IT positions.
There was no discussion following Luker's listing of reasons, but he encouraged board members to reach out to individual commissioners with any follow-up questions.
Later in the meeting, board member Dr. Cliff Faull asked Social Services Director Jennifer Abshire to list any areas of overlap in social services and health department services that could be bolstered through consolidation.
"(Health Director) Shelley (Carraway) and I have been talking about this for a while, but since they're moving out of their building it's not a good time. But maybe station a food stamp worker over there and put a WIC worker in our office," Abshire replied. "That's the only thing I can think of right now, and we've been talking for some time."
McGuire also questioned Adams, Carraway and Abshire closely as he went line-by-line through the state law that outlines the function of consolidated departments like Jackson's and in particular the role of the director. According to state statute, the director of the consolidated department will administer human services programs, plan the budget and perform regulatory functions, among other duties.
"They will take care of the things you two are taking care of now?" McGuire asked Carraway and Abshire.
"My understanding is they will just make sure we are doing that, like any good boss," Abshire answered, adding that the new director would likely be responsible for putting together agendas for board meetings.
McGuire also expressed concern about how the extra layer of administration could affect overall communication in county government, likening it to a game of telephone where the message is slightly altered with each telling. But Adams responded that there's already a chain of command in place — the new system wouldn't be that much different.
"There's always the chance for miscommunication. That's in any setting. But I'm also trying to explain to you that we already have a very similar chain of command here," Adams said.
"I hear what you're saying," McGuire replied. "I'm just saying when we get this person we'll have one more layer in this thing. I get what you're saying."
New member appointed
Alex Stillwell will be the Jackson County Human Service's Board's newest member following a unanimous vote from the board Aug. 14.
Stillwell, of Stillwell Engineering, will fill the slot on the board that the state mandates be held by a professional engineer. He replaces Jerry DeWeese, who was appointed to the board when it was created in May but resigned partway through the first meeting in June due to dissatisfaction with the decision to consolidate.
Board members are appointed by county commissioners from nominees the human services board puts forward. The process is slightly different from that used for other county board appointments, for which nominations typically come from the commissioners themselves. Commissioners voted to appoint Stillwell during their Aug. 6 meeting before realizing that the initial nomination should have come from the human services board. However, board members said they were happy with the choice, and County Manager Don Adams assured the board commissioners would follow the correct process going forward.