Archived News
Opinion split on middle school
Wednesday, August 15, 2018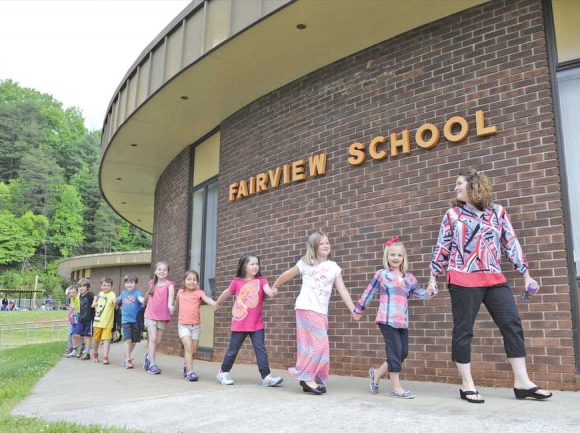 Fairview Elementary School is the most centrally located of northern Jackson County's four elementary schools, but it would also be the most expensive to turn into a middle school. Donated photo
A public input session on the question of whether Jackson County should form a middle school drew split opinion during a public hearing Tuesday, Aug. 7.
Jackson County is the only county in Western North Carolina that doesn't educate its sixth through eighth graders in a separate facility from its elementary school kids, instead operating four kindergarten through eighth-grade schools, one high school and one early college in the county's northern end. In southern Jackson County, Blue Ridge Elementary School and Blue Ridge Early College educate kindergarten through twelfth grade under one roof.
Following the shootings in Parkland, Florida, and the spate of bomb threats that disrupted Jackson County Schools in the weeks afterward, some Jackson County parents began to advocate that the administration reconsider how its schools are organized. Sylva attorney Jeff Goss has led the charge, saying that while the bomb threats were his catalyst to action, he's long had the idea that Jackson County kids would be better served by a system that included a middle school.
Goss launched a petition to that effect, gathering 168 signatures in advance of public meetings held July 16 and Aug. 7. In Goss' opinion, a middle school would better serve kids academically by making specialty subjects like foreign language more financially feasible than they are currently, with sixth- through eighth-graders spread through four northern Jackson County schools. Other parents who addressed the Board of Education in support of the middle school concept said that structure would better prepare kids for high school and allow for better participation in sports and other extracurricular activities.
"This board of education is extremely open-minded," Jackson Schools Superintendent Kim Elliott told those gathered for the Aug. 7 meeting at Smoky Mountain High School.
After hearing from Goss and other parents, the board asked Asheville-based Cort Architectural Group to complete a report on options and associated costs for forming a middle school, presenting the results of that report and taking public comment on the issue July 16 and Aug. 7. A final invoice has not been received, but the study is expected to cost about $19,000.
While the afternoon session July 16 drew comment from only one person — that speaker was against the middle school idea — six people spoke during the evening session Aug. 7, with three in favor of the middle school concept and three against it.
"You do have better attendance in a K-8 school," said Kirsten Morgan, a teacher at Fairview Elementary School who was on a committee several years ago that researched this very topic for the Board of Education. "You do have greater parental involvement. It's a local school. You do have fewer behavioral issues among the six-eight if you don't put them all together."
While kids from a system that includes a middle school may have the chance to take more advanced courses, she said, the K-8 structure doesn't put them at a disadvantage for college, as college admissions teams consider the particular area a student is coming from when evaluating applications.
"Above all else I feel like socially and emotionally during this time of transition, kids need the stability and the community of a group of people who know them and love them," she said. "If you're an eighth-grader, there may not be a middle school teacher who loves you because you may not always act that lovable, but there's a first-grade teacher in the building who loves you."
Freya Kenner, the mother of a Cullowhee Valley Elementary School student, agreed with that assessment.
"I've seen the self-esteem that comes from being a K-8 system," she said. "I've also seen how the continuity for students, especially those who may or may not have stability in other parts of their lives, can really be a positive thing for them."
Kelly Dinklemeyer, whose daughter is also at Cullowhee Valley, said that it's important too for younger students to see all the cool stuff the older kids are doing, making them excited to reach that level themselves. The presence of younger kids allows older kids to take on various leadership roles they might not be able to in a middle school, and Dinklemeyer believes the localness and continuity the K-8 school affords will give her daughter confidence as she goes through the hard middle school years.
"My biggest thing is, it ain't broke so please don't fix it," she said.
Others disagreed, feeling that middle school better prepares kids for high schools and separates vulnerable younger kids from older students who might not always set the best example.
Mother of three Rita Osario said that busing has proven particularly problematic, with her elementary-age niece, who is disabled, getting picked on by older kids and her daughter coming home with stories of students making out on the bus.
"Developmentally there's a lot of things that go on in that middle school age, the hormones and the changes that happen," she said. "We experience the desire to try new things. My daughter is a young kindergartner. She turned 5 in kindergarten, and I don't think it would have been appropriate for her to see something like that."
Ben Pendry told the board that he grew up in a K-8 school in Wilkes County, which converted to the middle school system two years after he left.
"I believe strongly that the students who are receiving a middle school education are receiving a better education than I did," he said.
Middle school gives kids an irreplaceable opportunity to learn and grow with the students they'll go on to do high school with, he said. While education dollars are always tight, he added, the school board should consider this an opportunity to truly invest in its students.
Jackson County resident Phil Haire also spoke in support of a middle school, saying that it's good for kids to move up as they mature, and begin to think and act differently.
"The only thing I hope the board would consider is wherever and whatever you do with a middle grade school, you consider it six through nine, that it be in a separate facility," he said.
The middle school question isn't one that's likely to be resolved in the near term, with the board of education expressing a desire to spend some time weighing out the pros and cons and continuing to gather public input before making a decision.
"This is not the end of this discussion," said School Board Chair Ali Laird-Large as she closed out the hearing.
The options
The Cort Architectural Group study looked at four main options for establishing a middle school.
The school system could build a new middle school on a new site, build a new middle school at the existing high school to create a combined middle/high school, build a new high school and convert the existing high school into a middle school, or renovate one of the existing K-8 schools as a middle school and redistrict elementary students between the remaining three schools. Currently, 731 students are enrolled in grades six through eight in northern Jackson County, the report found, so an 800-student middle school would be sufficient.
Estimated costs, not including any associated land acquisition or water/sewer infrastructure costs, were provided for each option and are listed below from least expensive to most expensive.
• Renovate Scotts Creek Elementary School: $3.2 million
• Renovate Cullowhee Valley Elementary School: $5.8 million
• New middle school at Smoky Mountain High School: $14.5 million
• Renovate Fairview Elementary School: $20.7 million
• New middle school: $30.1 million
• New high school: $39 million
The Jackson County Board of Education meets monthly at 6 p.m. on the fourth Tuesday of the month, with opportunity for public comment at each meeting. The next meeting is 6 p.m. Tuesday, Aug. 28, at the central office on 398 Hospital Road in Sylva.