Archived News
Sylva community turns out in force to oppose N.C. 107 plans
Wednesday, August 08, 2018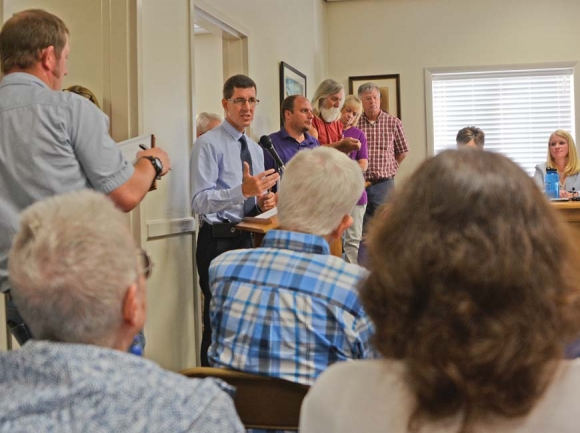 DOT engineer Brian Burch discusses the N.C. 107 project to a more-than-full room at Sylva Town Hall. Holly Kays photo
Sylva Town Hall was filled beyond capacity as Mayor Lynda Sossamon called a public forum on the redevelopment of N.C. 107 into session Monday, Aug. 6.
Every chair was occupied, and every piece of wall housed a leaning back. People sat cross-legged on the bit of empty floor space at the front of the room, which held about 100 people, and still more spilled out into the adjoining hallway, kitchen and conference room.
They were there in response to preliminary plans from the N.C. Department of Transportation for an upcoming makeover of N.C. 107 through Sylva. If unchanged, those plans would force up to 54 businesses, one nonprofit and five residences to relocate, roughly one-sixth of Sylva's business community. It's quite possible that displaced businesses would not reopen in town, as the DOT's own report notes that "suitable business sites in and around Sylva are very limited." Relocation funds allocated to displaced businesses can be used to re-establish anywhere within a 50-mile radius.
In response to the plans, the Jackson County Smart Roads Alliance — which originally formed in 2002 to oppose plans to build a bypass from Cullowhee to U.S. 74 — reorganized with the goal of helping to create a better N.C. 107 redesign. About 50 people attended an organizational meeting June 26, featuring presentations by Sylva attorney Jay Coward and MountainTrue co-director Julie Mayfield, who offered her organization's design services to arrive at a better road plan than the one currently proposed.
Laying down the background
The Aug. 6 meeting began with informational presentations from representatives of the Southwestern Commission, DOT, MountainTrue and the Smart Roads Alliance.
Southwestern Commission Director Sarah Thompson said that N.C. 107 from Sylva to Cullowhee was originally built as a higher-speed connector road, with the businesses — and their many driveways — appearing later. As traffic and accident volume increased, it became apparent that something had to be done. After years of discussion and study, the town arrived at a vision for a 107 that would feature slower speeds for safer driving, more aesthetic appeal and facilities for cyclists and pedestrians.
Rose Baugess, senior planner with the Southwestern Commission, added that previous studies showed that the Cullowhee connector idea wouldn't save as much time or traffic as originally thought, with the "best possible scenario" taking 7,000 to 9,000 cars off the road and 40,000 cars per day projected to use that stretch of 107 without the corridor. In terms of driving time, she said, it would save a few minutes but nowhere near a more significant 10 to 15 minutes.
DOT Division Engineer Brian Burch stressed that the plans are only 25 percent complete, and that much will depend on the utility plans providers submit this winter, and in particular whether those plans include moving facilities underground.
"If we can do that, that will help us with impacts," Burch said. "If we can't do that, the impacts that you see on these plans will likely increase. Until we get that information any decision that we make is somewhat premature."
However, he said, the plan in its current form will go a long way toward making 107 faster. In the last five years, there have been 257 crashes there. By redesigning the road to restrict the number of places drivers can enter and exit it, T-bone crashes will be reduced, leaving mostly lower-injury rear-end crashes to deal with.
Coward, meanwhile, said that the current plans are "very bad" and pointed out specific places on the schematics that he sees as unnecessarily harmful or missed opportunities.
"This community has got to step up and participate in saying, 'This is what we want,' because if you don't step up and participate then the Department of Transportation is lawfully charged with producing what it thinks is the best road," Coward said.
Call for communication
The people in attendance followed Coward's directive to 'step up and participate' quite well that evening. Of 135 people who signed in as having attended the meeting, 29 signed up to speak, and 23 actually delivered comments — none of them were supportive of the project as proposed, though several spoke on the need for something to be done.
Multiple speakers were concerned about what they said was a failure to communicate with those likely to be affected by the project.
"We have yet to be contacted by anyone from the town or DOT to talk about our piece of property," said Robert Kelly, whose family owns Kel-Save Pharmacy and Kountry Kupboard Health Foods. Those businesses are not on the relocation list, but the current plans would reduce their parking and make them more difficult to access.
The Kelly family has run the pharmacy for 50 years, filling 10 million prescriptions, Kelly said. While 107 definitely needs improvements, he said, the cost to the community must be considered. He urged town commissioners to proactively visit businesses along the road, warning that for those businesses facing relocation, it will be a "life-altering" event.
"I know it don't mean much to the state, but it does to me," agreed Rick Bryson, who owns Rick's Car Wash next to Wendy's. The business means employment for him and his family members, and with all the uncertainty surrounding the road project, he's unable to even sell it to avoid what's coming.
It wasn't just the business owners who were appalled by the potential impact to those establishments.
"These are mom and pop businesses that will go out of business and not come back in business in Jackson County, period," said Rep. Mike Clampitt, R-Bryson City. "So I'm against the project completely. I'm going on record with that. By the way, I'm on the appropriations committee. I'm not saying pull strings but the bottom line is currently with that."
"I'm for as much preservation of businesses as possible," added resident Betty Dishman. "I know nothing's perfect, but these people have been here a long time and they provide a good service to our community, so I'm going to advocate for them."
Terrible traffic
Make no mistake, other commenters said — the traffic problem on 107 is real, and it's bad.
"I'm one of the 257 people who have been involved in an accident in the last five years," said Adam Bigelow, recounting the story of getting "creamed and sent into oncoming traffic" when struck by a turning car as he drove the speed limit in the left-hand lane near Little Caesar's.
Bigelow spoke in support of roundabouts, bicycle lanes and leaving the West Main Street portion of the project area — which would likely force the relocation of Speedy's Pizza — out of the plans.
"Traffic safety is a very serious issue on 107, but not downtown," he said. "I'm with Charlie (Schmidt, general manager at Speedy's) and the others thinking we need to address these separate parts separately."
Others said that the DOT should revisit the Cullowhee connector idea.
"What we're proposing to do here I don't think will ever solve the traffic congestion," said Carroll Smith. "It will take some work on 107, plus that bypass."
"I think that we need to definitely look at ways that we can decrease needless volume," agreed Cullowhee resident Aaron Littlefield. "For example you're going to have 10 to 20,000 cars coming and going from WCU every single day. That's not going to change, and they're predicting at least 300 students a year growth, period, at Western."
Too many leaks?
Some speakers called for the DOT to scrap its current plans completely and start from scratch.
"Warren Buffett said when you find yourself in a leaky boat with holes, you're better off buying a new boat rather than trying to plug the holes," said Jackson County resident Scott Wollins. "This plan is full of holes. I've got an idea. Let's scrap it. We don't need the state to build this community."
Kelly Robinson pointed out that there are a bunch of smaller roads behind Subway that are one piece of property away from connecting to U.S. 23 — why not widen those smaller roads to divert traffic off of 107? Better road patrols could also make a difference, he said, referencing the years he spent living in Clyde.
"If you go through Clyde over the speed limit, you're going to get a ticket," he said. "Everybody in Haywood County knows that, and I would like to see Sylva get that reputation."
Even on 107 itself, said Schmidt, the space could be used much more efficiently. For example, what if the sidewalk and bike lane were placed in the middle of a grassy median rather than to either side of the road?
"I don't want any businesses to go away," said Kent Cranford, who owns Motion Makers Bicycle Shop. "I don't want any road to be so wide that it has to have that happen, but I do want to see Sylva as a community improve."
Despite some anger and accusations from speakers that the town hasn't done enough to reach out, board members assured the roomful of citizens that their concerns had been heard.
"I can speak for myself and several board members," said Commissioner Mary Gelbaugh. "We all work in the community, we're full-time employees too. We have families, we have children. We're part of your community. We want to hear from you."