Archived News
The damage done: finding needles in a haystack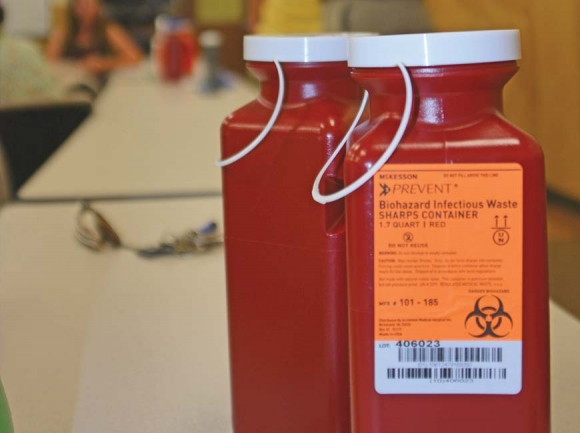 Thick plastic sharps containers sit on a desk during a presentation on needle collection procedures. Cory Vaillancourt photo
Lindsay Regner and Megan Hauser tromp down an old railroad line, their steady pace creating a predictable beat of feet dragging across road-grade gravel.
Hunched over, peering intently at the ground and holding a long metal grabbing wand in her blue-gloved hands, Regner spots something in the weeds.
It's a small, cylindrical day-glo orange cap typically found at the end of a hypodermic syringe — and it's not there by accident.
Rural counties like Haywood have been hit especially hard by the nation's collective drug problem, which often leads to homelessness for those locked in a cycle of poverty and incarceration.
Whether in informal encampments strewn about the region or in isolated locales at the intersection of habit and happenstance, intravenous drug use often occurs out of sight, out of mind and without the slightest thought of the dangerous accouterments left behind.
Stuck in the middle
Finding the cap from a syringe is like finding part of a worm in your apple — it's not about the part you found, it's about the part you didn't.
"We're out here cleaning up needles so we can prevent accidental needle sticks and disease transmission," said Hauser, Healthy Haywood coordinator for five years.
Hauser was part of a group — including Regner, the Haywood County Sheriff's public information officer — that met at the Haywood County Department of Health and Human Services building in Clyde July 19 to learn how to handle the bio-hazardous tools of an ugly trade.
"We had a little training first on how to safely do a needle pickup so that none of us would get stuck and get injured," said Patti Tiberi, a substance abuse prevention coordinator at local social service agency Mountain Projects who is also the chair of Healthy Haywood's substance abuse task force. "We divided up into three groups, and we went out and started searching for needles or paraphernalia related to IV drug use."
Jeremy Sharp, an outreach worker with the N.C. Harm Reduction Coalition, helped conduct that training in recognition of hepatitis C awareness day, July 28.
"We've been around for close to 20 years and we work mostly with injecting drug users," Sharp said. "Harm reduction means we seek to mitigate the harms associated with drug use. One of the reasons we're operating in this area is that Western North Carolina has been designated as a high-risk potential for the acquisition of hepatitis C among injecting drug users."
Mitigation, in this case, involves a number of separate programs including post-overdose monitoring.
"In Haywood County, we've had 12 reported opioid reversals since April," Sharp said. "When the cops give someone naloxone and revive them from an opioid overdose we show up within 48 hours and we offer our services as a linkage to care."
Sharp's group also conducts naloxone outreach trainings, and has distributed over 2,500 naloxone kits to private individuals, churches and law enforcement in the last few months.
"What's really innovative about what's going on here in Haywood County is that the Waynesville Police Department has taken the initiative to put sharps boxes around parks, restrooms," said Sharp, who added that NCHRC will take over disposal of the roughly 30 containers. "But if you come across them in in a park, or a public setting, what you do with them?"
During Sharp's session about a dozen people were taught never to touch any part of a needle or paraphernalia with bare hands, and always deposit found items directly into a sharps container, or a safe alternative like a thick plastic laundry detergent bottle.
Fentanyl, he said, has been showing up more and more in the local heroin supply and can be deadly to the touch in microscopic amounts.
After Sharp finished, needle collectors headed out to three or four different sites across the county identified by the sheriff's department as places they're frequently alerted to the presence of IV drug users or IV drug paraphernalia. In little more than an hour, the volunteers returned.
Volunteers out searching for used hypodermic syringes discovered this injection 'kit' awaiting the return of its owner. Cory Vaillancourt photo
"My understanding is we found three syringes, and some folks found a 'kit' of someone getting ready to use who wasn't there, apparently waiting, and some of the paraphernalia that goes with IV drug use," Tiberi said.
Intravenous drug use isn't all needles and baggies — like the cap Regner found, the accessories to injection can be common or innocuous items so ubiquitous that most of us see them on a daily basis without realizing what they've been used for. Tiberi said that bottle caps, cotton and spoons are common as are shoelaces or string.
"I hope that we can raise the awareness in Haywood County that this is an issue that we all have to participate in if it's going to change," said Tiberi.
The signs of intravenous drug use are often hidden, due to a stigma that doesn't exist for alcohol or marijuana.
"Parents are going to need to talk to their kids, other adults might need to talk to other adults because a lot of times people know that you're using alcohol or using marijuana, but nobody gets to heroin and opiates without some type of gateway stuff. So ask," Tiberi said. "Ask. And if people are using, we want to know that there's treatment available in this community and how to get them help."
A stigma also still exists surrounding so-called needle exchange programs; communities ravaged by the IV drug epidemic often find themselves stuck between the desire for eradication and the desire for mitigation.
"We're allowed to provide sterile drug injecting equipment for injecting drug users," Sharp said. "The main reason is to mitigate hepatitis C and HIV."
Hauser admits it's not the most popular option, but must be better than nothing.
"It's a controversial thing, but something we can all get behind, having a cleaner and safer community," she said. "That's part of what picking up these needles is all about."
Continuing on down the tracks with Regner, Hauser opined on whether she'd be happy to find lots of needles, or none at all.
"I suppose that depends on how you look at it," she said. "We may not find a lot here tonight but that doesn't mean there's not some still out there at different places we're just not looking."
Naloxone training
In Conjunction with the Haywood County Health & Human Services Agency, the North Carolina Harm Reduction Coalition will conduct and overdose recognition and opioid reversal training. Attendees will receive free harm reduction resources and information on substance abuse services, as well as naloxone kits.
• Date: Tuesday, Aug. 7
• Time: noon to 2 p.m.
• Location: HHS, 157 Paragon Parkway #301, Clyde