Archived News
Cherokee hospital to build $39 million crisis unit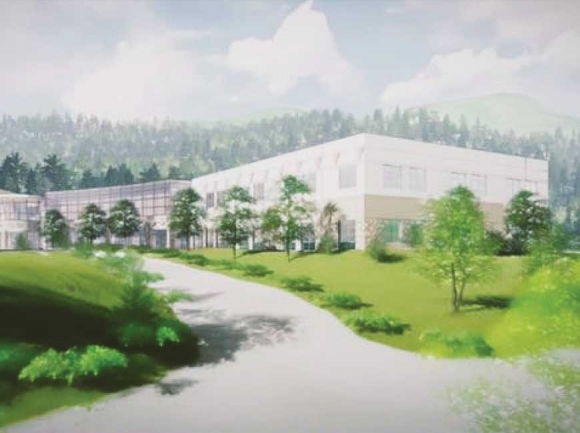 The planned crisis stabilization unit will house people going through acute behavioral and mental health-related issues. Donated rendering
Long-debated plans to renovate the old Cherokee Indian Hospital building as a crisis stabilization unit will now move forward following a 9-2 vote from Tribal Council to appropriate $31 million in funding.
The body held the vote during its monthly Budget Council meeting July 10 following more than an hour of debate, the culmination of a process that launched in October 2016, when Tribal Council appropriated $1.7 million to plan the project. Since then, the hospital has analyzed the potential of six different construction scenarios, made three presentations to the health board and participated in at least two work sessions, hospital CEO Casey Cooper told Tribal Council. A resolution to fund the project first came before Council in February, and again in March, but the body voted to delay the decision on both occasions.
"We're all aware the opioid and heroin epidemic is at crisis levels, and we really need to make a decision one way or another," Principal Chief Richard Sneed told Tribal Council to kick off the discussion. "Either we're going to do the project or we're not."
Plans for the unit call for 14 semi-private rooms and four high-risk rooms to house patients in crisis — whether they be addicts going through detox, teens struggling with suicidal ideations or people with mental health problems severe enough to require commitment. Some rooms could be converted into double-occupancy rooms, with a total of 28 potential beds.
In addition to the beds, the building would include a patient wellness center, two large group therapy rooms, two activity rooms, a dining room, a medical procedure room, a large intake room, two consult rooms for families and patients and the new headquarters of Analenisgi, a program aimed at supporting people in recovery. Analenisgi would include 11 office spaces, 24 workstations, 13 talking rooms, a large group therapy room, two small group therapy rooms and two classrooms. The building will house a total of 46 office spaces, with many of those supporting staff at the new hospital next door. In terms of square footage, 59 percent of the building would be for direct patient care and 41 percent of it would be office space, according to an informational flyer from the hospital.
Concerns about cost
In all, the Cherokee Indian Hospital Authority expects the project will cost about $39 million — with Tribal Council funding $31 million, the hospital will cover the rest. Debt service would be paid through interest from the tribe's Debt Service Sinking Fund, which generates about $11 million per year. The hospital debt service would require about $3 million of that, Cooper said. There is also potential to generate revenue from the project by leasing unneeded beds to the Indian Health Service.
"One of the things we've talked about with this project is the price tag attached to it, and that seems to be the elephant in the room," said Councilmember Jeremy Wilson, of Wolfetown. "However, this Tribal Council has been on its soapbox for a long time about addressing the needs for the opioid crisis, for mental health issues. These are issues that are very real and they affect every single family on this Qualla Boundary."
Council should pass the legislation, he said. Wilson met agreement from Councilmember Richard French, of Big Cove, who added that the tribe has already spent $1.7 million on planning — it would be a shame to have spent that money for no purpose, he said.
However, Councilmember Albert Rose, of Birdtown, said he thought the price tag was too high, saying that a 16-bed unit in Asheville had recently been built for $1 million, though he couldn't give specifics as to which project he was referencing.
"The only problem I have with this is if you want office space, take it out of your budget and we'll just separate the two projects," he said.
"These numbers are really high," agreed Councilmember Tom Wahnetah, of Yellowhill. "I just can't support it right now."
Hospital CEO Casey Cooper defended the project, calling the $450 cost per square foot "a very reasonable number."
"I don't think that we can get the cost per square foot down," he said. "If we want to decrease the overall price tag, we literally have to decrease the square footage that we're building. It's not that complicated. It is a multiple of the square footage that we're building."
But why must the project include so much new construction, asked Rose, contending that "the (old) hospital's in good shape." Remodeling the existing structure would result in a lower price, he said.
"The reality is the old hospital is not in good shape," countered Cooper. "We cannot upgrade the old hospital to meet the new codes and standards."
In fact, Cooper said, a simple remodel was one of six options analyzed when the hospital initially started the planning process — back in 2016, when Tribal Council mandated it to. What's being recommended now is the result of many hours of work, meetings and conversations with Tribal Council.
Making the decision
Vice Chair David Wolfe, of Yellowtown, added that he'd heard some in the community object to spending so much on a crisis unit when the tribe has already put many millions of dollars toward resources for those battling addiction.
"They tend to believe that we're just aiding these patients and giving them a legal way of helping their addiction and just giving them a legal way of doing what they're doing," he said, specifically referencing suboxone and needle exchange programs. "When I try to answer some of those questions, the reasons behind those, they're, 'Well, if you're going to take a stance against drugs, you need to take a stance against drugs. You can't keep giving them a way to do them.'"
Sneed responded that in the health care industry "pharmaceutically assisted recovery with suboxone, that is a given. When people are addicted to pills, their body physically has to have something."
"I just wanted to comment and just make sure that we're understanding that crisis stabilization is not just talking about individuals using drugs," added Sunshine Parker, manager of the tribe's Family Safety Program. "We're talking about people who need to be committed for their mental health. We're talking about children who have suicidal ideations. We're talking about elders."
Because of the lack of beds, she said, there are elders who have been sitting in the emergency room for six months, not getting the care they really need and preventing other patients from using those rooms.
Drug addiction is a big problem that will require big resources to address, added Vickie Bradley, the tribe' secretary of public health and human services. After being open less than five months, Cherokee's needle exchange program has 281 participants. The community has 812 cases of Hepatitis C, of which more than 400 are currently infectious. The cost to treat one case of the disease typically falls between $200,000 and $500,000.
The challenge is daunting, but as long as the addict is alive, there is hope for change. The crisis stabilization unit can be a provider of that hope, Bradley said.
"I think we have a unique opportunity in this community to build something that will make a difference," she said. "It will help give people a time out and stabilize them in a secure place so they can get the help that they need, and we can open up our inpatient beds."
She concluded with an emotional plea for councilmembers to vote in favor of the project.
"Trust the subject matter experts. That's what I would ask you," she said. "We have spent many, many years in training, collectively becoming educated on your dime. Thank you. To gain the knowledge, experience the competencies that we need to make these decisions that are fiscally responsible on behalf of the tribe. Trust us. We're not building offices. We're building supported networks to keep our people alive."
Tribal member Kallup McCoy, a former addict who has since become a leader in the recovery community, reminded councilmembers that change can happen.
"I was one of those people that had to be brought back with Narcan several times," he said. "I wouldn't be standing here if it wasn't for amazing EMS workers and stuff like that. Whenever we don't see people for people and we see them for their experience, we're missing the mark and we're missing an opportunity for them to heal."
Councilmember Perry Shell, of Big Cove, thanked Bradley for her words and added that in addition to funding recovery services, the tribe should turn its eye to bolstering prevention programs.
"We really need a better coordinated effort on this than what we're doing right now," he said, "and we need to start banishing more of these dealers."
Eventually the conversation came to a close with a motion from Wilson and second by Wolfe to approve the project. Councilmembers approved funding with a 9-2 vote. Councilmembers Tommye Saunooke, of Painttown, and Bucky Brown, of Snowbird, voted against it and Councilmember Boyd Owle, of Birdtown, was absent.
"I know that every one of us has been affected and I won't use my family as an example, and I appreciate where Vickie (Bradley) is coming from, but I still need some more numbers," Saunooke said to explain her no vote. "I think the cost is astronomical and we could do it for less."
Editor's note: This story was reported using online meeting videos, as Tribal Council's April decision to ban non-Cherokee media from its chambers prevents The Smoky Mountain News from attending in person.