Archived News
Jackson human services board seeks explanation for consolidation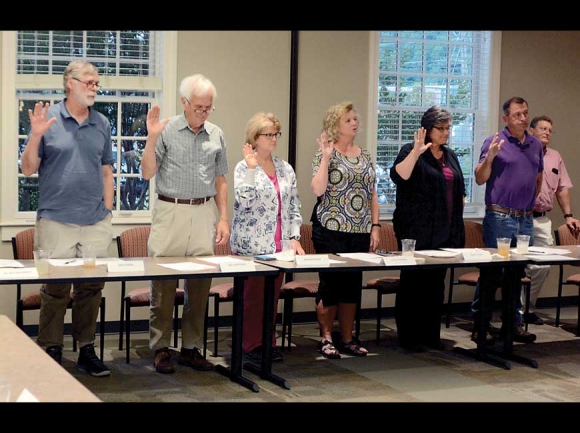 Board members take their oath of office during the board's inaugural meeting June 11. Jerry DeWeese (second from right) would resign this position within the hour. Holly Kays photo
When the Jackson County Health and Human Services Board met for its inaugural meeting June 11, board members made it clear that they had some major questions about county commissioners' decision to create the consolidated board. The two-hour meeting ended with an exclamation mark when Jerry DeWeese announced his resignation from the board, with the remaining board members taking a split vote in favor of asking commissioners to provide a letter of explanation for the consolidation.
The board held its second meeting July 10, and though County Manager Don Adams informed its members that commissioners had declined to author a letter, the board voted unanimously to request that one of the three commissioners who had voted in favor of consolidation come to a board meeting to share their reasoning.
"The board only votes yes or no, yay or nay. The board offers direction, the board offers decisions. The board doesn't offer opinions," said Commission Chairman Brian McMahan by phone when asked why commissioners had decided not to write the letter. "And especially when we have a vote that was a split vote. It was a 3 to 2 vote. It's not like the Supreme Court where there's going to be a dissenting opinion written."
McMahan was one of the two commissioners who voted against consolidating the departments of health and social services. As chairman, however, he would be the one tasked with authoring and signing any letter on the board's behalf. McMahan said he didn't feel that would be appropriate, a point of view the remaining commissioners agreed with when its members discussed the request during a July 10 work session.
"If there's a need or a request for reasoning from individual commissioners, then those requests need to be made to individuals," he said. "The board is not the entity to provide that information."
According to Health and Human Services Board Chair Kathy Farmer, the board's response to the commissioners' perspective, as relayed by County Manager Don Adams, was mixed.
"There were a few folks that were still dissatisfied that someone had not tried to put it in writing or was present to give a response," she said in a phone interview. "But there were several folks that understood and said this is the decision that's been made — although initially folks might not have agreed with that, this is where we are and we need to move forward at this point for the sake of these two agencies."
However, the board still wanted an explanation to accelerate that forward motion and voted unanimously to have a commissioner come and "speak without debate, so someone would come not feeling like they would be attacked or questioned," Farmer said.
The consolidation was the culmination of a discussion that began following the 2016 elections, when Commissioners Ron Mau and Mickey Luker were elected to join incumbent Commissioner Charles Elders to form a Republican majority. The Republican commissioners were interested in merging the county's health and social services departments, something allowed through a 2012 state law.
In March 2017, experts on the topic from the University of North Carolina School of Government came to Jackson County to discuss the ins and outs of that law. While Commissioner Boyce Deitz and Chairman Brian McMahan, both Democrats, were against consolidation from the beginning, Luker, Mau and Elders wanted to move forward.
During a Jan. 29 public hearing, every one of the 11 people who spoke opposed consolidation, citing concerns about increased potential for political influence in the delivery of services, a monumental learning curve for volunteer board members and the futility of the effort, as the original structure was already functioning well. The commissioners who favored consolidation, meanwhile, said that the new structure would streamline the lines of authority by causing the director to answer directly to the county manager rather than to the board, offer the opportunity for financial savings and make it easier to connect people with services. The board ultimately voted 3 to 2 to move forward with consolidation.
"It brings up a question in my mind. Why are we consolidating?" said board member Dr. Tom Turrentine during a phone interview. "It just adds a level of bureaucracy unnecessarily to an already existing two boards that were functioning good and efficiently. I'm still confused as to why we exist. I'll have to make my decisions based on my confusion."
The consolidated board does have one commissioner among its members — Luker, who was one of the three in favor of consolidation. Luker was not present at the July 10 meeting but said he disagrees with the board's decision to continue pursuing an explanation.
"You need to take the politics out of it and realize it was a board (of commissioners) decision and the decision has been made and it's time to move forward," Luker said during a phone interview. "Quit hashing it. It's time to move on."
For many of the board members, though, the conversation keeps coming around to why the change was made in the first place. The board is composed of people who "believe strongly in the services that the health department and the department of social services render to our community," Farmer said, and they're sensitive to any real or perceived threat to those services. Having a commissioner come and give a full-length explanation could put those questions to rest.
"They feel that they're questioning on behalf of the general public as well, so they're looking at are we saving funds, what is the reasoning here," Farmer said. "If they felt like there was justification they would move on, but I really feel like this (explanation) may be sort of a turning point. It may not satisfy everyone, but I think that they will allow things to continue to move forward."
Luker disagrees.
"As a board member, I just don't see where an explanation of that makes a difference in your determination of serving on the human services board and being the best that you can be to see the human services agency be successful," he said. "I don't know what else to say other than that. At the end of the day, my position is to improve the lives of those that we serve that are less fortunate than some of us and try to make every way possible to improve their lives."
As to which of the three Republican commissioners will respond to the board's request, that's still up in the air. Luker said the board will likely discuss the matter during its next work session, which is slated for Tuesday, Aug. 14 — the same day as the next DHHS board meeting.
"We need to for the sake of the DSS and Health Department to move forward and be functional and positive," said Turrentine. "It's a good board and it's well represented and I'm for it, positively. But I'm anxious to see how it's going to function towards improving the services that are given in both the Health Department and DSS."
Hiring process
moves forward

The decision to consolidate the departments resulted in the subsequent decision to create a new position to oversee the new, consolidated department, and the Board of Health and Human Services has now appointed a committee to review those applications.

The committee will include the board's executive committee — Chair Kathy Farmer, Vice Chair Charles Wolfe and Second Vice Chair Dana Tucker — Social Services Director Jennifer Abshire, Health Department Director Shelley Carraway and County Manager Don Adams, Farmer said in an interview.

The committee will begin reviewing applications around the middle of August, Farmer said, and will set up interviews with top candidates in September. If a viable candidate emerges in that initial round of interviews, an offer of employment could be extended shortly thereafter.

"The position will remain open until filled, so we will continue to take applications," Farmer said. "If there are not folks that we can agree on at that time, we'll continue the process."

Before consolidation, the boards of health and social services were responsible for hiring and firing the directors of those departments. Under the new system, the county manager will make the hire with the advice and consent of the Health and Human Services Board.

The county will keep its existing directors of health and social services on staff, with the director of the consolidated department coming on as an additional position. The salary range is $74,000 to $145,000, plus benefits.