Archived Travel Guide
On your plate, on the plateau: Chef Ken Naron of Canyon Kitchen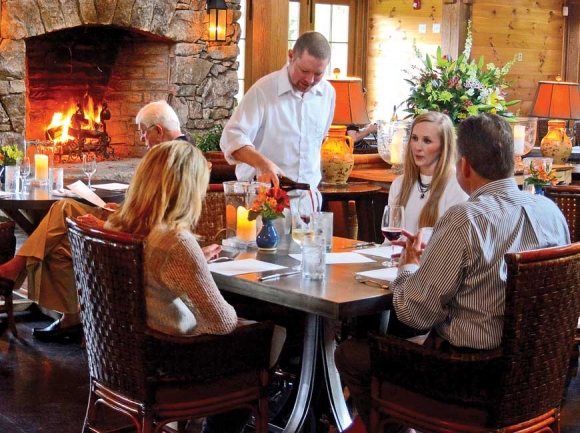 Though the culinary and agricultural history of Southern Appalachia is as vast and robust as the tall and rigorous mountains that make up this region, the intense worldwide focus and adoration for the ingredients, recipes and folks who stir it all together is more of a 21st century phenomenon.
The culinary story of this area has always been here. And it has always been told. But, it's only in the modern era do we find so many ears finally listening, so many mouths eating in gusto the rich flavors, intricate styles and unique attitudes that waft from each dish presented before you.
Beyond the bright lights of Asheville — with a multitude of exquisite restaurants where you find yourself using them as directional markers toward the next "must try" spot — you head west on N.C. 280, ultimately up into the rugged hills of Jackson County along the U.S. 64 roadside.
And just outside of the Cashiers crossroads, tucked into the Lonesome Valley property, is the culinary delights of the Canyon Kitchen. Bridging farm-to-table ingredients and cosmopolitan flair, Chef Ken Naron and his team are the torchbearers of a culinary revolution that continues to captivate the appetites of Western North Carolina.
In terms of the foodie scene, there has been a huge explosion in interest and focus on Southern cuisine and culinary culture. Why is that, and what do you attribute that to?
Ken Naron: We have the greatest food in the world here in the South. Our food culture is so ethnically diverse in the South. Think about all the different people that have come into America in the southern region. These different cultures have brought their food and traditions with them and have shared them. Our learning and sharing things with each other makes for some really delicious food.
What ingredients do you find the most enjoyable to use that hail from the native soils of Western North Carolina and greater Southern Appalachia?
KN: Ramps. I love ramps. We don't have them in [my native] Louisiana and it's one of my favorite ingredients here. Candy roaster squash is another ingredient that's great. They can be used in so many ways. The heirloom corns that grow around here are amazing. I'm astonished that the different varieties growing here have been here for as long as they have. It says a lot about the region and the people in it.
What about ingredients folks might not be aware of, in name and in possibilities, that are from this region?
KN: When I moved here, I noticed two greens growing that I didn't see on any menus. First, was Dandelion greens. The Italian name is "puntarelle." We used to get them from our farmers out west. They're bitter, but very edible. I like to marinate them with some lemon zest and olive oil, and flash them on the grill, just enough to wilt them. You can chop them up, add them to grains, grits, sweet corn, pretty much anywhere you want to add a bitter element. The second was goose foot (aka: lambs quarters/wild spinach). This is another green that's edible and everywhere during the spring. It has a pretty mild spinach flavor, but a little different than the stuff grown commercially. I like to add them to salad greens or sautéed real quick with bacon and onions.
What's the philosophy with your restaurant?
KN: Our philosophy is to use the best ingredients and products from our region to create a unique experience that can't be duplicated anywhere else. Our goal is to represent the region in the best possible way by honoring traditions and creating new ones. We grow lettuces, corn, radishes, carrots, beets, beans, peas, herbs, shallots. I know we're not the only restaurant that grows its own produce, but we also turn all our vegetable waste into compost to use in our garden. We're huge believers in seed-to-stem cooking. We make a lot of our own pickles, vinegars, jams and jellies. When we produce an ingredient, we look at it and figure out a unique way to use it or turn it into another product. We diversify our pantry as much as we can with what we have available. Our flavor combinations and nuances are what separates us.
When you're in midst of a dinner rush, with everything and everyone in overdrive, where do you go in your mind?
KN: In the heat of it all, is when my thoughts seem to be the most clear. It's almost like being in love — heart is racing, eyes widening, blood pumping, senses heightened. It's all very crazy, and very fun. Professionally speaking, it's a sense of accomplishment. When you're busy and feeding a lot of guests, it means that you're doing something right. My thoughts are that every plate has to be excellent in taste and presentation. You eat with your eyes. It has to look good, but, more importantly, it has to taste good.
Want to go?
Canyon Kitchen is open Wednesday-Sunday from May through October. If you would like to know more about the Canyon Kitchen in Lonesome Valley and/or to make a reservation, click on www.lonesomevalley.com.