Archived News
A life that changed lives: WNC mourns death of WCU Chancellor David Belcher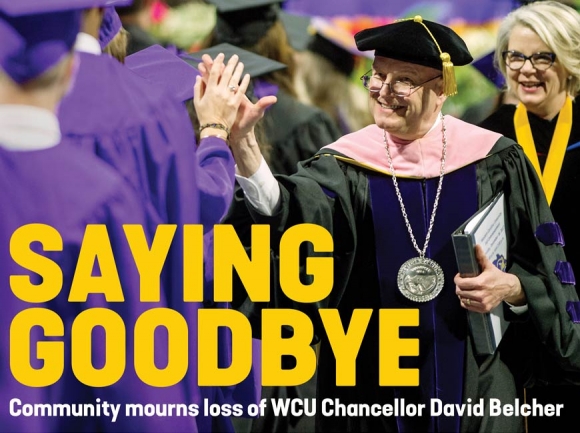 From the moment Western Carolina University Chancellor David O. Belcher announced he'd been diagnosed with brain cancer — more than two years ago, in April 2016 — the diagnosis ceased to be the burden of an individual person. It became the burden of the entire Catamount community, and when at age 60 Belcher finally lost his battle with cancer on Sunday, June 17, grief rippled quickly through the WCU campus and past the borders of Jackson County, threading through the mountain region and out into all the lives and communities that Belcher had touched during his years on earth.
"Please allow me to express my heartfelt appreciation for the incredible outpouring of love and support from the Western Carolina University community throughout our seven years here, but especially since David's diagnosis in April 2016 and his decision to go on medical leave at the end of the 2017 calendar year," his wife Susan Brummell Belcher wrote in a letter to the university community the afternoon David Belcher passed away. "We could not have made this unexpected journey without you."
SEE ALSO: 'Forever in our 'Forever in our purple-and-gold hearts'
Belcher took the reins at WCU on July 1, 2011, hired to follow the 16-year-long administration of John Bardo. An accomplished pianist, Belcher began his career in 1988 at the music department of Missouri State University, moving into administration as assistant dean in 1993 and then in 1994 as dean of the College of Arts and Letters. In 2003, he moved to the University of Arkansas at Little Rock, where he served as provost and vice chancellor for academic affairs until taking the helm at WCU.
'The business of changing lives'
David and Susan Belcher came as a team, jointly falling in love with the Catamount community immediately upon their arrival.
"We worked at several universities together, and they've been great places to help and work with, but when we got here it was a place we loved," said David Belcher in an October 2017 interview with The Smoky Mountain News, weeks before announcing his cancer had returned.
Belcher said he loved the do-it-yourself energy of the campus and the intelligence of the students who studied there, but that the many students who come from families of limited financial means or who are the first in their families to go to college mean that there's plenty of work to do to ensure Western makes the biggest impact possible.
Western Carolina University Chancellor David Belcher high-fives freshman students during the seventh annual Freshman Run in September 2017.
"Remember always that we — that you — are in the business of changing lives," said Belcher during his parting words to the Board of Trustees in December. "And with your continued passion, support and commitment to this university, there is no limit to what you can accomplish."
When Belcher came to Cullowhee, he inherited some thorny problems. The university had a strained relationship with the local community, and state funding cuts left WCU facing a $4.85 million budget deficit.
"Send your most positive thoughts to our IT system. It cannot malfunction this year," Belcher said during an address to university faculty following his 2011 appointment, eliciting a laugh from the audience.
Despite the challenges, in his 2012 inauguration speech Belcher laid out an ambitious list of promises to the WCU community. He pledged to develop the public-private partnership Millennial Campus, create a leadership academy for faculty and staff, organize an annual summer tour of the region for institutional leaders, convene a consortium of educational leaders from across Western North Carolina and make fundraising for endowed scholarships the school's number one philanthropic priority.
By the time he stepped down as chancellor on Dec. 31, 2017, Belcher's administration had made significant progress on all five fronts.
A new Health and Human Sciences building stands in the Millennial Campus, with a medical office building now in the planning stage. The university holds an annual leadership academy that graduates 12 WCU employees each year, with the capstone experience a weeklong bus tour giving participants the chance to see firsthand the communities WCU serves, from Asheville to Hayesville. WNC's educational leaders have banded together to improve the cross-institutional pathway from preschool to college, and the effort is playing out on a statewide level as well, with UNC President Margaret Spellings forming the My Future N.C. Commission, a high-level task force formed to examine those pathways on a larger scale.
And scholarships have certainly become WCU's top philanthropic priority, with the Lead the Way campaign to raise money for endowed scholarships having to adjust its goal upward when it neared its original aim of $50 million much more quickly than expected. The Belchers played an instrumental role in the campaign's success, in October 2017 announcing a $1.23 million scholarship gift and challenging others to follow in their footsteps. That call was heeded, with multiple gifts of $1 million or more rolling in since.
The Belcher administration has seen a laundry list of other accomplishments as well. Freshman retention skyrocketed from 73 percent between fall 2011 and fall 2012 to reach Belcher's goal of 80 percent retention by 2020 five years early, in 2015. Belcher worked to secure $110 million in state funding to replace WCU's 1970s-era Natural Sciences Building, guided implementation of the N.C. Promise tuition reduction program, and consolidated economic growth-related graduate and undergraduate programs at a new instructional site in Asheville — to name a few of many milestones reached.
Belcher and his wife Susan pose during the 2017 Homecoming Parade in downtown Sylva.
Leading with passion
Anyone in a position of leadership can expect to be criticized and disliked at times, if only by a vocal minority. The more visible the role, the more ironclad the rule.
Belcher, however, seemed to be exempt from that maxim. Even before his cancer diagnosis, students, staff, faculty and community members had mainly positive things to say about their chancellor. After his death, the outpouring swelled.
"David Belcher, my friend and our chancellor, was a truly inspiring leader with an uncanny ability to touch the soul of everyone he met," said Pat Kaemmerling, chair of the WCU Board of Trustees. "With his razor-sharp wit, his intense focus on the pursuit of excellence and his abounding love for students, David re-energized our Western Carolina University community."
Nobody relied on that energy more than Dr. Allison Morrison-Shetlar, who was charged with taking over as acting chancellor after Belcher stepped down.
"I learned a lot from David Belcher," she said. "I worked with him for over four years, and he is a colleague and a mentor and a friend, and he supported my development as an educator. What he has done is he has built a tremendous team to move the mission of the institution forward. He has really met the educational goals and needs of the region, and in studying under him it's been my goal to continue his legacy, and to continue the impact that he has had on the region and in the state."
Belcher had many qualities that made him such an exemplary leader, Morrison-Shetlar said, but two stand out among the rest: passion and humor.
Belcher was a full-force-ahead, give-it-110-percent sort of person, and he was a people person. He loved the students and spent the time to understand them and talk with them, Morrison-Shetlar said, and he had a passion for education and a desire to engage others toward the goal of improving educational opportunities across the region. Belcher was a familiar face at all manner of community and university events and an avid supporter of Catamount activities, from the concert hall to the football field — the outpouring of condolences and shared memories on Belcher's memorial website contains just as many posts from students as from elected officials and community members.
"Dr. Belcher stopped me on campus one morning just to talk. That day changed my life, knowing that someone so influential and of stature cared for every individual on campus. Thank you for being the reason I made it through and fell in love with my school. Your memory will never be lost and your contagious spirit will continue to empower all students at WCU," Catamount Madeline Slaughter wrote on the site.
Next to passion, said Morrison-Shetlar, stands humor.
"Because of his sense of humor, because of his ability to connect with people through humor and through being well-informed and impactful, his humor again engaged people and brought them to the table," she said.
Following the legacy
When Belcher announced the return of his cancer and his decision to go on medical leave, university leaders had to shelve their feelings and develop a plan to fill Belcher's soon-to-be-empty office. Though Morrison-Shetlar agreed to serve as acting chancellor, she quickly announced she would not apply for the permanent job. The Board of Trustees formed a chancellor search committee that included trustees, university faculty, staff and community leaders, hosting a series of forums to gather input from all members of the Catamount community as to what they'd like to see in a new chancellor.
For many, it was a hard question to answer — because really, they just wanted to be able to keep the one they had.
"We're not going to get another Dr. Belcher," WCU alum Ted Yoder said during a Feb. 5 community forum. "We've got to watch the danger of expecting too much. We can't find somebody just like him — there's nobody like him. But there are plenty of people out there who would love this place and love to serve and help us grow and be a better place to be."
Belcher receives a hug from a pair of WCU students during an impromptu rally held in April 2016, the day after he'd announced that he'd been diagnosed with a brain tumor. Mark Haskett photo
The WCU community will soon find out who will be given the task of attempting to follow Belcher's legacy. During a closed-session meeting Friday, June 1, the Board of Trustees approved a list of three finalists for the chancellor's job. Those names are now on the desk of UNC President Margaret Spellings, who will select one name to put forward for approval from the UNC Board of Governors. The board's next scheduled meeting is Friday, July 27, at Chapel Hill — during her charge to the search committee in January, Spellings had asked the group to work toward having a new chancellor on the job by mid-August.
"They will have big shoes to fill," said Morrison-Shetlar of the new chancellor. "It's a bit of a cliché, but I can also say there's a solid foundation for the next chancellor to build on."
While the road forward will be hard, the university can walk it knowing that it has the blessing and confidence of Belcher himself.
"I am truly sad that I can no longer walk this path with you, but know that I am relieved and glad that our university will be in such good hands. Your hands," Belcher told trustees in December. "I am so proud of the many wonderful things that we have accomplished together, and I am comforted by thoughts of the brighter future to come for Western Carolina University."