Archived News
Sidewalk seating could come to Waynesville's Main Street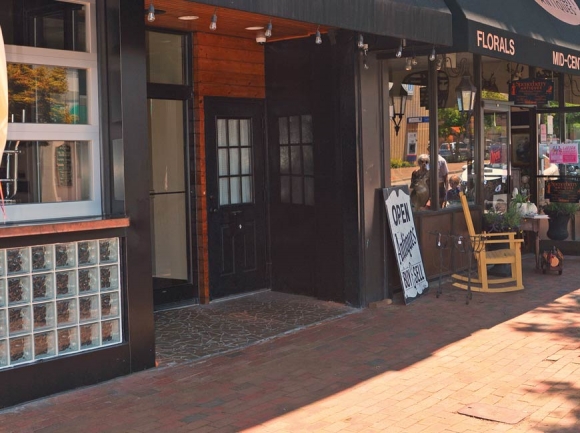 A request by one local restaurant has led the Waynesville Board of Aldermen to consider a policy on outdoor seating. Cory Vaillancourt photo
Customers of downtown Waynesville's restaurants and bars may soon be told to "hit the bricks" — but in a good way.
"As I understand it, we've had an informal agreement with the merchants for years that they could use the first two feet from the building, out, to put in planters or a chair, dog bowls full of water," said Rob Hites, Waynesville's town manager. "I think it really adds a lot to the downtown, but we've never really formalized it in policy."
New downtown Waynesville restaurant Sauced, which now occupies the former digs of Tipping Point Brewing on Main Street, made the request for tables outside the building.
In order for that to happen, an encroachment has to be granted; that encroachment legally takes part of the sidewalk out of the public sector and "attaches" it to the property.
Both the N.C. State Bureau of Investigation's Department of Alcohol Law Enforcement ALE and the town prohibit serving alcohol on sidewalks, a problem the encroachment — and some required moveable fencing — solves.
The proposed ordinance would only apply to public sidewalks that are more than 10 feet in width and are located in Town Commercial or Mixed Use zoning districts. Up to three feet may be used for outdoor seating, eating, signage or other embellishments. Outdoor sales of any kind will be prohibited.
Encroachment applicants would if so granted have to renew their encroachments on a yearly basis and carry appropriate liability insurance that reflects the existence of the encroachment. Although the ordinance doesn't say it, the town could in the future charge a nominal fee for the work associated with processing the requests.
The town will also likely implement some sort of policy and then consider the request of Sauced afterward.
Waynesville has unusually wide sidewalks for a city of its size, and some of the widest can be found in front of Sauced, thanks to a bulb out; a downtown survey attached to the request says that there's more than 17 feet of sidewalk in front of the establishment, compared to just under 10 feet in front of Earthworks Gallery.
The Americans with Disabilities Act, according to Hites, says the town needs to maintain at least five feet of unobstructed path, but after conferring with Mayor Gavin Brown, both Hites and Brown realized that couples armed with shopping bags, strollers or pets might find that a tight squeeze.
As written, the proposed ordinance demands an unobstructed 7-foot width for passage so as not to compromise public safety and to prevent diners from being constantly bumped by pedestrians.
A public hearing will be held at 6:30 p.m. Tuesday, June 26, during the regular Waynesville Board of Aldermen meeting.