Archived Outdoors
Rally 'Round the River: Conference aims to unite Macon around watershed conservation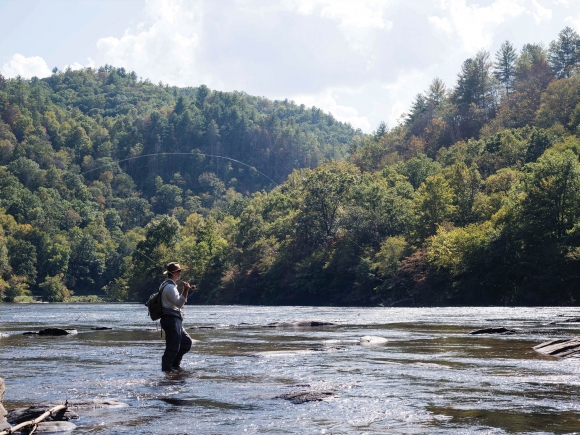 Clean water makes the Little Tennessee River popular for fly fishing. Hannah Furguiele photo
Twenty-five years ago, a group of residents, conservationists and agency officials met in Macon County to talk about water. At the time, the Little Tennessee River had no conserved land along its banks, and there was no nonprofit organization around dedicated to protecting it — but the gathering sparked a change.
"That conference was really the catalyst for the formation of the Little Tennessee Watershed Association and then later the Nikwasi Land Trust, (both of) which became the Land Trust for the Little Tennessee," said Jason Love, site manager for the Coweeta Hydrologic Laboratory in Macon County.
Recapturing the spirit
A reboot of the 1993 conference planned for 9 a.m. to 4 p.m. Saturday, June 16, will aim to unite the community once again around the cause of clean water. Rain, Rivers, Fish and Faucets will feature a variety of speakers and panels on topics ranging from aquatic diversity to runoff prevention to water-based recreation.
The Land Trust for the Little Tennessee, renamed Mainspring Conservation Trust in 2016, has since become a driving force in efforts to conserve land in Western North Carolina, especially in Macon County. Since its founding in 1997, the organization has conserved more than 25,000 acres and connected thousands of youth to nature in North Carolina's six westernmost counties and northern Rabun County, Georgia.
And in terms of the Little Tennessee River itself, conservation has seen a massive boost since 1993 — 25 years ago there was no public land along the river, but now the Little Tennessee boasts 35 miles of conserved streambank.
"This conference is taking the spirit of that first conference and looking to see where we've come and what are some new challenges and what are some new opportunities, and what do we still need to do to help conserve this watershed," said Love.
The event is organized by Forward Franklin — a grassroots group that describes itself as promoting social justice and progressive values through education, advocacy and public education — in collaboration with Mainspring and the Coweeta. The conference itself is nonpartisan and aimed at getting as many diverse groups of people as possible together to talk about water. Susan Ervin, chair of Forward Franklin's environmental committee, said the group has been planning since August 2017, working to gather a deep bench of experts to explore the many water-related issues facing Macon County.
"What I'm most excited about is seeing who comes," said Ervin. "We're really hoping to get a wide spectrum of people to come out and talk to each other."
Good changes, new challenges
Since 1993, water quality has made some gains in Macon County. There's the surge in conserved streambank, and a growth in awareness about the importance of clean water and personal practices to prevent pollution. Regulations have also played a role, especially going back beyond 1993 to 1972, when the Clean Water Act was adopted.
"We're going to have a local citizen that grew up here in Macon County describing what was going on in the rivers and streams prior to the Clean Water Act, which I think anybody would be appalled," said Jason Meador, aquatic programs manager for Mainspring. "It was through smart regulation that the government put a stop to dumping anything and everything down into the rivers."
That "local citizen" will be Bill Crawford, a Macon County oral historian, who at 9:30 a.m. will give the first presentation following the initial welcome message. Bill McLarney of Mainspring and Bob Gale of MountainTrue will join him in the talk, titled "Staying True Through Waves of Change."
The brook trout is one of the most prized species for anglers in Western North Carolina, and it depends on clean, cold water to thrive. The brook trout is one of the most prized species for anglers in Western North Carolina, and it depends on clean, cold water to thrive. David Herasimtschuk/Freshwaters Illustrated
The day will also include a presentation on the unique diversity of life in the Little Tennessee watershed — "it is arguably the most biodiverse river in the Blue Ridge in terms of its aquatic diversity," said Love — as well as a discussion about how climate change could affect the watershed going forward.
"The species composition of the forest is changing slightly, and we see species like oaks and hickory becoming less numerous and species like red maple and tulip-poplar are becoming more common," said Love.
There are a number of hypotheses as to what is spurring that shift, but a result could be overall lower stream flows — red maple and tulip-poplar are generally thirstier species than oaks and hickories.
"We get anecdotal reports from landowners saying, 'When I was younger I remember this creek was a lot higher. I remember swimming in this creek,'" said Love. "There could be a lot of things that affect that, but some of that is true. We have seen in our data that stream flow has gotten slightly lower."
When it comes to the state of things in the Little Tennessee, there are still a lot of questions. Though it's monitored and studied quite a lot, the underwater world still retains its share of mystery, and scientists don't always have the answers.
"One of the things that's a little scary is 25 years ago the Little Tennessee River was a stronghold for a rare mussel, the Appalachian elktoe, and today that mussel can't be found in the river. It's thought to be extirpated from the river, and we don't know why," said Love.
Mussels eat by filtering stream water, so they're particularly sensitive to changes in water quality — it's possible there's something in the Little Tennessee that's caused the species to decline, but that's just speculation. Interestingly, Appalachian elktoes are still doing just fine in the nearby Tuckasegee River.
Either way, there is still work left to do. Several streams around Franklin are still on the Environmental Protection Agency's list of impaired waterways, mostly due to fecal coliform concentrations and mercury found in fish tissue. Sedimentation remains a perennial issue as well. It's a hard problem to fight, because dirt can find its way into a stream from almost anywhere, and soil in the water isn't the type of dramatic impairment that typically rallies a community into swift action.
"It's not going to cause fish to go belly-up, but what it is, is they slowly lose their habitat," said Meador. "Therefore, they're gone. Over time you just have fewer and fewer fish in a stream. It's almost the same analogy of a frog in the frying pan."
That's why the conference will include a call to action, and practical steps — such as planting more trees and shrubs along their banks — that homeowners can take to better care for the streams flowing through their backyards.
"If you clear your stream completely and maybe just have a manicured lawn and mow all the way up to your streambank, the root system in those grasses is not usually adequate to hold and prevent erosion, so therefore you start losing chunks of your land and it starts washing off," Meador explained.
Looking back to 25 years ago, Ervin can still recall the positive energy that filled the room during the conference held then, and all the good that came from it. She hopes that June 16 will unite the community and give Forward Franklin, Coweeta and Mainspring ideas for future programs and resources to help advance the cause of clean water.
"It was good. It was very good," Ervin said of 1993. "It was a very positive time, and we hope this one will be too. This isn't seen as a doom and gloom event. The spirit is positive, as it was in 1993."
Rally around water
The Rain, Rivers, Fish and Faucets Forum will be held from 9 a.m. to 4 p.m. Saturday, June 16, at the Drake Education Center in Franklin. It's free and open to all, with folks welcome to stay all day or just dip in for a presentation or two.
9 a.m. Welcome by Lauren Hickman of Forward Franklin; introduction by Sharon Taylor of Mainspring Conservation Trust.
9:30 a.m. "Staying True through Waves of Change: A Macon County/Little Tennessee Watershed History and Approaches to Preserving our Watershed" with Bill Crawford, Macon County oral historian; Dr. Bill McLarney of Mainspring and Bob Gale of Mountain True.
10:20 a.m. "The Unique Diversity of Life in the Little Tennessee Watershed" with Dr. Bill McLarney and Jason Meador, both of Mainspring.
11 a.m. Presentation of Macon County Early College Shadow Biologist students.
11:10 a.m. "Chemistry of Small Streams in the Upper Little Tennessee Basin: A Complex Story of Biology, Geology, and Land Use" with Dr. Rhett Jackson and Dr. Jack Webster, both of Coweeta Hydrologic Laboratory.
Noon. Food trucks available for lunch.
12:45 p.m. "Charting a Future for Water-based Recreation in the Little Tennessee Watershed" with Brent Martin of Alarka Expeditions moderating a panel featuring Rob Gasbarro of Outdoor 76; Dr. Bill McLarney of Mainspring; Dr. Steve Morse of Western Carolina University; sportsman Warren Stiles of the U.S. Fish and Wildlife Service and Zach Tallent, a sportsman and WCU student.
1:45 p.m. "Our Mountain Climate and Environment: Impacts and Changes" with Chelcy Miniat of the U.S. Forest Service and Coweeta, and Bob Gale of MountainTrue.
2:15 p.m. "The Dirt on the Dam" with Ken Murphy of Mainspring moderating a panel featuring Andrea Leslie of the N.C. Wildlife Resources Commission, Dr. Jerry Miller of WCU and Bryan Tompkins of the U.S. Fish and Wildlife Service.
3 p.m.

"Keep Your Banks from Running Off" with Doug Johnson of the Macon County Soil and Water Conservation District.
3:30 p.m. Adjourn, fill out questionnaires.
Admission is free, but registration is requested at tinyurl.com/rainriver.