Archived News
Jackson finalizes proposed budget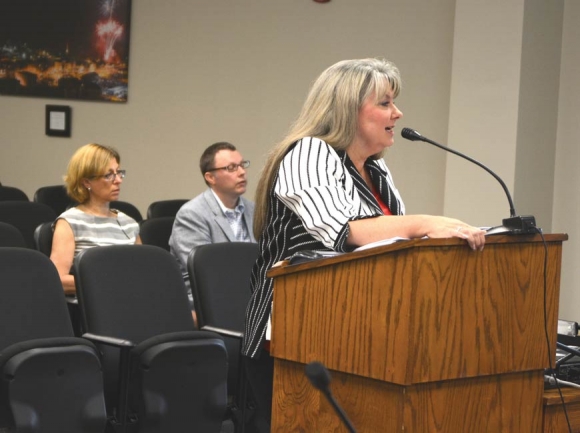 Jackson County Public Schools Superintendent Kim Elliott asks commissioners to fund six additional teaching positions during a May 31 work session. Holly Kays photo
When the Jackson County Commissioners met June 5 to discuss final changes to the proposed budget for 2018-19, they came away with more questions than answers when faced with more than $1 million in additional funding requests. But a 10-minute follow-up June 11 was all that commissioners needed to give the OK to the plan county staff developed to address the crunch.
"You folks did a great job on our requests in going back and being able to find a way to make that work," said Chairman Brian McMahan during the June 11 meeting.
Funding requests that spurred the discussion included $182,000 for facility renovations at Southwestern Community College, $287,000 to prevent lead buildup and mitigate noise at the SCC shooting range, $383,000 for six new classroom teacher positions, $95,000 in salaries and benefits for two new road deputies, $14,000 in additional travel spending for the Board of Elections and a variety of requests from local nonprofits.
Commissioners wanted to grant as many of the requests as they could, especially those for teachers and road deputies, but were challenged to find the funds to support that sort of recurring cost.
The plan that County Manager Don Adams presented June 11 would fund two road deputies — though Sheriff Chip Hall would have to find money for vehicles and equipment in his existing budget — three of the six teachers requested, $7,000 in Board of Elections travel, increased nonprofit funding for Awake and United Christian Ministries and both requests from SCC.
The SCC projects, to total $469,150, would be paid for from the county's fund balance. However, the county had to get more creative to fund the remaining requests, totaling $301,000 — especially the salaries, which will become recurring expenses.
Finance Director Darlene Fox looked into a suggestion McMahan had made June 5 — paying off some loans and using the money that would have gone to debt service to fund the requests — and Adams included it in his recommendation. The county still owes $150,000 on the Qualla Fire Department building, borrowed at a 3.97 percent interest rate, and $346,000 on the Balsam Fire Department building, borrowed at 6.1 percent.
"These are the highest interest rate loans out there," said Adams.
Currently, the county spends $149,000 each year in debt service for the two buildings, with two years left on the Qualla building and six years left on Balsam. Paying them off now would free up that money for recurring expenses over the next few years and save the county money it would have spent on interest.
The remainder of the $301,000 would come from $26,000 in savings on the originally anticipated cost of taking the 12-hour ambulance at Qualla to 24 hours, a $5,000 reduction in contingency funding and a $121,000 reduction in capital outlay. The capital outlay funds would have gone toward the county's vehicle replacement plan, but the county will have enough funds left at the end of this fiscal year to cover that cost, Adams said, so it won't have to come out of the 2018-19 budget.
There's a possibility the school system could end up closer to its goal of six additional classroom teachers, he said, because the proposed state budget includes $10 million in funding for school resource officers and counselors. The county has already committed to hiring four school resource officers and six counselors, so if the school system obtained state grants for any of those positions that could free up county money for school teachers. However, grants would cover those positions for only a finite period of time, with the county likely to pick up the tab in a later year.
Adams' proposal met with overall approval from commissioners, with McMahan offering just one additional request — that the county approve $5,000 in additional funding from The Community Table.
"When they were making their presentation they talked about feeding all those folks that are in our homeless shelter population, so we're almost taking those people up there every night to eat and asking them to feed the people we have in our care, so to speak," said McMahan.
Going forward, he'd like to see the county develop a voucher system of some sort for shelter residents eating at The Community Table but thinks that granting the additional funds is a good interim solution. That suggestion met with approval from the other commissioners, who requested that Adams fund the request from contingency.
Commissioners plan to adopt the budget during their regular meeting at 6 p.m. Monday, June 18, at the Jackson County Justice and Administration Center in Sylva.