Archived Arts & Entertainment
Jackson wrestles with budget crunch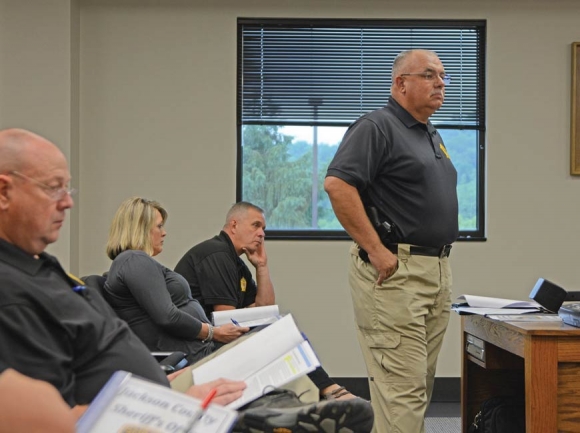 Sheriff Chip Hall presents his budget requests May 31. Holly Kays photo
With the deadline to adopt a new budget drawing ever closer, Jackson County Commissioners are still deliberating how to handle $1 million in last-minute budget requests. That's on top of an already planned $979,800 public safety increase that's spurred a 1-cent per $100 property tax increase in the proposed budget.
"You as a board have to decide, are you going to go with the difference (in budget requests)," said County Manager Don Adams as the board sat down to a special-called work session June 5. "If so, you have to figure out how you're going to pay for it."
The proposed 1-cent property tax increase is expected to bring in an additional $918,000, less than the already-planned $979,800 increase. Granting any of the additional requests will require a larger tax increase, spending from the county's savings account or finding cuts elsewhere.
Commissioners heard from the various departments and nonprofit organizations hoping to secure additional funding during a pair of work sessions May 31 and June 1. The biggest requests came from Jackson County Schools, Southwestern Community College and the Jackson County Sheriff's Department.
School Superintendent Kim Elliott asked commissioners for $383,335 to hire six additional classroom teachers so that class sizes in fourth through twelfth grades could stay below 29, a number that Elliott called her "moral maximum." Typically, the state pays for school personnel while the county funds facilities, but that dynamic has seen a shift in recent years — Elliott does not expect to see the positions funded from the state budget. Without them, she said, class sizes will be too high and the school district will have to convert some of its physical education teachers into classroom teachers.
Meanwhile, SCC wanted an additional $182,000 in capital funding to address HVAC issues on some of its older buildings as well as $287,000 to prevent future lead contamination and reduce the amount of noise produced at its shooting range. In addition, Sheriff Chip Hall requested funds to hire two additional road deputies — salaries and benefits alone would cost $95,000, plus the cost of vehicles and equipment.
The Jackson County Public Library wanted money to give employees raises and take a part-time position at the Cashiers library to full-time, and Harris Regional Hospital wanted $165,000 to upgrade to 24-hour ambulance service on the Qualla area. The Board of Elections wanted to add $14,000 to the travel budget as well as $20,000 to take the one-stop absentee coordinator position from part-time to full-time. The county also heard from 11 nonprofits looking for funding increases ranging from $1,000 to $35,000.
On June 5, commissioners sat down to go through the requests line by line.
"This is my least favorite part of the budget, by the way," said Commissioner Ron Mau as the board went through the nonprofit requests. "The worst part is when the nonprofits come in. Nobody has a bad story. Nobody's doing something you don't want to fund."
Commissioners opted to keep nonprofit funding level with the proposed budget in all cases but one. United Christian Ministries, which currently receives $4,000 per year, had requested an additional $11,000. Commissioners opted to raise funding slightly to $6,000.
The board denied the Board of Elections request for the full-time one stop absentee coordinator and limited the requested $14,000 increase in travel funding to $7,000.
Commissioners also denied the library's funding request, limiting raises for employees to the 2 percent contained in the original proposed budget. Funding for a 24-hour ambulance service in the Qualla area was approved.
The discussion got knotty when it came down to the requests from the school system, community college and sheriff's office. Commissioners had a hard time saying no — but they also had a hard time figuring out how to fund a yes. There was little appetite for raising taxes by more than the 1 cent per $100 already proposed, and the county's fund balance sits just $2.6 million above the minimum level county policy allows. County staff told commissioners that they'd already combed the budget pretty thoroughly for unneeded spending and would have a hard time cutting much more without impacting services.
Commissioners discussed the sheriffs' request first, with a consensus that improving school safety should be the top priority and that Hall should do whatever possible to make existing resources stretch further. However, commissioners were interested in exploring ways to fund additional road deputies.
Luker brought up the rebounding economy and suggested that the county pay for the officers out of fund balance this year in hopes that revenue would pick up enough next year for future appropriations to come from the general fund. Meanwhile, McMahan suggested paying off some of the county's debts out of fund balance, freeing up the money that would go to debt service to pay officers' salaries.
Adams said that either idea should be viewed with caution. The fund balance is getting slim, and if the county paid off its debts prematurely it would have to think about borrowing money for some projects it had been planning to pay for with cash. And as to Luker's idea, that could work for a single salary, but the fact is that the sheriff wants two deputies and the school system is hoping for six teachers — a total of $478,000 in recurring expense.
"Let's not apply that to all these positions, because that gets real dangerous," said Adams.
Commissioners decided they would fund SCC's requests — the HVAC work is necessary to keep the buildings functioning, and the shooting range project is necessary in order to prevent the county from getting into another massive lead cleanup project down the road — and agreed to pay for them from fund balance.
But the school system request spurred another long and roundabout conversation. Finding the salaries of six teachers in the annual budget would be difficult.
"Honestly, do you think we could find another $300,000, $400,000 in (the budget)?" Adams asked Finance Director Darlene Fox.
"It would be hard," said Fox.
"Without eliminating something," added Adams. "We'll sit down and go through what you're talking about, but I don't know if we're going to find $400,000 or $300,000."
The question, Adams said, is whether it's all or nothing. If six teachers aren't possible, is there a lower number that would allow the school system to treat all its schools equally?
Eventually, commissioners recessed the meeting with no clear decision on requests from the sheriff's office and the school system, directing county staff to research the options further before resuming the discussion June 11.
"Let me say as we get ready to close on a personal note how much I appreciate each one of you and the job that you all have done and we do collectively together," said McMahan. "It's very satisfying to me to sit here and know that we can all come together and make this work when we look at how dysfunctional our federal government is and sometimes our state government."
Work session planned
The Jackson County Commissioners will firm up the proposed budget during a work session at 1 p.m. Monday, June 11, at the Jackson County Justice and Administration Center in Sylva. The budget is scheduled for adoption during the regular meeting at 6 p.m. Monday, June 18. Budget documents are posted at www.jacksonnc.org/finance-department/jackson-county-budget-documents.