Archived News
Jackson to vote on Blackrock conservation project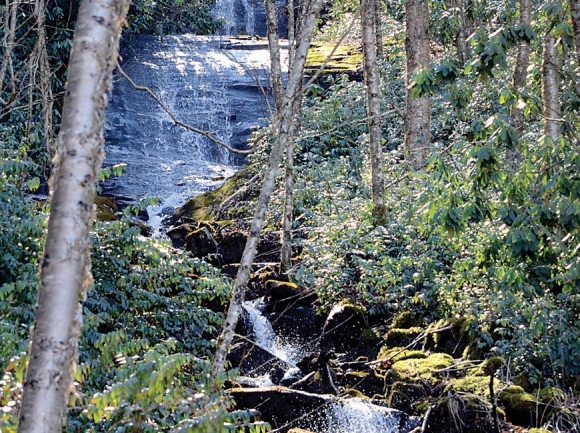 Blackrock Falls tumbles through the property that Sylva is considering adding to Pinnacle Park. Donated photo
Sylva commissioners voted unanimously during their May 24 meeting to contribute $250,000 to a 441.5-acre conservation project adjacent to Pinnacle Park, but the success of the endeavor could hinge on a vote the Jackson County commissioners will take during a special meeting at 11:05 a.m. Thursday, May 31, at the Jackson County Justice and Administration Center in Sylva.
"If Jackson County would commit funds, I think it's very likely we'd be successful in acquiring the property and expanding Pinnacle Park early next year," said Bill Holman, North Carolina director for The Conservation Fund, which is spearheading the conservation project. "If Jackson County doesn't commit funds, we'll do our best to find other sources of funds, but I'll be honest — it will be a lot harder to pull it off without Jackson County's support."
The land in question is part of a larger 912-acre area owned by the homebuilding company America's Home Place. Originally planning to develop it, the company now wants to sell the land for conservation. For the past couple years Holman has been working to help pull that off. Running along the ridge of the Plott Balsam Mountains, the property abuts Sylva's 1,088-acre Pinnacle Park and a 5,000-plus-acre block of land that is being transferred into National Park Service ownership as part of the Blue Ridge Parkway.
Originally, America's Home Place was looking to sell the entire 912 acres together for $4.25 million, but the revised plan splits the land into two sections — the 441.5-acre Blackrock tract and the 471-acre Shut-in Tract. The Conservation Fund is gathering $2.2 million to buy the Blackrock tract, pursuing a funding plan that would hinge on winning a $1 million grant from the state's Clean Water Management Trust Fund, raising $400,000 in private donations and receiving $250,000 apiece from Jackson County and Sylva. Mainspring Conservation Trust is working on a conservation plan for the Shut-In tract and aiming for a 2020 closing.
Sylva commissioners first discussed the request during an April 26 budget work session, expressing enthusiasm for the idea ahead of the final vote May 24.
"I feel it's something that we as good citizens of North Carolina ought to think of as something that if we help with this, we're doing something wonderful for the state and for our region, because this land will be saved forever," Mayor Lynda Sossamon said April 26.
Jackson commissioners, meanwhile, showed more hesitation during their May 15 work session, with the majority of the board asking that the request not be placed on the agenda for a vote May 21. Holman has a hard deadline of June 1 for committed funds to factor into the grant application.
"I prefer to hold off until we get all the numbers," said Commissioner Ron Mau on May 15.
Mau said he was skeptical that the land was actually worth the $2.2 million asking price, with fellow Republican Commissioners Mickey Luker and Charles Elders saying that they'd rather see funding go to other projects first, like installing a park in the Qualla area and extending the greenway.
Meanwhile, the Democrats on the board — Commissioner Boyce Deitz and Chairman Brian McMahan — said they'd like to see a yes vote, because conservation projects of this magnitude don't come along often.
"You don't have the opportunity to do these things much when you talk about conservation and property protection, things of that nature," Deitz said May 15. "You've got to take advantage of it when it's there. You can't just put it off until it's a better time."
The topic did not make it onto the agenda May 21, but the public comment section drew two speakers, both of whom spoke in favor of the land purchase. McMahan said he called the May 31 meeting so that commissioners could hear detailed answers to the questions they'd asked during the work session and take an official vote ahead of the June 1 deadline.
If commissioners vote to issue a commitment letter, it will be months before any actual funds are issued, if at all. If Holman doesn't land the Clean Water Management Trust Fund grant, or if the property appraisal comes back at a lower value than the asking price, for example, the deal will likely fall through and the county will owe nothing.
Holman said that he expects to be under contract for the property soon, regardless of what Jackson County decides, but closing the deal will be much harder and perhaps impossible without their support.
"The Clean Water Management Trust Fund has criteria for scoring projects, and you get more points if funds are committed instead of just requested," Holman said. "We very much appreciate the Town of Sylva making its commitment last week. That's very helpful, but it would be wonderful if Jackson County could make a similar commitment."
Holman has been working for years to conserve property along the spine of the Plott Balsams, with significant accomplishments including 2,986 acres adjacent to Waterrock Knob and 1,925 acres near Maggie Valley that is now known as the William H. Silver Game Land. The Conservation Fund and a group of other land conservation groups have been pursuing a vision of conserving land stretching up from Maggie Valley to the Blue Ridge Parkway, then back down again to Waynesville and Sylva. Ultimately, Holman said, he'd love to see a high-elevation hiking trail connecting those three communities via the Plott Balsams — such a trail, he said, would prove to be a significant tourism draw for the area.
"The crest of the Plott Balsams is one of the most spectacular ridges in Western North Carolina, and I think it would be great to protect that view and protect the forest on top and have it open to the public," Holman said. "But that will be a choice for the Jackson County commissioners."