Archived Arts & Entertainment
Collecting the fire within: Rising string act to headline Sylva festival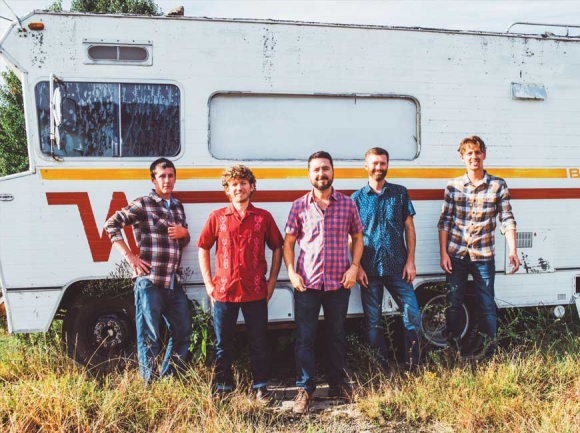 Asheville-based bluegrass/old-time music act Fireside Collective will play May 19 in Sylva.
It's one thing to play bluegrass, mountain and old-time music. It's another thing to dig deep into the rich, intricate heritage and history behind the sounds of Southern Appalachia — tones that have echoed from these high peaks since pioneers and settlers first arrived here centuries ago.
And as we push further into the 21st century, there's an increasing urgency to keep the traditions of this music alive, and also flourishing into fresh, innovative territories.
Based out of Asheville, the string band Fireside Collective harkens back to the foundation of bluegrass, mountain and old-time music. The band members have doggidly studied the background of this music we hold so dear, whether it be in academic institutions or on a front porch on an otherwise quiet night in the depths of Mother Nature.
It's about taking what you've learned — onstage and off — and using that strength of character and talent of self to carry the torch of this music into the creative curiosity of its next bountiful phase.
Smoky Mountain News: Why is it important, perhaps even crucial, that this music survive and thrive in the digital age?
Joe Cicero (guitar): We're approaching an age where music is pretty much either experienced live or through a completely digital medium. Even CDs are becoming more obsolete given that so many people use smartphones to get their music. It's important for all varieties of music to get hip with the digital age, not just bluegrass. With bluegrass being based in a folk tradition, passed down through family and community, there will probably always be a dedicated regional following for the music, especially in Appalachia. However, I think that if the tools and mediums of the digital age can be utilized effectively, bluegrass and the music that's based on it — progressive stuff — can reach a much larger number of people across a far greater distance.
SMN: As you've continued to dive deep into the genres of bluegrass, Americana and folk music, what are you seeing, hearing and discovering these days?
JC: Personally, I'm seeing that people are getting back to writing really honest music. Maybe it's inherent that these genres kind of reject the mainstream, but it seems like there's so many awesome people that are making amazing original music that isn't contrived or just against mainstream stuff just for the sake of being against the majority. Not only is it honest stuff, but people aren't afraid of genre-bending and adding new elements to their music.
Tommy Maher (dobro): People are being drawn to the simple, stripped down, wholesome sound offered by genres like bluegrass, Americana, and folk. We're in a fast-paced, very computerized and intense world at the moment, and the craziness can seem overwhelming at times. It's a good idea to slow down, breathe a little bit, and put away the computer and phone for a while and go out and listen to live music. Hearing voices in harmony backed by a couple acoustic instruments can be a very therapeutic experience. It's a break from all the traffic, political garbage on TV, and constant stimuli we've become used to.
SMN: What is the place of bluegrass music in the 21st Century?
Jesse Iaquinto (mandolin): Bluegrass developed out of, and remains deeply rooted in, American folk music. It has endured for many decades and its roots go back centuries. Bluegrass music tells a story of a nation and the essence of the music is the human experience. [These days], with instant gratification and constantly changing trends, the honesty of bluegrass is refreshing and uplifting.
Another important aspect of bluegrass is its ability to blend many different influences into one coherent sound. Early bluegrass was a mix of old-time, country, blues, jazz, and early rock-n-roll. Throughout the years, bluegrass bands have gone on to include funk, classic rock, and many other genres, while still remaining firmly in the bluegrass realm. In many ways, the bluegrass spirit reflects the American spirit. The spirit of freedom within the improvised instrumental breaks is the same as the spirit which guides us to pursue what we love and follow our own destiny.
Bluegrass has always been known to inspire people to move and shake. It grew directly out of old-time music, which revolved around danceable fiddle melodies and rhythmic banjo parts. People would gather around and forget about their troubles to the sounds of the strings. That tradition continues to this day and is one reason bluegrass still remains so relevant.
Editor's Note: Fireside Collective will perform during the Hook, Line & Drinker festival at 2:45 p.m. Saturday, May 19, at the Bridge Park Pavilion in downtown Sylva.