Archived News
Debate continues over unpaid bills at Caney Fork store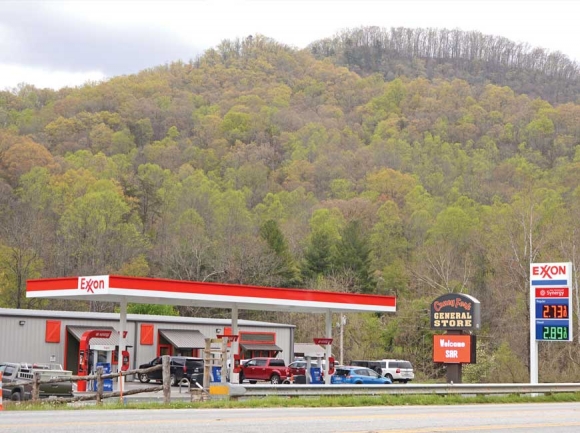 The new Caney Fork General Store is located just across the road from the original location along N.C. 107. Holly Kays photo
Finger-pointing over who's to blame for unpaid bills following a business relocation project in Jackson County has transitioned to the legal realm.
Blitz Estridge, owner of Blitz Estridge Electric, followed up a lien filed January 8 with a lawsuit claiming that Caney Fork General Store owes his company $42,100 in unpaid bills. The suit seeks compensation with interest and payment of attorneys' fees, and also asks that a jury direct that the store be sold so that proceeds could be applied toward the debt. No response to the complaint has yet been filed.
Meanwhile Mickey Luker, owner of Caney Fork General Store and a Jackson County commissioner, contends that he's not the one responsible for paying Estridge and that the unpaid debt is the fault of the Atlanta-based program management company THC Inc., which Luker said was responsible for paying subcontractors in the relocation project. To that effect, Luker has filed a relocation payment review request with the N.C. Department of Transportation, seeking repayment for Estridge.
"The independent contractor assigned to handle my case did not pay for the electrician's work," the form reads. "I want to know why. Other contractors were not paid all the money they were due. I was led to believe that there was sufficient money to pay all the contractors the money that was due them."
Responsibility for payment
The dispute stems from an ongoing DOT road-widening project along N.C. 107 between Caney Fork and Tuckaseigee. As part of the project, the DOT condemned the property where Luker's store sat for use as a temporary construction easement, with the planned roadwork rendering the land unusable as a store following its completion. DOT paid $757,800 for the damage it would incur to the property, a sum that it deemed to be fair market value; it also paid $533,900 to relocate the business — which technically contains four different businesses called Shirley's Boutique, Bailey's Outdoor Supply, Gracie's Deli and Caney Fork General Store — to a spot just across the road from the original property.
However, multiple contractors who worked on the relocation are saying that they never received the money they were owed. Estridge said he was due a total of $45,400 for his work but received only $3,200, leaving a balance of more than $42,000. And in a separate case filed in the Wayne County Superior Court, Goldsboro-based Tillman's Restaurant Equipment and Supplies said that Luker owed a balance of $40,000, with only $55,000 having been paid for $95,000 worth of work. In a March interview with The Smoky Mountain News, Luker said that there were several other vendors who, though they hadn't filed a formal complaint, had not been "completely made whole" either.
Estridge has been adamant since the start that Luker is the one who owes him money and that Luker has been intentionally scheming to avoid payment.
But Luker tells a different story. Regarding the suit with Tillman's, he said, the nonpayment is due to the company's poor quality of work.
"Every day we're having to mop water or deal with lines frozen and all that," Luker said. "The guy has gotten 67 or 70 percent of his money. Until it's corrected and fixed like it should be, we'll fight it till that comes. You got a brand new piece of equipment that's supposed to be state-of-the-art, and that's what it should be."
According to court records, Tillman's has received 57.9 percent of the balance due. When reached for comment in March, when SMN first reported on the lawsuit, business owner Tommy Tillman and his lawyer Gene Britt both declined to comment, as litigation is ongoing.
In regards to Estridge and any other contractors who've been shorted, Luker said that's an unfortunate consequence of poor conduct on the part of THC and its representative Brian Green.
"As I said before, the DOT local people have been excellent," Luker said. "THC, Brian Green and those guys — that is less than desirable."
Sylva attorney J.K. Coward, who is representing Luker, backed up Luker's explanation of what happened, saying that THC had been the go-between for DOT and the subcontractors and was responsible for paying companies like Estridge's that worked on the relocation.
"He (Green) just paid the first ones who got their bills in, and poor ole Estridge, he got his bill in late, and they said, 'We don't have any more money. We can't pay you,'" Coward said. "I feel sorry for him. I really do."
Green did not return requests for comment on this story and declined to comment when SMN first reported on the issue in March, saying that because he works for the DOT he's not at liberty to speak on the record.
However, Estridge has consistently maintained that his agreement was with Luker and that Luker was the one responsible for paying him — hence the lawsuit asking that Luker liquidate his business, if that's what it takes to cough up the $42,000.
A public records request from the DOT backed up Estridge's version of the story, with Public Records Manager Sophia Campbell writing that, "the General Store/Mickey Luker would be responsible for paying subcontractors involved in the relocation." While DOT would pay a third party if the owner signed a waiver, that third-party option involves the DOT paying subcontractors directly, not funneling money through a different company. According to David Uchiyama, communications officer for DOT's western region, THC is a consulting company that was hired to manage all aspects of relocation for the road project, but the company was not responsible for paying subcontractors.
Words in a letter
Luker, however, points to a letter dated Oct. 19, 2017 — 10 days after Estridge finished working on the project, according to the lien — and signed by Estridge as evidence that he is correct, and that THC was responsible for disbursing funds.
"Brian Green contacted me by phone earlier this year and explained the process," the letter reads. "After that, most of our communication was by e-mail. He knew that there were four businesses to change out. I got one bid to him for Shirley's Boutique. He said don't bother with bids on the other three. Get started and we would do the paperwork later. He said submit an itemized invoice for all the work on a 'time and material' basis, when the job was complete. He knew there were four permits needed.
"When I finished, I sent the invoice to him. Once he had received it, we talked on the phone, for the second time. He said, 'It looks good to me.' I have finished the work. It has been inspected and approved, and the permits are taped on the door. Most of my interaction on the job was with Brian Green."
In Luker's view, this lays out the case fairly plainly. Estridge was submitting invoices to Brian Green and communicating about the job with Brian Green. Brian Green was therefore responsible for taking care of payment.
Estridge admits he signed the letter. But he said that Luker and Coward wrote it, not him, and that he regrets having signed it. According to Estridge, Luker — not Green — is the one who told him not to bother with paperwork for the other three businesses, and that he sent his invoice to Green because that's what Luker told him to do. Estridge said most of his interaction on the job was with Luker, not Green.
"I kick myself in the butt for signing that paper, but still what it boils down to is we did do the work there through Mickey (Luker)," Estridge said during a March 13 phone call. "He did tell us to submit our invoice through Brian Green, but it got rejected because Mickey knew what he was doing."
Luker questions that story. He said he didn't write the letter — the first time he saw it was in the case file at Coward's office, and he seriously doubts that Coward would have written it. Coward said he couldn't comment either way, as the letter is evidence in a pending court case.
"Why would you as a business person sign something like that that you didn't read?" Luker asked. "It's not like it's a 20-page document. It's a pretty simple letter that's only a few sentences long."
Work toward a settlement
Coward disagrees with Estridge's contention that Luker is deliberately avoiding payment, saying that the money will materialize in one of two ways: either the review of THC's conduct that Luker has requested of the DOT will result in THC paying the tab, or a suit Luker has filed appealing the market value of the condemned property will produce funds to pay the balance.
"I think it's going to be taken care of eventually when we finally reach a final agreement about what the damages are," said Coward. "When we finally reach that number, the first people he (Luker) is going to take care of is the people who were owed money."
Coward is an experienced lawyer when it comes to condemnation cases and says that it's common for the state to lowball property owners on fair market value.
"They never offer an amount that's satisfactory," Coward said. "They always offer low because they're trying to keep it within their budget."
Coward believes that the $757,800 paid for the property is less than fair market value for damages that will make it basically unusable. He has filed an appeal on Luker's behalf asking that a jury decide what the fair market value should be. That document was filed in December 2016, but because damages are measured based on the value before taking versus the value after taking, Coward said he's sought a continuance to settle the dispute after the road project is complete, which according to DOT's website should happen in April 2020. The $757,800 that the DOT originally offered has already been paid out.
"We're trying to get Estridge paid," Coward said.
While Estridge gave ample interviews for a March story on this issue, he said his lawyer has advised him not to go on record further at this time, as litigation is pending.