Archived News
Nantahala Brewing will expand to Sylva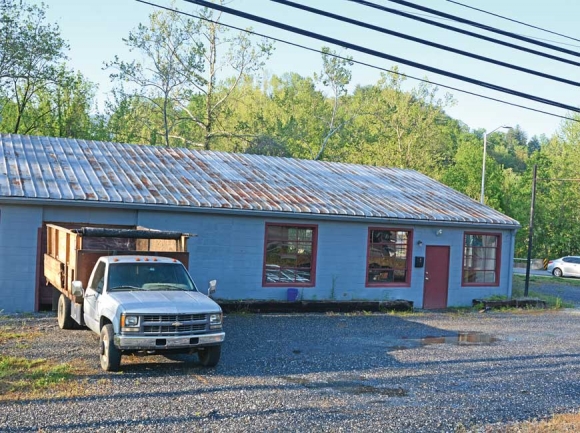 Formerly home to the Palaestra Combat Sports Club, this building in downtown Sylva will soon hold an outpost of Bryson City's Nantahala Brewing Company. Holly Kays photo
Nantahala Brewing Company will move forward with opening an outpost in Sylva after the Sylva Board of Commissioners voted unanimously to allow the business to use public parking rather than building its own.
"I'm excited about this project," said Commissioner Mary Gelbaugh. "I just want to be conscious of our neighbors."
The brewery will go in at 5 Grindstaff Cove Road in a building previously occupied by the Palaestra Combat Sports Club. The property is located just a block off Main Street and is bordered by Scotts Creek to the north and the Blue Ridge Southern Railroad to the south. According to a report from the Jackson County Planning Department, with which Sylva contracts for planning services, the property is impacted by a railroad setback and trout buffer that would prevent Nantahala Brewing from building the 35 parking spaces required for a business of that size in the B2 district.
While B2 businesses are required to provide their own parking, B1 business are not, and the property in question is immediately adjacent to the downtown B1 district.
"Granting a variance for parking in this case does not deviate from the spirit and intent of the ordinance," said senior planner John Jeleniewski.
To the contrary, he said, it supports it. The proposal would be that Nantahala Brewing work with the N.C. Department of Transportation to install a crosswalk at the intersection of Grindstaff Cove and Mill Street so that staff and patrons can safely move between the brewery and parking at Bridge Park, which is a two-minute walk away and contains more than 100 parking spots.
Jeleniewski told the town board that building a crosswalk and parking customers in the public lot would ultimately be safer than forcing Nantahala Brewing to find parking on its property and dealing with congestion from vehicles turning into and out of the lot. With the variance, the parking lot would mainly be used by delivery trucks.
When the time came for public comment, one person spoke out against the variance — Joel Sowers, owner of Fusion Spa and Sundog Development. The businesses, which are located in the same Main Street building, own a parking lot directly across Mill Street from the future site of Nantahala Brewing's outpost. Sowers fears that brewery customers will take over that lot.
"We already struggle running our business because of Wells Fargo and the bank and the law offices that don't have enough parking," Sowers said. "The reality is you may think they're going to go park a block away and walk all the way down across a busy intersection, but they're not. They're going to park right in our parking lot. I can't even fathom the city making a decision like that."
Joe Rowland, owner of Nantahala Brewing, assured Sowers that would not be the case and that the business has experience dealing with such issues at its anchor location in Bryson City.
"Our whole staff is trained," Rowland said. "When people walk in, they ask them, 'Where did you park?' And a lot of folks will ask because there are 'No Parking' signs there (at the nearby private lot), and we send them to our parking lot, which is even further away."
Nantahala Brewing will make Sylva a three-brewery town once more when it opens, joining mainstay Innovation Brewing and newcomer Balsam Falls Brewing Company, and replenishing Sylva's stock of breweries since The Sneak E. Squirrel and Heinzelmannchen Brewery closed last year. Nantahala plans to function as a brewery and restaurant, with the floor plan calling for a stage, bar and general seating area.
"I think this will be great for Sylva," said Commissioner David Nestler.