Archived Opinion
Zen and the art of trash removal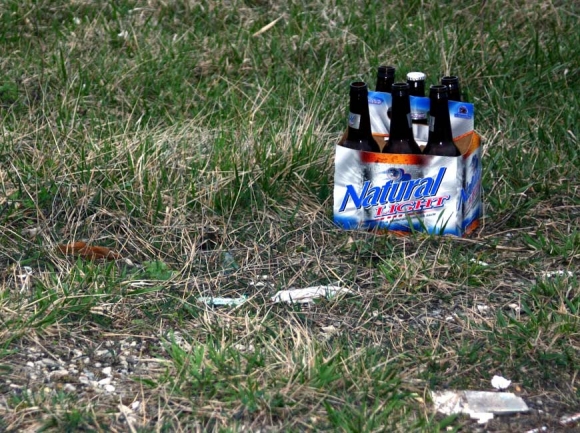 By Evan Boyer • Guest Columnist
A few months ago, some legal trouble loomed over me, and I was told that it would be in my best interest to start doing community service. My mom mentioned Haywood Waterways. I contacted Christine O'Brian, and she told me about Howell Mill Road, the trash surrounding it and how it was increasing her blood pressure day by day. I needed hours, she needed help. So I donned a vest, grabbed a grabber, and set out to clean Howell Mill.
My first day, I cleaned up the area behind Rite Aid, near the Captain's Bay parking lot. Among other trash, I found about 50 peppermint patty wrappers. Then I moved on to the creek. A scavenger hunt, a dark one, took place on the bank of the creek behind Rite-Aid. A scavenger hunt for King Kobra liquor bottles. Though some were obscured by long grass and others partially submerged in the water, I ended up finding approximately 70 bottles. About 15 to a bag, five bags. By the time I had collected 60, I was genuinely excited, and every one after that elicited from me a little squeal of delight. By the end of the day, I felt I had the fundamentals down. I felt I was a natural with the grabber.
The next day, I started assembling little back stories for the pieces of trash I'd find. How they'd arrived, and when. Nearly full pack of cigarettes on the curb? Maybe they were poison cigarettes, thrown out the window of a speeding, jet black Secret Service SUV by an agent who just realized he'd been double crossed. Beer can on the sidewalk? Maybe it was from a guy who finally decided to reveal his love to his dream girl, but needed some liquid courage first. It was only partially consumed, though maybe he didn't make it to her house because he got vaporized by an alien craft scoping out the Blue Ridge Mountains as a potential site for a base. Eventually, I wove yarns so long and elaborate that I could only chuckle maniacally to myself. Then I grabbed a new and interesting piece of trash, and started again. If there was a mental health professional out there with me at the time, I would've probably been chalked down as unwell.
You probably passed me, reader, if you frequent Howell Mill. I was clad in a tank top and shades most days, in an effort to look as cool as possible, despite my circumstances. I know everyone at my high school saw me. I go to Tuscola, and it was not uncommon the day after a lengthy pick-up session to walk into class and hear someone announce proudly: "I SAW YOU PICKIN' UP TRASH YESTERDAY HOWELL MILL." They always said it as though it was a crucial piece of information, or as though it was a vision that came to them in a dream. That statement would inevitably attract the attention of others in the classroom, and before I knew it I would be surrounded with wide-eyed, bambino looking guys and girls who seemed, rather worryingly, drawn to me because I had been arrested. For a brief moment in my time at Tuscola High School, I was no longer the chummy guy with the red SUV who does crosswords — I was the mysterious sun-glassed anti-hero who picks up trash on Howell Mill.
That status didn't last long, though. Eventually, I got all my hours, and turned in my grabber and vest on a bittersweet Tuesday evening under a warm, sherbet sky. I don't think I'm totally done just because I got my hours, though. I see Howell Mill every day driving to school, and I see that the trash is accumulating again. Christine's blood pressure must be rising. It's about time for another go. It's sort of fun. And, you know ... it helps the earth and everything.
(Boyer can be reached at This email address is being protected from spambots. You need JavaScript enabled to view it.)