Archived News
Jackson County gives $150K for Mountain Projects building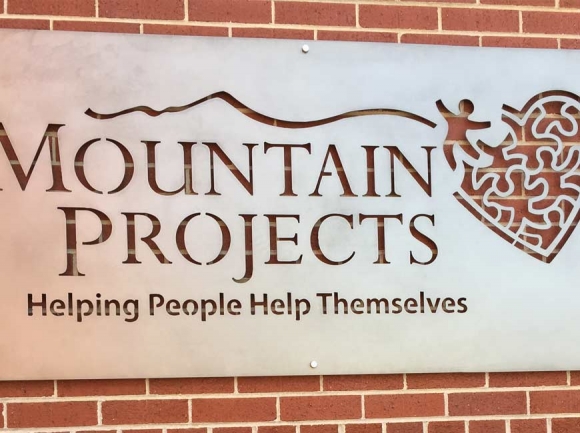 Mountain Projects is now open at its new location on 2177 Asheville Road in Waynesville. Donated photo
Mountain Projects is now moving into a newly renovated building on Asheville Road in Waynesville, thanks in part to matching contributions of $150,000 that Jackson and Haywood counties approved in April.
Jackson was the latest county to approve funding, with commissioners voting unanimously during their April 16 meeting to appropriate the money from the 2017-2018 budget. Haywood County granted the funding April 2.
"Mountain Projects is a very well-deserving agency that does a lot of good in Western North Carolina, especially here in Haywood and Jackson," said Jackson Commission Chairman Brian McMahan April 16. "Their outreach even goes beyond that in what they have been able to accomplish."
Mountain Projects first approached Jackson County about the appropriation a year ago, during an April 2017 work session. Eight Mountain Projects board members attended to explain that it would cost about $650,000 to renovate the new building and that Mountain Projects had about $300,000 to get started. However, said Waynesville Mayor Gavin Brown, who at the time was a member of the Mountain Projects board, the organization would be looking for $150,000 apiece from Jackson and Haywood counties to round out the funding.
"We would put our money in first," said Brown. "We're going to have $300,000 in the game. Then we would ask you to start that $150,000 for the completion of the repairs."
The building is an older structure, but it's 15,000 square feet and located across the street from Junaluska Elementary School. It was an attractive option for Mountain Projects because Haywood County, which owned the building, allowed the organization to buy it at a substantial discount. However, it needed significant renovations, including a new roof, to become operational.
"This building is not just for the benefit of the employees of Mountain Projects," said former Haywood County Commission Chairman Mark Swanger, a member of the Mountain Projects board at the time. "I don't know how we've avoided a lawsuit all this time with accessibility issues with the public accessing that building, but it's problematic, I'll put it that way."
Mountain Projects started on Main Street in Sylva in 1965, later moving to the building on Old Balsam Road that has been its home for 45 years. With renovations now complete on the new space, staff have spent the past week packing, moving and unpacking and will serve the first client in the new location — 2177 Asheville Road — Wednesday, May 2.
"Having help and support to relocate was an answer to a prayer," said Executive Director Patsy Davis. "I want Mountain Projects to continue to put as much money as possible into helping people and not paying debt. I will forever be grateful to my home county for the leadership and support they have shown as we relocate to a safer and better facility."
During the April 2017 meeting, Mountain Projects board members made it clear that, in addition to the $150,000, they'd like to see Jackson commit more recurring funding to Mountain Projects going forward. Brown told the Jackson commissioners that Haywood County currently provides more than half a million dollars annually in direct and indirect support, but Jackson gives less than $25,000.
"I'm asking you for one-third of a penny on your tax rate is what I'm asking you," Brown said. "That's really what we need, and that's what we would like to see."
One-third of a penny on Jackson's tax rate would equal about $300,000.
"However we can figure it out, at some point here we need to step up to the plate to do our share," said Commissioner Mickey Luker.
That conversation was a year ago, and increased appropriations to Mountain Projects have not been part of public budget discussions for 2018-2019 at this point. However, when Mountain Projects came to the point of needing the $150,000 from Jackson, commissioners were more than willing to appropriate it.
"This deserves the money, and as a member of the (Jackson County) Board of Commissioners, I think we should put forth our best effort in doing the best we can to help this program," said Commissioner Charles Elders, chairman of the Mountain Projects Board.