Archived News
Walking in someone else's story: Swain students find common ground with NYC students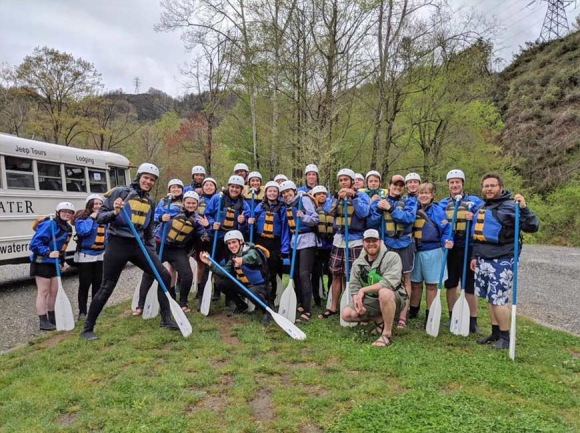 Students from Swain County High and Fieldston School in New York City go on a rafting trip together. Donated photo
On the surface, students in Swain County grow up worlds apart from students in New York City.
It's easy to notice the differences in the way they speak, dress and perceive the world, but by peeling back those superficial layers and taking a walk in one another's shoes, these students from different worlds have found they share many of the same values and aspirations.
This newly found sense of empathy and understanding between rural southern students attending public school and city kids attending private school was made possible by Narrative 4 — a global nonprofit organization started in Ireland in 2016 with the mission of building empathy, shattering stereotypes, breaking down barriers, and ultimately making the world a better place.
Finding common ground
Over the last year, students at Swain County High School and students from Ethical Culture Fieldston School in New York City have been building relationships by visiting each other's communities and engaging in the Narrative 4 story exchange program.
Swain students traveled to New York City last October to spend a week with Fieldston students and the Fieldston students recently spent a week exploring all there is to see in Swain County. It was a bit of a culture shock for both groups, but both embraced the new world in which they were thrown.
Swain students were excited to visit NYC landmarks, see a Broadway musical and ride the subway while Fieldston students enjoyed their time hiking, whitewater rafting and visiting Darnell Farms and the Road to Nowhere.
"Narrative 4 helps you realize that we have more in common than we do differences," said Swain High senior Reagan Beck. "We've been able to establish a common ground on paper that we can build upon."
The Narrative 4 project has helped students from Swain and Fieldston break down many of the stereotypes that plague both Southerners and New Yorkers.
"When you're from the South there's an assumption that others are rude, but the Fieldston group was so welcoming of us," Beck said. "We visited their school and I had this anxious feeling that I'd be embarrassed to bring them here to Swain High, but it was quite the opposite — I've been so proud to show them our school and where we grew up."
Narrative 4 couldn't have chosen two schools with more differences. While Swain High students grew up in one of the most rural and most impoverished counties in the state of North Carolina, the visiting Fieldston students come from wealthy New York families who can afford to send them to a progressive private school where tuition is about $50,000 a year.
Since a majority of the students visiting from Fieldston were Jewish, just the idea of visiting a Southern Baptist church service was something so foreign and exciting for them during their trip. Many Fieldston students said they'd never met anyone of Native American decent. Their families don't own guns and they have never even held a gun, which was a bit of a shock to Swain students who've grown up shooting guns for sport or hunting purposes. Despite all these differences, the students have been more focused on learning from each other's life experiences and focusing on what they have in common.
"It really is about seeing our commonalities. It can be easy to reduce others to a stereotype, but really it's not true," said Fieldston senior Isaac Sonnenfeldt. "Our experience has not been representative of what we thought it would be like."
"Everyone here has been so friendly. If you ask for directions they'll help you. People in New York definitely don't do that," said Fieldston student Jaell Strell.
Telling each other's story
Visiting each other's schools is only one part of the Narrative 4 process — the meaningful work begins with a story exchange in which students work one-on-one with a student from another school to share each other's personal stories. Then they each get up in front of everyone and tell their partner's life story in first person just as they had experienced it firsthand.
Cofounder and President of Narrative 4 Colum McCann said through that process, people are able to walk a mile in someone else's shoes and build empathy for people who are different from on another.
"This a fabulous initiative between two communities that seem, on the surface, to be wildly different. When they come together they expand the lungs of the world," McCann said.
Fieldston student Olivia Maury said she was skeptical of the impact of the story exchange even though she'd heard from others how intense and emotional the process could be.
"I honestly didn't think it worked before we did the exchange here at Swain," she said, adding that perhaps it was more meaningful after spending time getting to know each other and being comfortable with one another.
"The story exchange is always an intimidating experience, but it's brought us all closer together. Everyone was crying by the end of it," Beck said.
Author David Joy talks to students about the art of storytelling during a weeklong Narrative 4 project at Swain High School. Jessi Stone photo
Ron Rash, the best-selling novelist and professor of Appalachian Cultural Studies at Western Carolina University, said he was also uncertain of the story exchange idea when he first met McCann in Aspen about six years ago.
"We did a story exchange with other faculty members where we had a person tell our story back to us. I was skeptical, but it worked," he said. "You have to have a sense of seeing the world from a different point of view. It's about the power of stories and how they remind you we're not alone in the world — that's what literature does."
It was that experience that led Rash to become a founding member/author of Narrative 4 and the story exchange method before the organization even had an official name or mission. Rash introduced the Narrative 4 concept to Dawn Gilchrist, a teacher at Swain High. Together, the two educators kicked off efforts in the state with a literary festival at WCU in 2013.
Ben Cutler, an English teacher at Swain High, also got involved with Narrative 4 during that process and became a master practitioner for the project in North Carolina. He helped facilitate the weeklong field exchange in Swain County.
"During a typical story exchange, Narrative 4 requires my students to first find value in their own stories. They forget themselves and recognize the value in another," Cutler said. "They take ownership and stewardship of another's narrative, and trust in others to do the same. I believe the power of this pilot program will magnify that experience to reveal both the simplicity and complexity of our shared humanity."
Annette Saunooke Clapsaddle, a Swain County High teacher and award-winning author, also took part in the festivities last week by participating in a story exchange with other authors from the region. She's excited to see Swain County have such a big part in the global project.
"For Swain students, it allows them to see they have the same skills, ability and potential to make changes they want to see in the world. It emboldens them to see they can have a large-scale impact just as much as someone living in Manhattan," she said. "For Fieldston, they come to understand what life is like here and what goes into forming the identity of the South. They'll find it's more complicated than it may have seemed to them before."
Authors' story exchange
Another thing the New York students may not have realized or appreciated was the impressive panel of authors that came to Swain High to participate in a story exchange.
Rash and Clapsaddle were joined on stage by fellow southern writers David Joy, Silas House, Robert Gipe, Jeremy Jones and Pam Duncan as well as Irish author and Narrative 4 founder Colum McCann. They took turns reading excerpts from each other's writing before reflecting on the experience.
Before he ever published a book, House said he'd never been anywhere outside of where he grew up in Kentucky.
"Everyone was the same where I'm from. It wasn't until I went on a book tour I met a lot of different people and that made me a better writer," he said.
Duncan said she thought about how readers identify with literary characters even when the author thinks they're writing about someone no one can empathize with on a personal level.
"I always wrote characters that were weird like me," she said. "But people loved the character and turns out I'm not the only weirdo in the world. It makes me feel less alone in the world."
Gipe said experiences like this made people realize there's more than one way to look at the world.
"It's scary to be someone else for a minute especially when they're sitting next to you but it's powerful," he said. "It's something everyone should try."
Storytelling workshop
After the author panel, Rash and Joy led a storytelling workshop with Swain and Fieldston students.
Rash told the students that there are without a doubt three things southerners know how to do well.
"We know how to tell a story, we know how to make music and we know how to make biscuits and gravy," he said.
While the conversation started out talking about storytelling and the difficulty in finding your authentic voice on paper, the talk evolved into a deeper conversation about cultural differences and the stereotypes that prevail about southerners.
Joy said it was disheartening to see southerners try to disguise their accents in an attempt to assimilate outside the South.
"As southerners, we're taught over and over again the way we sounded was ignorant," he said. "That always bothered me that they feel forced to abandon who they are. And as that voice disappeared, there was a fleeting moment when people realized how absolutely beautiful it was."
Joy said the same thing is true for people from New York or Boston who have their distinctive voices and accents.
"One of my goals was to preserve that voice in my writing," Rash added. "There's a beat and a delight to it whether it's here or in New York."
Joy said creating realistic dialogue can be another challenge for southern writers.
"The people I grew up with didn't talk much at all. We could ride in a car for an hour and never speak a word and we sure as hell didn't talk about our feelings. I think that's probably a southern thing," he said.
Joy was probably surprised to learn that many of the Fieldston students attending the workshop had read his opinion piece in the New York Times about gun culture.
When asked what inspired him to write a nonfiction piece, Joy said it came out of anger that the only audible voices in the gun debate were either extreme left and extreme right. He wanted to be that common sense voice for the people caught in the middle — mostly those in the South who grew up around guns.
He asked how many Swain students knew how to shoot a gun — they all raised their hands. None of the Fieldston students knew how to shoot a gun and none of their parents owned guns.
"There are so many simple solutions that gun owners would agree with but they weren't being heard," Joy said. "I can provide a voice when I feel a voice is being silenced."
Fieldston students Max Schindel said he appreciated Joy's perspective on gun control.
"Before I read your piece, I had never really empathized with a gun owner on that level," Schindel said. "I think this program has allowed us to talk about issues in a productive way where we have real respect for each other."
Joy said it's hard for people to hate each other when they are face to face.
"Some of the most racist people I've met have never met the people they are racist against," he said. "That's why it's important to do things like this — it breaks down those stereotypes."