Archived News
Local governments mull 400-acre land purchase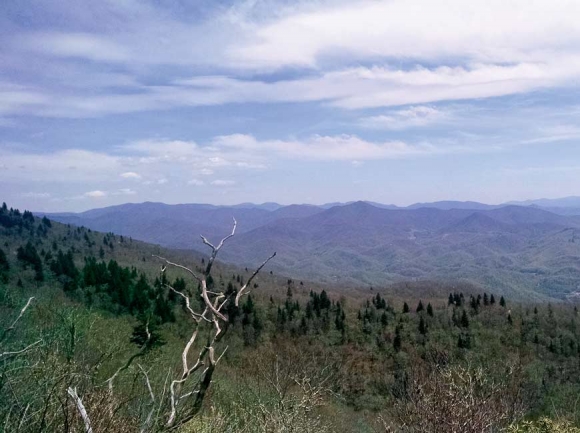 A sweeping mountain view stretches along property owned by America's Home Place. Donated photo
An effort to conserve a 441.5-acre block of land adjacent to Pinnacle Park in the Plott Balsams is now looking much more feasible than when the possibility was first discussed nearly two years ago.
The property, owned by the home building company America's Home Place, was originally slated for development, but in 2016 the company announced its willingness to sell the land at a bargain rate for long-term conservation. Riddled with panoramic views, sparkling waterfalls and high-elevation solitude, the property's conservation value was obvious.
The only problem was that America's Home Place wanted $4.25 million for a pair of tracts totaling 912 acres, and while that was indeed a bargain price, it was also out of reach for the local governments — Sylva and Jackson County — that the company hoped would buy the land.
The Conservation Fund has been involved throughout the conversation, working to arrive at a funding arrangement that would be feasible for all involved and achieve the ultimate goal of protecting the land from development. The organization is applying for a $1 million grant from the state's Clean Water Management Trust Fund and working to raise $400,000 in private donations, leaving Jackson County and Sylva to chip in $250,000 apiece to purchase the 441.5-acre Blackrock section of the property. The idea is that Sylva would own the property and add it to the 1,088-acre Pinnacle Park, which adjoins the tract in question.
America's Home Place also wants to sell the 471-acre Shut In Creek property, which abuts the Blackrock property. Mainspring Conservation Trust is taking the lead on that project with support from The Conservation Fund.
"Although there are still a lot of details to work out, The Conservation Fund is optimistic that we'll be able to help Sylva expand Pinnacle Park by purchasing the 441.5-acre Blackrock section," said Bill Holman, the Fund's North Carolina director.
The section includes a 403-acre tract plus three smaller parcels providing road access.
Jackson County and Sylva both plan to discuss the project, and possibly vote on it, this month. Sylva commissioners discussed the issue during an April 26 budget work session and plan to vote during their May 24 meeting.
"I feel it's something that we as good citizens of North Carolina ought to think of as something that if we help with this, we're doing something wonderful for the state and for our region, because this land will be saved forever," said Mayor Lynda Sossamon.
Board members were favorable to the idea. While $250,000 is no small potatoes for Sylva's perennially tight budget, the town has more than $3 million in its Fisher Creek Fund, money the town received for preserving its Fisher Creek watershed as a conservation easement. The agreement mandates that 40 percent of those funds go to projects related to water quality in the watershed.
However, pointed out Commissioner David Nestler, the property in question is not part of the Fisher Creek watershed. It's just over the ridge, with its waters flowing away from Pinnacle Park — any money from the Fisher Creek fund used to buy the land, he said, should come from the portion that is not earmarked for water quality. While clarifying that he is "all for" the project, he also pointed out that the entrance to the America's Home Place property would be more easily accessible to Cherokee and Maggie Valley residents than to Sylva residents — and because of the distance from town, maintenance could also be an issue.
"That's sort of the concern," he said. "This isn't really our backyard."
"The maintenance is the issue," agreed Town Manager Paige Dowling. "You can look at it and talk about trails, but we don't have money to build trails."
"It seems like it's a nice opportunity for collaboration," added Commissioner Greg McPherson.
If Sylva voted to pursue the purchase, it would be with the understanding that collaboration would be involved. The Jackson County commissioners are also slated to take up the issue, discussing it during their May 15 work session and voting on the matter — should commissioners wish to take it to a vote — during the May 21 meeting.
Neither Sylva nor Jackson County will appropriate any funds in May — the votes would be on whether to issue a letter of commitment to provide funding, should the other details fall into place.
While it remains to be seen what county commissioners will say in open session, County Manager Don Adams said he's had "positive feedback" during his initial conversations with individual commissioners. If commissioners wanted to appropriate the $250,000, the money would come from the county's conservation and recreation fund, a pot of money set aside for such projects.
"This becomes an amount of money that doesn't just wipe that fund out, whereas before the amount of moneys that were being discussed (in 2016) really would have just consumed not only that entire fund, but more money," Adams said. "This is what makes this feasible now."
Before any money is appropriated, The Conservation Fund will have to see how fundraising goes and whether the Clean Water Management Trust Fund grant is approved. That decision will come in September. An appraisal will also have to be conducted to determine whether the property is worth the purchase price.
"There's a lot of checks and balances," said Adams.
According to Jackson County tax records, the 441.5 acres have a total value of $811,040. However, tax values can be lower than market values.
"There's an actual appraisal done several years ago that's higher than the amount of money we're talking about, plus there's been investments in the road," Adams said.
Time is of the essence, because America's Home Place wants to sell the Blackrock section — the one under discussion in Sylva and Jackson County — in 2018.
"Clean Water Management Trust Fund funds will be awarded in September but may not actually be available until the first quarter of 2019," said Holman. "If necessary, the Fund will acquire the property from America's Home Place in 2018 and sell it to the town in 2019, when all the public and private funds are available."