Archived News
A closer look at festivals in Western North Carolina
Wednesday, April 25, 2018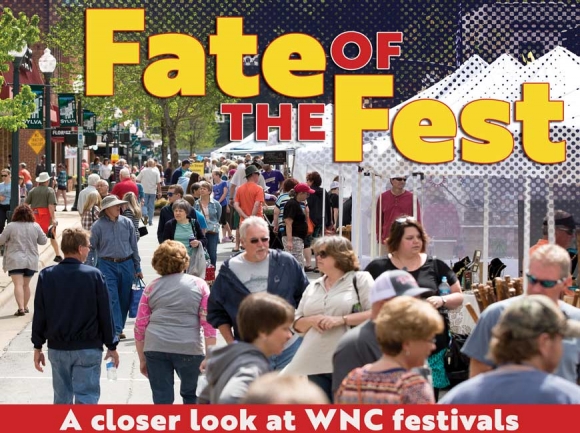 The proud communities that make up Western North Carolina were once mountain towns that played host to several successful blue-collar industries. We're talking about logging, furniture, paper products, auto parts, beverages, textiles, and so on. The country needed things, and needed them fast, and folks here made those products with their bare hands.
These companies found a crucial, much-needed balance alongside the serene beauty and endless natural resources of our forests, rivers and wildlife.
But, with the passing of time, most of these industries either left the county, the state, and the country, or disappeared altogether.
Like a deafening vacuum, jobs started flowing out of our mountain towns beginning in the late 1980s, with the tourism industry becoming even more important.
As part of that transition, several organizations popped up with one idea in mind — let's throw a party.
Either a nonprofit or run by the towns themselves, festivals of various sorts became popular in communities across the mountains. In many cases, they started as a way to get people back to main streets, but they were also a new and vital avenue by which the culture and heritage of Western North Carolina and Southern Appalachia would forever be preserved and perpetuated into the digital age of the 21st century.
Thus, after seeing a handful of beloved, longtime events disappear recently — "not returning in 2018, fingers crossed for 2019," or so these organizations posted on social media — I wondered if a similar fate was to fall upon others, a domino effect perhaps.
These festivals have long been (and remain) a shining light in their communities, a time to gather and celebrate. But, what about the future of these annual events? Especially when many of these mountain towns have reinvented how they do business and how they attract the next wave of residents, tourists and the curious alike — craft beer, outdoor recreation, family-friendly, connectivity to nearby metropolitan areas, millennial attentive — off of the interstate, out of their cars, and onto main street and nearby shopping areas.
Sylva's Greening Up the Mountains kicks off the regional festival season. As it approaches this weekend, we talked to the organizers of some of the most popular mountain festivals to hear what kinds of challenges they are facing in keeping momentum going for these unique events.
Greening Up the Mountains
• When: Saturday, April 28
• Where: Downtown Sylva
• Years active: 21
• Attendance: 12,000
• Put on by: Town of Sylva
• Website: www.greeningupthemountains.com
• Interviewee: Kendra Hamm, GUTM event coordinator
• Purpose: It began as a community Earth Day Festival and has evolved over the years, alternating themes between a heritage arts festival, to a focus on health and wellness, to what I consider to be a celebration of both contemporary and traditional Appalachian arts.
• Challenges: The festival isn't facing any particular "challenges," outside of the expected logistics of space and parking. We've met the parking challenge by teaming up with Jackson County Public Transit to provide shuttle service between the Jackson County Justice Center and the festival.
• Staying relevant: With the opening of many resale shops in downtown Sylva, a entirely new demographic of visitors have been coming into the area. Featuring artisans and crafters utilizing recycled/repurposed items in their booths brings those same visitors into the festival scene as well. The addition of the beverage arts attracts those who are interested in sampling the flavors of our local brewers. Additionally, the recognition received by the [Oscar-winning] film "Three Billboards Outside Ebbing, Missouri" has brought a lot of attention to Sylva as the backdrop for the filming of the movie. Sylva has [recently] made many nationally circulating articles as a place to visit.
• Importance: Greening Up the Mountains is a community event and its ongoing success can be attributed to the support of the community. From local businesses that provide financial sponsorships, to the nonprofit organizations that come out to share the work, to the vendors that arrive from both the local and surrounding communities, it's the local community coming together that creates this magical event that invites visitors to come and join in. As the event organizer, it's important to me to continue the work to create the high-quality festival that everyone has come to expect.
• Hopes: Moving forward, I would be interested in recruiting new artisans to come out and participate so that we have something new and fresh every year, as well as providing interesting and interactive activities for children and teenagers. It's my hope that the beverage arts area will receive enough support to be able to expand in the future to feature even more local brewers. If I had a choice to add one thing to the festival, it would be another stage so that we can provide even more local music throughout the day. This year's event will host 12 bands on two stages. I think it would be great to increase to a third stage if funding and support were available in the future.
Taste of Scotland & Celtic Festival
• When: June 14-17
• Where: Downtown Franklin
• Years active: 21
• Attendance: 2,000
• Put on by: Friends of the Scottish Tartans Museum
• Website: www.tasteofscotlandfestival.org
• Interviewee: George James, TSCF chairman
• Purpose: What this festival brings to downtown Franklin is a celebration of the heritage brought to these mountains, that of the Scots and Scots-Irish, along with celebrating the historic relationships with the Cherokee.
• Challenges: Our biggest challenge early this year was finding someone to be in charge of the festival. Now that we have a chairperson, our biggest challenge is getting enough volunteers to jump on board to head up the several subcommittees. There are a lot of things that take place all weekend, and the more volunteers we have the better work we can do. Many hands make for lighter work. We're actively recruiting volunteers to help with the festival.
• Staying relevant: We're also in a unique position, as Franklin is home to the Scottish Tartans Museum. The Taste of Scotland & Celtic Festival celebrates the history and heritage of our area, and encourages everyone to participate. This year, we're including a Highland Games contest to further enhance our offerings to the public and hopefully to generate more interest in and for Franklin and in our festival. Lastly, with few exceptions, our festival is free and open to the public. The Clan Dinner, on Thursday night, is the only ticketed event for the festival.
• Importance: The Taste of Scotland & Celtic Festival is important to our community because it's a celebration of our community. We're actively celebrating our cultural inheritance, and sharing that with the people who attend the festival. We work very hard to include as many events as we can to reach everyone. Personally, I'm very happy that we can continue to bring in representatives of the Cherokee Nation to our festival. The lectures and demonstrations of their culture help to remind us all that we are now, as we were then, neighbors.
• Hopes: Festivals are an important way to bring a lot of folks to our town for a day, or for a weekend, with the hope that they'll want to come back and spend more time here. And to put on a festival, such as the Taste of Scotland & Celtic Festival, takes a good deal of money. We're grateful to the [Macon County] Tourist Development Commission and the Tourist Development Authority who have continued to support our festival, as well as the Arts Council [of Macon County].
Many individuals and businesses also contribute to our festival every year, and we cannot operate without their continued support. I cannot count the hours of volunteerism put forth by the various committees and individuals from the start of planning through to the end of the festival, and many of our volunteers have worked with us for years. It's my hope that this festival continues to garner the support it needs so we can continue to grow and be one of the best festivals held in Franklin.
Plans are already underway for the 2019 festival, and I want it to be better than this year's. More music, more vendors, crafters, demonstrations, and more Highland Games. Of course, we still need to get on with the 2018 festival. And to do that, we need continued support from the community. This festival is organized by a small group of folks who work very hard to provide something that the whole community can benefit from. And that is reason enough.
Folkmoot International Dance & Music Festival
• When: July 19-29
• Where: Events around Western North Carolina
• Years active: 35
• Attendance: 8,000 seated shows/40,000 free events
• Put on by: Folkmoot
• Website: www.folkmoot.org
• Interviewee: Angie Schwab, Folkmoot executive director
• Purpose: We give Haywood County "only-ness" in that we're the only organization in the eastern United States that has an international folk festival.
• Challenges: Folkmoot's challenges have been well-documented. Having [over] 200 people living at the Friendship Center and travelling throughout Western North Carolina is expensive. The festival costs about $260,000 and we work hard to break even.
We've been working to diversify festival programming and to do more with youth and families. After a couple years with this formula, we're starting to feel successful in this realm and will continue to build this kind of educational, cultural tourism products for them. We'd also like to feature a couple nationally known acts at the festival that will generate new interest in Folkmoot, but that idea is for 2019. We need to recruit a significant sponsor to make that happen.
There are some limitations in Haywood County in regard to taking advantage of current festival trends. For instance, most audiences expect to have access to beer and wine, but we are not allowed to serve alcohol in the outdoor space at Folkmoot or at most local festival venues that we rent in July. It's a loss for us financially and some people don't understand why alcohol isn't permitted, because elsewhere, it's standard.
I should mention that 40 percent of our year-round (off-season) ticket buyers are completely new to Folkmoot — friendship dinners, cultural conversations and the outdoor festival events like the Sunday Soiree and Many Cultures Day are what's new.
• Staying relevant: Over the last two years, we've tried to communicate why having a Folkmoot is important and ticket buyers are responding. The core of the message is that accepting cultural diversity makes our society stronger — no matter what our cultural heritage, we're more alike than different.
We've put the founding board's intent forward, providing local kids and families with access to world culture in Haywood County. We've given that aspect of our programming a lot of attention. They wanted the kids to have higher expectations of themselves by having access to the world here at home. We are doing this in a different format — more outdoor festival events and adding in food and beverage and a few contemporary acts.
We've also learned more background on what a Folkmoot means. In Europe, the word translates to a "meeting of the people," but it also means that when the "people" come together, they're putting community over politics. They're having discussions on how they work together to meet community people's needs. They report this information to politicians who then represent the community. They come to agreement on their priorities and what special needs require special care. After the process, they dance. We're incorporating the essence of these ideas into the Folkmoot organization.
• Importance: We've been around a long time. Some people have grown ambivalent. There are a list of Folkmoot myths that I hear fairly regularly that are based on audience/community experiences from the past and I'm going to write those up soon and make them into a blog for our website.
We're trying to do things a little differently, surprise people with the variety, quality and diversity of shows and hope the community will come out and enjoy what we're doing.
A few years ago, a public official congratulated me on taking the director's job by saying, "Good luck making everyone's Folkmoot dreams come true." I laughed then, but now I know what he meant. Lots of nostalgia associated with Folkmoot and it's hard to make changes to something so precious to so many. At this point and time, we make lots of decision that are purely economic. We know what elements of the festival that audiences will support and the new events are experiments attempting to meet their needs. We're seeing increasing ticket sales, so we feel confident that we are headed in the right direction.
That being said, the community can expect alot from Folkmoot. We have a lot of fun for everyone coming up at the July festival and have some creative ideas in mind for 2019. Folkmoot has an ambitious staff — we are entrepreneurial and creative and we know how to do a lot with a little. I suspect we'll surprise you with our fresh approach.
• Hopes: We're leveraging partnerships to offer new cultural events. We're developing the youth component of what we do. The outdoor festival opportunities are becoming more important. We're incorporating more food and beverage into all of our events. We're listening very closely to the community in our festival design process. We're working to improve our own neighborhood and are committed to having as much as possible going on at the Friendship Center.
Mountain Heritage Day
• When: Saturday, Sept. 29
• Where: Western Carolina University, Cullowhee
• Years active: 44
• Attendance: 15,000
• Put on by: WCU
• Website: www.mountainheritageday.com
• Interviewee: Geoff Cantrell, WCU Office of Communications & Public Relations
• Purpose: Having started as Founders' Day during the inauguration of Chancellor H.F. "Cotton" Robinson in 1974, the festival became known as Mountain Heritage Day the following year.
• Challenges: Budget. Mountain Heritage Day is a free event. That means no admission, free parking, free shuttle service, free activities, free music. This is WCU's gift to the community. And we have no plans to ever change that. Sponsorship and volunteers are of greater importance than ever. Staff has to reach out, be creative and true to mountain ways, "make do or do without" when it comes to presenting and promoting the festival. We do have some wonderful partnerships and we ask that attendees consider supporting the businesses that support us.
• Staying relevant: By staying true to our roots. A festival about heritage and traditions should be steadfast to its mission in presenting heritage and traditions. That's always subject to interpretation, discovery and new voices, so it's not like I'm saying there's never anything new. To the contrary, every year there are new things to see and do. We stay relevant with mixing new bands and musicians into the lineup along with old favorites, by presenting different living history demonstrations every year, adding fun competitions and children activities. In a larger sense, Mountain Heritage Day is the "handing on" of heritage through musicians and their students playing together, the gathering of shape-note singers from all over the region, master craftsmen demonstrating their handiwork, the county fair style of canned goods and recipes contests, through Cherokee people sharing their traditions and inviting festival-goers to participate in a friendship dance. Mountain Heritage Day is regional in scope. We have a lot of talent and wisdom to draw from.
• Importance: There's something unique about Mountain Heritage Day in that it's university-sponsored, community driven, held on campus and promotes Southern Appalachian history, culture and traditions. It's family oriented, so the target demographic is young and old and everyone in-between. We're established. Mountain Heritage Day has had an established date and location on the WCU campus the last Saturday in September for more than four decades now. We're the granddaddy of these type festivals and we promote all the hometowns and communities across the mountains and the good things they've got going on.
So, it's not just about listening to music, eating, and shopping, although there are some mighty fine opportunities to do those things. Mountain Heritage Day encourages active participation. You can go on a wagon ride, cheer on the Cherokee stickball games, learn to make crafts, play games in the children's tent and enter one of several competitions like timber cutting with a crosscut saw. We also take time to honor the people who are engaged in preserving our traditions with the Mountain Heritage Awards, as well as the artisans who are carrying on the region's strong arts and crafts heritage.
Western North Carolina is a special place and if you're from here, it is good to remember from where you came. If you've moved here, it is good to have an appreciation of this place you now call home. This is a diverse community that has melded and incorporated many different influences over the generations into who we are and what we do, whether it's cooking, hunting, fishing, farming to worship, music or whatever you want to name. That's why we celebrate the Cherokee, African-American and Scots-Irish historic aspects of the region, and look beyond to other influences that are shaping us today.
• Hopes: We appreciate hearing from our guests, what they would like to see or do, things to make attending the event more convenient and their visit more comfortable. We're always looking for ways to expand our offerings for children and adults alike, and I expect the trend of more artisans and craftsmen to continue. I think Mountain Heritage Day will always be evolving. Otherwise, after 44 years, I think we'd have to say "if it ain't broke, don't fix it" and "y'all come" [down] for Mountain Heritage Day.
Apple Harvest Festival
• When: Saturday, Oct. 20
• Where: Downtown Waynesville
• Years active: 30
• Attendance: 45,000
• Put on by: Haywood County Chamber of Commerce
• Website: www.haywoodchamber.com
• Interviewee: CeCe Hipps, HCCC executive director
• Purpose: The event began as a way for the apple growers to sell their remaining harvest of apples, hence the name Apple Harvest Festival.
• Challenges: The biggest challenge we face in planning any event is the amount of time it takes to organize and plan the event. Once you close the event for one year, you immediately begin working on the next year's event. Advertising dollars, volunteers and rising event cost.
• Staying relevant: The Apple Harvest Festival is one of those events which fits for the community. We don't change too much with the festival from year to year because what we currently do keeps everyone happy. The craft breweries and recreational activities compliment the Apple Harvest Festival. If [the over 180] vendors and people continue to come, we're happy.
• Importance: The Apple Harvest Festival continues to be a draw with both the young and old. Families like to bring their children and enjoy the music.
• Hopes: Going forward advertising dollars will continue to be a challenge along with assistance from volunteers. We take each and every event one year at a time in tracking the time, expenses, and make the decision whether to continue or not. Unfortunately, due to decrease in participation, rising cost of expenses, and time, we've been forced to make some tough decisions and discontinue some events. For example, two years ago we made the difficult decision to discontinue the Blue Ridge Breakaway. It was a favorite of not only our riders but also our volunteers. I still receive calls to this day requesting the event to come back.
Getting festive
With the coming of spring, the festival season in Western North Carolina is now underway. Atop the festivals features in our cover story, below are several other key events that will be happening in our region:
• May 5-6: Ramp Festival, Waynesville
• May 11: Mother's Day Gemboree, Franklin
• May 12: Whole Bloomin' Thing, Waynesville
• May 19: Strawberry Jam, Bryson City
• May 25-26: Swain County Heritage Festival, Bryson City
• May 26-27: Cashiers Rotary Arts & Crafts Festival
• June 2-3: Ole Smokey Spring Farm Fest, Clyde
• June 7-9: Cherokee Bluegrass Festival
• June 8-9: Cold Mountain Music Festival, Lake Logan
• June 7-10: Highlands Motoring Festival
• June 9: Cherokee Voices Festival
• June 16: Front Street Arts & Crafts Show
• June 23-24: Village Square Arts & Crafts Show, Highlands
• July 14: Appalachian Heritage Festival, Franklin
• July 14: Blueberry Festival, Cherokee
• July 26-29: Macon County Gemboree, Franklin
• July 27-28: Hillbilly Jam, Maggie Valley
• Aug. 4-5: Lake Logan Multisport Festival
• Aug. 10-11: Mountain High BBQ Festival, Franklin
• Aug. 18: Franklin Folk Festival
• Aug. 25: Qualla Arts & Crafts Open Air Indian Market, Cherokee
• Aug. 25-26: Village Square Arts & Crafts Show, Highlands
• Aug. 31-Sept. 1: Smoky Mountain Folk Festival, Lake Junaluska
• Sept. 1-2: Cashiers Rotary Arts & Crafts Festival
• Sept. 2-3: Canton Labor Day Festival
• Sept. 22: Green Energy Park Youth Art Fest, Dillsboro
• Sept. 28-30: Guest Appreciation Festival, Nantahala Outdoor Center
• Oct. 2-6: Cherokee Indian Fair
• Oct. 5-7: Cashiers Leaf Festival
• Oct. 6: Colorfest, Dillsboro
• Oct. 6-7: John C. Campbell Folk School Fall Festival, Brasstown
• Oct. 11-13: Autumn Leaves Craft Show, Franklin
• Oct: 13: Church Street Art & Craft Show, Waynesville
• Oct. 19-20: Fall Harvest Festival, Stecoah
• Oct. 19-21: Leaf Lookers Gemboree, Franklin
• Oct. 20: PumpkinFest, Franklin
• Nov. 3: WNC Pottery Festival, Dillsboro
• Nov. 8-11: Highlands Food & Wine Festival
• Nov. 23: Hard Candy Christmas Art & Craft Show, Cullowhee
• Nov. 30-Dec.1: Balsam Range Art of Music Festival
• Dec. 7-8/14-15: Lights & Luminaries, Dillsboro
• Dec. 31: Possum Drop, Brasstown