Archived News
Brunch Bill fails in Jackson
Wednesday, April 18, 2018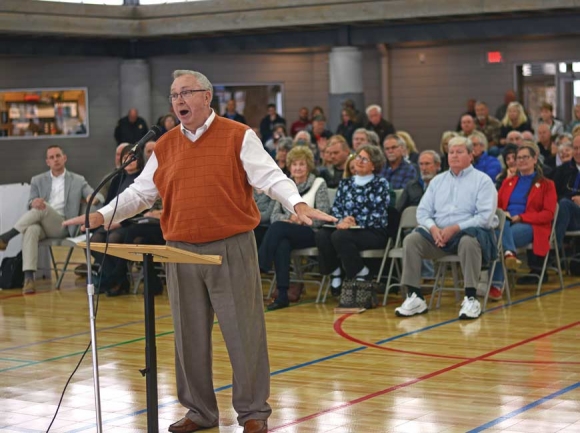 Cashiers resident Tommy Madden urges commissioners to vote no on the Brunch Bill. Holly Kays photo
In a 3-2 vote that followed hours of public comment spread over three different meetings, a measure that would have allowed Sunday morning alcohol sales failed in Jackson County April 16.
"There's certain decisions you make in life that you have to look at yourself every day," Commissioner Boyce Deitz said as the board prepared to vote. "This is one of those decisions, and I may be 100 percent wrong, but I've convinced myself I'm right on how I feel about this situation."
Ultimately, Deitz joined Commissioner Charles Elders and Chairman Brian McMahan in voting against the ordinance, known as the Brunch Bill. Commissioners Mickey Luker and Ron Mau voted in favor. The vote broke down according to the positions commissioners had held since the issue was first discussed during an October 2017 work session, with opinion split outside of party lines — Elders, Luker and Mau are Republican and Deitz and McMahan are Democrat.
The vote followed an hour-long public hearing featuring speakers on both sides of the issue. The April 16 hearing, held in Cashiers, was the second of two well-attended public hearings on the Brunch Bill, with informal comment on the issue also delivered during an October 2017 commissioners meeting.
During the initial public hearing March 19, held in Sylva, all but one of the 24 speakers had been opposed to the Brunch Bill, with the comments often getting heated and personal. With about 150 people present, the atmosphere April 16 was much calmer, and the comments more balanced — of the 19 speakers, 10 were in favor of Sunday morning sales, seven were opposed and two didn't explicitly state their position. Several speakers had also commented at the March 19 hearing.
Supporting Sunday sales
Many of the comments in favor came from people in the Cashiers business community, who stood to gain or lose the most from the commissioners' vote. Because Cashiers is unincorporated it — unlike Sylva and Dillsboro — is governed by the county's decision on the matter.
"As I've been watching and reading about this, I'm realizing that somehow we've become diverted from what this Brunch Bill is all about," said John Sims, COO at Sapphire Mountain Brewing Company and Sapphire National Golf Club. "I'm a little deflated realizing a small minority may be taking this in a different direction and not realizing really what this is all about is freedom to choose."
Sims, a veteran of 26 years in the military, said he cherishes that freedom and is disheartened to see it being restricted.
Others stressed the economic importance of Sunday morning sales.
"This measure is about leveling the playing field for communities in unincorporated Jackson County," said Stephanie Edwards, executive director of the Cashiers Area Chamber of Commerce. "Allow us to conduct our business like Sylva, Highlands, Brevard, Franklin, Waynesville, Hendersonville, Blowing Rock, Boone, Banner Elk and the more than 145 municipalities who have already supported it."
Edwards reminded commissioners that Jackson County's tourism industry generates $190 million annually and that Cashiers Chamber members have overwhelmingly supported Sunday morning sales.
Mark Jones, a longtime manager at High Hampton Inn and former county commissioner, said that the inn sees 20 to 25 weddings per year, a big moneymaker for the area, and that 90 percent of those wedding parties want a champagne mimosa toast on Sunday morning. He ventured a guess that the majority of county voters would want them to have it, reminding commissioners that voters approved countywide sales by a comfortable margin in 2012.
"That same position, I would think if you put it back out there (on the ballot) would be the same," he said.
Sunday morning sales would only help High Hampton in its quest to fuel the Cashiers economy, said the inn's new vice president and general manager Tom Garcia.
"When we're talking about food and beverage programming, it's important that we stay competitive," he said. "I see Cashiers as a place that's really going to be off the charts here soon. We'd like to see the High Hampton instead of closing its doors four months out of the year, almost five months, to be open year-round."
Those opposed
However, the comments April 16 weren't all favorable.
"An increase in alcohol consumption is going to cause an increase in crime," said Austin Frady, pastor at Old Savannah Baptist Church. "It's going to cause an increase in car accidents. It doesn't take a smart person to understand that two hours, it will bring in more revenue, but it's not worth the amount of money it will cost."
Sapphire resident Louis Langford stepped up to bear witness to that statement. He was coming home from Cashiers Baptist Church one Wednesday night last November when a drunk driver hit his car head-on. His injuries were numerous, including two broken legs, a crushed wrist and a brain injury — he was on life support for nine days.
"No wife should have to go through what my wife went through for over a week," he told commissioners.
Other speakers warned commissioners against placing too much importance on dollar signs, with Cashiers resident Dwight Holden comparing promises of increased revenue from the Brunch Bill to promises of increased school funding from the lottery.
"The lottery has done nothing for this state," he said. "The extra revenue has not helped us in any way."
"When you look at people, see people," added Josh Holden, pastor at Heady Mountain Baptist Church. "Don't look at people and see dollar signs. That's when we get in trouble."
He concluded his comments by asking commissioners if they would mind him saying a quick prayer for them. Holden then walked up to their table, away from the microphone, and bowed his head to say a few words, inaudible to the audience.
For Cashiers resident Tommy Madden, the issue was clear-cut — anybody who is thinking about making alcohol more available isn't right with God.
"If you're for alcohol in any way, shape or fashion, you need a personal relationship with God," he said.
The vote
When the public hearing concluded and commissioners began their regular meeting, on which the Brunch Bill was scheduled for a vote, Mau asked that the board table the issue until May, to give everyone more time to consider the evening's comments and also to investigate the possibility of holding a referendum vote.
"I now have 14 pages of notes from our two public hearings on the Brunch Bill," he said. "Some people indicated they wanted to email all of us some information, so I want to have a little more time to read through my notes and make a more informed decision."
Deitz disagreed.
"We talked about this for a long time," he said. "We've spoken about this for a long time, we've had meetings about it, we've had people discussing it. We need to make a decision on it."
Mau's motion to table the vote failed 2-3, with McMahan, Deitz and Elders voting to proceed.
Before the votes were cast, however, Mau took several minutes to detail the reasons he supports the Brunch Bill. He sees it as a constitutional issue, giving people the right to choose and avoiding violation of the establishment clause. He also took issue with some of the evidence presented to say that crime and vehicle deaths would increase if the hours for alcohol sales were expanded. Mau said he looked at statistics on car accidents involving a fatality where alcohol was involved and saw that before 2012, Jackson County had a higher percentage than the rest of the district. After 2012, the year countywide alcohol sales were approved, that figure changed.
"Since that time, the percentage of accidents involving a fatality where alcohol was involved was dropped to the same level as the rest of the DOT (N.C. Department of Transportation) district or about the same," he said.
Luker, meanwhile, addressed comments made during the March 19 hearing in which resident Johnny Ray Davis questioned his faith due to the fact that Luker's store sells beer.
"I'm a forgiving person. Did it hurt? Absolutely. Did it hurt? It hurt to the core," he said. "But you know what? I've got something that that man, that woman, that child, nobody can take away from me. I know what I've got."
Luker said he wished the question could be put out to the people for a vote rather than commissioners making the choice.
"I feel like we failed the citizens not being able to have that right," he said.
McMahan disagreed. He said it's not a constitutional issue — the state law says that local governments have a choice, he said. They can allow Sunday morning sales, or keep the status quo.
"This is a representative democracy," he said. "You people elected us to make the decisions. There's not an option to put it on the ballot. The legislation didn't say anything about putting it on the ballot."
Elders, meanwhile, expressed his view that the issue boils down to respect.
"It is my firm belief that we should show enough respect for every church in this county to grant them two hours on Sunday," he said.