Archived News
Overlapping leases complicate Frog Level parking
Wednesday, April 18, 2018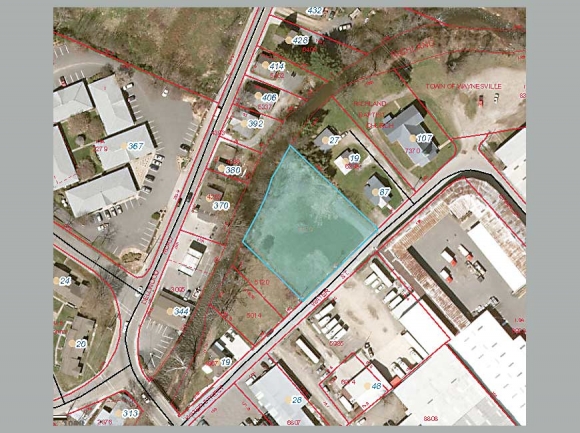 More parking could be coming to Frog Level. Haywood GIS photo
A legal snafu has halted work on the Frog Level parking lot paving project as well as delayed action on a possible property acquisition that would bring even more parking to the Waynesville business district.
Grading and compaction work had already begun on the Commerce Street parking lot a few week ago when a surprising and unforeseen complication emerged from nearby Giles Chemical.
"We were setting up to pave, and folks from Giles Chemical called and said 'We don't have any objection to you paving the parking lot, but we need you to know that we have the lease to that land," said Waynesville Town Manager Rob Hites.
The lot in question was leased by the town from the Norfolk Southern Railroad per an instrument dated June 2, 2002.
That lease was in turn inherited by Watco, the Pittsburg, Kansas-based operator of the Blue Ridge Southern Railroad that now owns the property.
Turns out, Giles has a lease for about three-quarters of the parking lot from Norfolk Southern dated Nov. 7, 2001.
Hites opined that attorneys from Norfolk Southern — a Fortune 500 company with more than 30,000 employees and 20,000 miles of track across North America — were unaware at the time that two separate leases were being prepared for two separate lessees for the same parcel of land.
"What Giles said we have to do is have an agreement that recognizes they have the superior lease," Hites said, noting that Giles, Watco and the Town of Waynesville are all in agreement on the matter and that a sublease was being prepared.
"All three parties want to pave the lot, it's just a matter of getting a legal instrument in place," Hites said. "We would like for it to happen as quickly as we can. I am one email away from paving that lot."
In essence, both Norfolk Southern and Watco have been receiving double rent on the parking lot for more than 15 years, but Hites said it's unlikely the town would pursue a refund, which would in all likelihood be owed to Giles. Currently, the town pays $200 per month for the lot, but Hites said Giles hasn't asked for compensation.
The misunderstanding has stalled discussions on an offer presented by Donna Forga to sell a parcel on Water Street to the town for use as additional parking in the area.
The parcel, just over half an acre, is located behind what is now Mia Salon, about 250 feet northeast of Depot Street. It abuts Richland Creek, is located in a floodway and is also subject to a trout buffer, making it practically unbuildable, according to a memo from Hites to the Board of Aldermen dated April 4.
Those conditions, however, make the parcel — assessed at $90,300 — the perfect place for a parking lot, according to Forga. She's asking $110,000 for the lot, but would entertain a counteroffer or consider a long-term lease at $250 per month, which is competitive with nearby rental rates that average about $10 per space, like in Hazelwood.
During the April 10 Board of Aldermen meeting, the board told Hites to wait on the resolution of the Commerce Street confusion before addressing Forga's offer.
"We'd like to get that [Commerce Street] lot paved as quickly as possible," Hites said.