Archived Opinion
An unexpected triathlon journey
Wednesday, April 11, 2018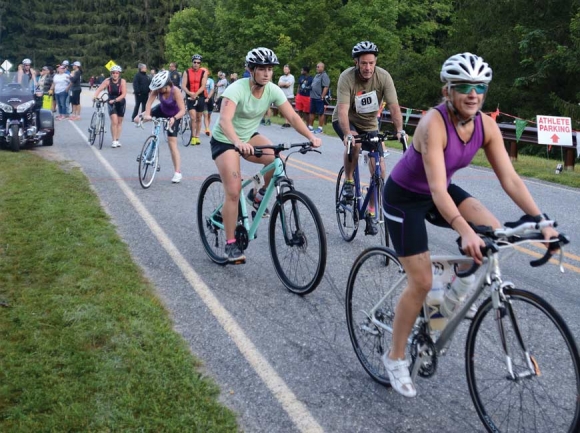 When life turns upside down, we have options. We can sink into the darkness and find comfort in substances and risky behaviors. Or we can search for the light, wherever that may be.
Coping with the death of my mom and divorce during the same time period was almost debilitating. My two little boys got me through the first stretch. I had no choice but to wake up every day and put on a smile. Some days I merely went through the motions of being a mom, and that was enough to stay afloat.
My everyday mantra was the Robert Frost quote; "The only way out is through." So, I just kept going, very unsure of what lie around the next bend.
Other than the boys, faith carried me along. With my mom no longer around as my constant sounding board, I conversed all day with God, also feeling like maybe she was listening, too.
And after a while, he started whispering back. Sometimes it was through another person or a quote in a book or a line in a song or a thought in my mind.
Not only did God lift me up emotionally, but he also put a fulfilling career and inspiring people in my life. All of this combined carried me until I could stand again.
And once I could stand, I was ready to run…and swim…and bike.
I felt like a physical challenge would be a perfect antidote to emotional turmoil. After watching a good friend compete in two triathlons, I thought, "Maybe I can do that too."
My first hurdle was the swim component. I could swim for survival but had no form.
This friend of mine encouraged me to swim for at least five minutes without stopping. I thought this goal was surely attainable. Boy, was I wrong. The first time I entered the pool for a workout, I swam one length (25 yards) and was completely out of breath.
It became a personal quest to swim for five minutes. Week after week, I built up my endurance until finally, I could swim for five minutes straight without stopping. My goal to compete in a triathlon started to feel a bit out of reach.
From that point on, I swam multiple times a week.
I was slowly strengthening my swim fitness, and finally, by December, I was able to swim for 20 minutes continuously, although I felt my form still wasn't quite right.
One day when at the fitness center, I ran into a former colleague of mine from Waynesville Middle School. She's an avid, competitive swimmer who also coached the Tuscola swim team for a number of years.
She told me she'd been working with several triathletes through private lessons, helping them improve form and breathing. I decided to do the same. For the next eight weeks, she and I worked together in the pool. Everything started to click and I finally felt fluid and comfortable in the water.
My most recent swim workouts have been 1,000 yards. I'm feeling better abut the swim.
I'm not too worried about the run because I've been running and competing in races for years. And in a sprint triathlon, the run is only a 5K.
The bike is a different story.
For months, I was fine on the spin bike at the gym. Until a couple weeks ago, I'd never been on a road bike.
It was time to ride on the road. One day, I stopped by Rolls Rite in Waynesville and talked to the owner John Mudge. I told him I was looking for a used bike in a certain price range. He walked me outside and right there in front of me was a used Specialized bike that was my size and in my price range.
He told me to take it for a couple of days and try it out, so I did and I was sold. I've been on three bike rides so far and while it doesn't feel completely comfortable yet, I'm getting there.
My first triathlon is a month away. I'm nervous about certain aspects of the race. I'm nervous about swimming in a lake, possibly getting a flat tire, or my exhausted legs struggling to run after the bike. I've had several mentors during this first triathlon experience. I could not have done this without them.
Life has a way of unfolding in beautiful, unexpected ways. Just when I felt like everything I knew and loved was dying, God put new beginnings in my world. We humans always think we can do it all on our own but the truth is, we just can't. The older and wiser I get, I realize this more and more.
I'm excited about the triathlon and I hope it goes well but no matter what happens on race day, I'll be forever grateful for the journey that led me there.
(Susanna Barbee is the digital media specialist for Mountain South Media and The Smoky Mountain News and an associate editor for Smoky Mountain Living magazine. This email address is being protected from spambots. You need JavaScript enabled to view it..)