Archived Arts & Entertainment
Halfway where: Ol' Dirty Bathtub releases debut album
Wednesday, April 11, 2018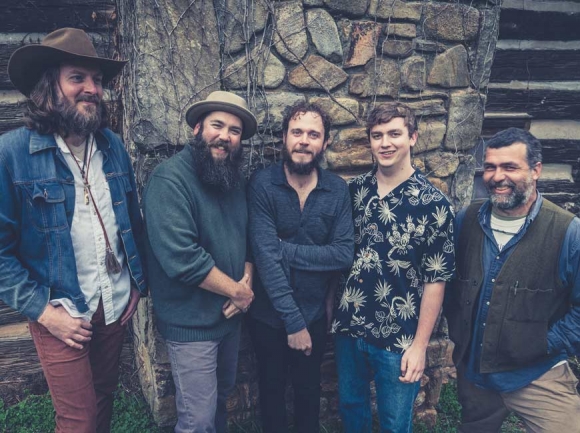 Ol' Dirty Bathtub is (from left) Brad Boulet (mandolin), Neil Lippard (guitar), Jerad Davis (guitar), Carter Giegerich (dobro) and Adam Bigelow (standup bass). Brindley Faile photo
What started out simply as a creative outlet has now taken on a life of its own.
Based out of Jackson County, Ol' Dirty Bathtub is a rollicking musical act, one where the lines between bluegrass, folk and Americana are blurred. Part mountain heritage, part blue-collar work ethic, part cosmic wanderlust, the quintet is currently in the process of releasing their debut album, "Pack Mule" (Bee Hive Records).
Like most string acts, each member of ODB has a day job (lawyer, community gardener, journalist, small business owner, etc.) with the music played — onstage at breweries or on a front porch in the backwoods — being the sweet reward at the end of another long and arduous workweek.
Each band member has been part of previous groups, with some touring and recording extensively around the southeast for several years. But, as those bands faded, their respective careers outside of music flourished.
And yet, that urge to create and perform never ceased, resulting in ODB becoming a crossroads for the ensemble, eager to head out the door on the weekend to jam out with friends or folks soon-to-be fast friends in the heat of a pickin'-n-grinnin' session around a campfire or backstage at a festival — the pure passion of playing music, communicating melodically in the cherished moment that singularly resides within live performance.
Smoky Mountain News: ODB is meant to be an outlet for your creativity aside from your daily life responsibilities. What provoked this next step in recording a debut album and pushing further out into the scene?
Jerad Davis (guitar): It's all about exposure, really. We want to share our music with more people, and since we are unable to tour extensively, putting an album out gives us that opportunity to reach a wider audience. With the music industry being the way it is, we know this isn't a big money-making venture. Sure, it will pay for itself and we will make a few bones off of it, but that's not the point. We're proud of our music and want to share it.
SMN: Take me through the recording process. What's your personal process and take on how it all came together for the album?
JD: We did more live tracking than most acoustic acts. We're much more comfortable playing in a circle and looking at each others' ugly mugs while playing. So, it just worked out that way. We actually locked ourselves up in my little cabin up on Balsam and recorded the entire thing in a weekend. Our sound engineer [from Bee Hive Records] came down from Johnson City, Tennessee, with a few carloads of microphones and audio equipment and we just knocked it out.
SMN: What about this band is a personal result of what the band members have been searching for in a group? I ask this, as it appears y'all have found yourselves in a musical space that ideally complements your daily life and work endeavors?
JD: This whole thing started as a weekly porch jam. We would get together, cook some grub, maybe have a carbonated adult beverage, and play some songs. We weren't doing it for notoriety or to impress anyone — we were playing for us. But we figured, hey since we're actually getting pretty good, and are going to be doing this anyway, we might as well book some shows. This setup complements our lives because of a few reasons. First, we don't take ourselves too seriously. Second, we aren't trying to play a world tour in the next year. Third, if a show is more stress than fun, we won't do it.
SMN: What has surprised you most about this new and current chapter in your musical creativity?
JD: The energy. We've always had energy when playing on someone's porch, but on several occasions lately we have been able to replicate it live. And that's what makes this fun — people dancing, rooms getting hot, creating an atmosphere that is as fun for those listening as it is for us onstage. That's why we do it. And that fuels the passion and creativity. It's a double positive feedback loop.
Editor's Note: For more information on Ol' Dirty Bathtub, the new album "Pack Mule" and upcoming show dates, visit www.facebook.com/oldirtybathtub.