Archived News
TWSA debates policy changes in Cashiers
Wednesday, April 11, 2018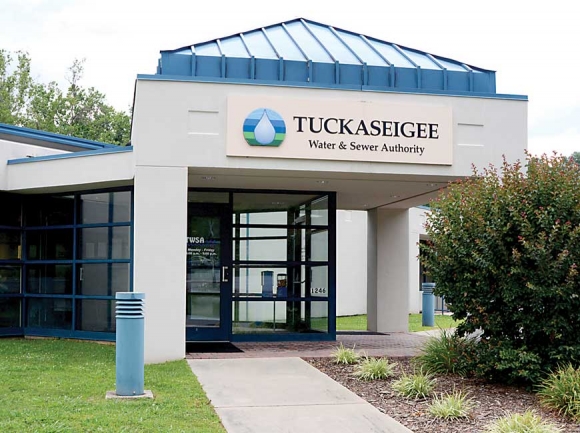 As planning proceeds for a new sewer treatment plant in Cashiers, the Tuckaseigee Water and Sewer Authority will soon be able to end the long-standing freeze on new sewer allocation in the mountain village — at least temporarily.
With the construction process actively underway, TWSA will be allowed to release 20,000 gallons of capacity that it had previously been required to keep in reserve. Now the organization must decide on a process to accept and evaluate the many applications it expects to pour in.
"I guarantee you we're going to get applications for two or three times that amount, so benefit to the community should be something that we also discuss," TWSA Executive Director Dan Harbaugh told the board during a meeting March 20. "Is it a solution to an ongoing environmental problem? Does it create new jobs? Does it create new tax revenue?"
While some may consider water and sewer infrastructure a dull topic, the reality is that development follows the pipes, and in Cashiers the treatment plant at the end of those pipes has been at capacity for years — sort of. During the real estate boom of the early 2000s, developers bought up large amounts of allocation for housing developments that were never built. Many of those developers held onto that unused allocation, meaning that while in practice the existing 200,000-gallon-per-day plant is operating well below capacity, on paper it's maxed out. A new plant on the Horsepasture River will result in 125,000 gallons per day of additional capacity, with room for expansion.
More allocation for Cashiers
During the March 20 meeting, board members approved a public notice process to let potential recipients of the freed-up allocation know that the capacity is up for grabs and clarify what information TWSA will need to decide who gets it.
In addition to information required on a standard allocation application form — building plans, site layout, reason for the connection request — the application will also ask a variety of more unusual questions, such as documentation of a potable water source, a project timeline, a narrative describing how the project will benefit the community and information about how the project can be phased.
TWSA will receive applications for 21 days beginning April 16. After that time, a decision will be made as to which applications receive how much of the available 20,000 gallons. Harbaugh hopes to see that process conclude in time for the board's May meeting.
However, TWSA will have some decisions to make between now and then. For instance, Harbaugh said, they need to think about how much of the 20,000 gallons should be given to commercial projects versus to residential. That could be a topic for TWSA's April 10 and April 17 meetings, but Harbaugh also suggested that the board first wait to see what applications come in before "you tie yourself to a hitching post."
It's unclear who will make the final decision as to which applications are accepted. In Harbaugh's presentation to the board March 20, he suggested that applications be turned over to the board to sort through. However, Attorney Diane Sherrill cautioned the board about accepting that responsibility.
"I don't know of anything with DEQ or DWQ that would require the board to approve who gets it and who doesn't," she said. "Generally this board is a policy board. That would be my concern, that we're putting another hat on the board and they might not want to go there."
Board members seemed to agree with that point but recognized that delegating the responsibility to staff would require them to first approve a policy outlining how to evaluate applications. TWSA will likely discuss such a policy during this month's meetings.
Making transfers easier
In addition to the list of application questions Harbaugh offered for the board's consideration, the approved document includes one more, added at the suggestion of board member Ron Mau, who is also a Jackson County commissioner.
Mau wanted to see TWSA ask applicants whether they had investigated the possibility of transferring unused allocation before applying for a piece of the 20,000 gallons.
TWSA created the transfer policy years earlier to help Cashiers through until the new plant could be completed. The policy allows users who need allocation to buy it from users who are holding unneeded allocation. However, the original transfer policy contained limitations and fees that could have discouraged some users from taking advantage — it allowed a maximum of one transfer for property and charged a fee equivalent to 10 percent of the value of the transfer.
During the March 20 meeting, the board did away with both of those restrictions.
The first change — lifting the limit of one transfer for property — came as a recommendation from the TWSA Policy Committee.
"I think the policy committee members as a whole were in agreement if the goal is to move some of this pent-up capacity up there, based on conversations with the community the best way to do that is look at making a change in the policy to allow more than one transfer to be made for a property," Harbaugh told the board."
However, the policy committee had voted 2-1 against recommending the second discussed change: eliminating the 10 percent fee. David Nestler, a Sylva town commissioner, had voted in favor of eliminating it with Tom Sawyer, a county commissioners appointment, and Tracy Rodes, Webster mayor and TWSA chairwoman, voting against the recommendation.
"I was the only one of the committee who did (want it) but it is up to the board to decide whether they want to consider that," Nestler said. "I see it as an impediment to transferring."
Nestler's suggestion saw support from Mau, who compared the situation to an overbooked Delta flight. In that scenario, the airline has too few seats for too many passengers, so it's in the airline's best interest to incentivize passengers to agree to a different flight.
"TWSA would be better to get whatever customers we can signed up to pay the sewer bill than by discouraging transfers by charging them up front," Mau said. "If you start looking at cash flows you make that back in a hurry."
Harbaugh, however, said that the fee is important for TWSA's revenue stream. The 10 percent fee was written into the second revision of the policy to replace a clause that said people who transferred would have to fall under new — and likely higher — capacity assurance charges rather than under the old capacity assurance charges. The fee allows TWSA to recoup some of the revenue it would have seen had it brought existing holders under the current capacity assurance charge, he said.
"I've never seen a transfer that didn't take place because of the 10 percent fee," he said.
"Well it's not encouraging transferring," Nestler replied. "Nobody's saying, 'I'm going to transfer because of this 10 percent fee.'"
"I don't see that it's hurting anything to charge them," said Harold Hensley, a TWSA member and Sylva commissioner. "It's not keeping anybody from transferring that wants to transfer or anybody that buys that transfer to buy it."
"I don't think we know," Mau replied. "There's no way to assess that."
Mike Byers, a nonvoting member who is the vice chancellor for finance and administration at Western Carolina University, said he might see a problem with eliminating the fee if the transfer policy were to continue in perpetuity. But since it's just a short-term policy that will end when the new sewer plant comes online, axing the 10 percent fee is a good move.
"We're talking about two years' worth of trying to free up capacity," he said. "In that case, why would we want to worry about nickel and diming over this 10 percent?"
Member Buddy Parton, a Dillsboro appointment, said that because allocation is a "valuable commodity" and people are willing to pay the 10 percent "in a heartbeat," maintaining the charge is just supply and demand.
"In the discussions I've been a part of that's the case," said Harbaugh.
"Supply and demand terms is a little unfair," responded Nestler. "We're tasked with providing water and sewer equally to everybody. Just because a lot of people want it and are willing to pay more doesn't mean it's right to charge more for it."
Nestler's point of view eventually won out, with Hensley holding out as the sole vote against getting rid of the 10 percent fee.
Public hearing planned
A public hearing at 5:30 p.m. Tuesday, April 17, at the Tuckaseigee Water and Sewer Authority boardroom on 1246 West Main Street in Sylva will take input on a report that will be used to generate a new system of up-front fees for new users.
Preliminary results of the analysis, which stems from the 2017 state law, show that TWSA will legally be able to charge even higher fees under the new law than what it currently does. However, the report simply generates a legal maximum for the fees; TWSA can set them anywhere between zero and that maximum.
During the 2018-19 budget process, TWSA will decide whether to adopt the analysis and how to set its fees going forward.
The analysis is online at www.twsanc.us/forms-documents under the link for "TWSA System Development Fee Study." For a story explaining the issue, visit www.smokymountainnews.com/news/item/24263.
TWSA to hold informational meeting in Cashiers
A public meeting following the opening of the application period to receive part of the 20,000 gallons of sewer capacity to be released in Cashiers will be held 6 to 7 p.m. Wednesday, April 18, at the Albert Carlton Cashiers Library.
Those with questions can also call or email TWSA Executive Director Dan Harbaugh at This email address is being protected from spambots. You need JavaScript enabled to view it. or 828.586.5189, ext. 203.