Archived News
Jackson to hold second Brunch Bill hearing
Wednesday, April 11, 2018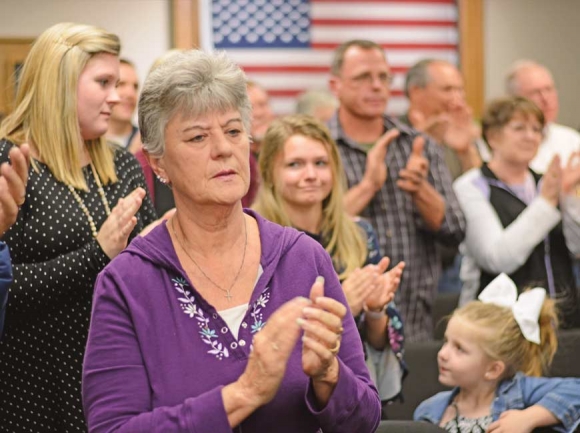 Members of the community opposed to Sunday morning alcohol sales applaud following public comment from one of the many anti-alcohol speakers who spoke during a public hearing March 19. Holly Kays photo
A second public hearing on whether to allow Sunday morning alcohol sales in Jackson County will be held at 5:30 p.m. Monday, April 16, at the Cashiers/Glenville Recreation Center in Cashiers, and attendance is expected to be significant.
Known as the Brunch Bill, the measure, if approved, would allow alcohol to be sold starting at 10 a.m. on Sundays rather than noon, as is the case now. The decision stems from a 2017 decision of the state legislature, which allowed municipalities to decide whether to allow earlier sales in their individual jurisdictions.
The first Jackson County hearing, held Monday, March 19, in Sylva, drew roughly 75 people, with 24 of them addressing commissioners. Comment during that hearing was overwhelmingly opposed to approval, with only one speaker — Bernadette Peters, owner of City Lights Café in Sylva — speaking in support. The remaining speakers were vehemently opposed to any loosening of alcohol laws, citing religious views and the dangers of alcoholism as the primary drivers of their position.
"When people say there's no harm in passing this law, think about the folks who have lost someone to alcohol," said Mark Stiles, pastor at Trout Creek Baptist Church, following an account of a church member who was killed by a drunk driver on his way home from church in 2016. "You're putting more people on the road with alcohol in their body at an earlier time of the day. It's time we as Christians stood and let our voice be heard."
While many of those who spoke March 19 said they plan to return for the Cashiers hearing, the April 16 date could include a more substantial share of folks in favor of the measure. People who own tourism establishments that serve meals would stand to gain the most from Sunday morning sales, with advocates of the measures saying other types of tourism-based business would benefit as well, because Sunday morning sales would cause more people to choose Cashiers for their vacation or extend their stay.
In Jackson County such establishments are mostly located in Sylva and Cashiers. Sylva's town board approved Sunday morning sales within its city limits during a rather uneventful vote in September. Cashiers, however, is unincorporated, so its ability to sell alcohol Sunday mornings will depend on the county's decision. Commissioners moved the hearing from its originally announced location at the Albert Carlton Cashiers Library in order to accommodate the number of people expected to attend.
During discussion on the issue during an Oct. 16, 2017 work session, Cashiers Area Chamber of Commerce Director Stephanie Edwards told commissioners that adopting the Brunch Bill would level the playing field, allowing Cashiers to better compete with other communities — including Highlands, just down the road — that have already approved it.
"This is not an issue that is trying to be disrespectful to the church or divert church attendees from going to their church services," she said in October. "It's an economic issue, and it's all about leveling the playing field for small businesses here in unincorporated Jackson County."
Edwards added that a quick two-day survey of Chamber members yielded 168 responses, with 96.4 percent in favor of passage. Commissioners delayed their decision until the springtime at Edwards' request, as many Cashiers business owners are out of town during the winter.
Other Western North Carolina communities that have approved the Brunch Bill include Waynesville, Maggie Valley, Franklin, Highlands and Bryson City.
It hasn't been voted on in Haywood County, Swain County or Macon County. When discussed in a Dillsboro town meeting, the measure failed to make it to a vote for lack of a motion.