Archived News
Greens make the grade: Ballot access boosts third parties
Wednesday, April 04, 2018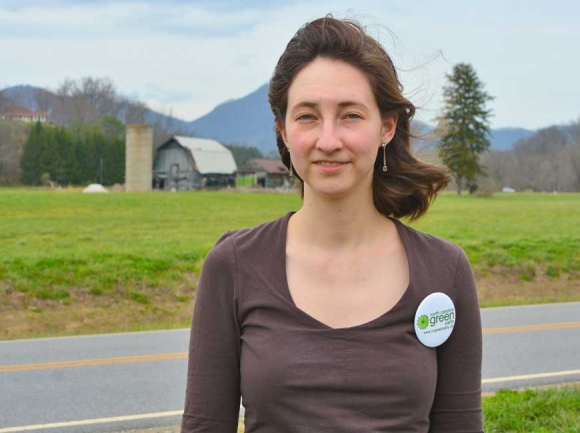 Co-chair of the WNC Green Party Camille McCarthy says the party's worked hard to get on the ballot. Cory Vaillancourt photo
This fall, voters in North Carolina will be treated to a new choice at the polls come election day.
"We worked so hard for this and at times it seemed like it was impossible, but we're all really excited about it," said Camille McCarthy, co-chair of the Western North Carolina Chapter of the N.C. Green Party.
On March 27, the State Board of Elections and Ethics Enforcement issued a press release officially recognizing the Greens after a 2017 law dramatically lowered the threshold for third-party ballot access.
"We've been working on the current round since November 2016, so that's a year and a half now," McCarthy said. "But we've been working on ballot access since the early 2000s or maybe even the 1990s."
The Green Party now joins the Democratic, Libertarian and Republican parties both on ballots and as a voter registration option.
"Right now, if you want to change to the Green Party you just have to fill out a form and check the 'other' box and write 'Green' and then your card that you receive will say 'Green' on it," McCarthy said.
The board's press release says it is "updating and will distribute new voter registration forms that include the Green Party option."
Because the sign-up period for the Primary Election has already passed, candidates wishing to run on the Green Party ticket can qualify through a state convention later this year.
"We have seen this two-party system for decades and decades, but there are other ways to run a government," said McCarthy.
While yet small, the Greens could conceivably play spoiler, especially in local races; although McCarthy said her party is different than the others and has its own value system, its ideological bent cants hard to the left.
"Those values really separate us from both the Republicans and Democrats, so we are really not stealing votes from other parties," she said. "We are our own party with its own independent platform."
Still, some don't see it that way. Even before the State Board of Elections could issue its own press release on the Greens, the North Carolina Republican Party welcomed them in a press release of their own.
"We look forward to competing with the Green Party in the marketplace of ideas," said NCGOP Chair Michelle Nix in the release March 27. "I am proud of our Republicans in the General Assembly for providing the opportunity for more candidates and political parties to compete for votes in North Carolina. "