Archived News
Mission Health could become for-profit system
Wednesday, March 28, 2018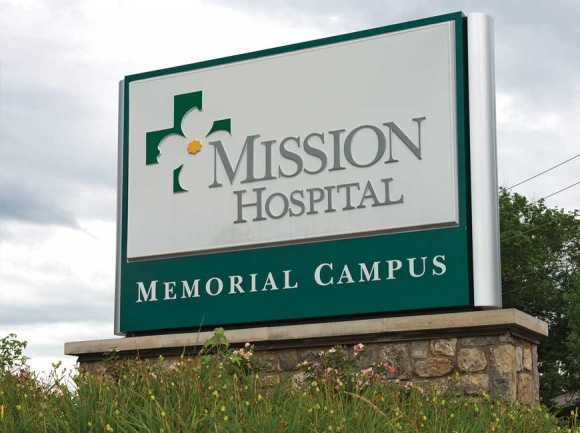 Mission Health, the largest health care provider in Western North Carolina, could soon become a for-profit health care system if plans to be acquired by Nashville-based HCA Healthcare come to fruition.
Mission announced last week that its board of directors signed a letter of intent to enter into exclusive discussions to join HCA (Hospital Corporation of America), a for-profit network that includes 177 hospitals and 119 surgery centers in 20 states and the United Kingdom.
According to a press release from Mission, the board's unanimous decision reflects its long-term vision and commitment to expanding Mission's "word-class quality of care within a rapidly consolidating healthcare industry." With extensive resources to strengthen hospitals and deliver patient-focused care, Mission said signing the LOI was a pro-active step to ensure it remains well-positioned to meeting the unique health care needs of the region.
"The Board, all of whom are community members who care deeply about ensuring access to high quality care for the people of Western North Carolina for generations to come, is confident that HCA Healthcare is the right and best choice for Mission's team members and providers, its patients and the communities we are privileged to serve," said Mission Health Board Chairman John R. Ball. "HCA Healthcare is a leading healthcare operator that offers advantages on a scale that would be difficult, if not impossible, to achieve otherwise."
HCA recently celebrated its 50th anniversary. With over 200,000 employees and 37,000 active physicians, HCA Holdings — the largest investor-owned hospital system in the U.S. — was ranked No. 63 on Fortune's list of top 500 companies in 2017.
In making the announcement, Mission Health's Board Vice Chair John W. Garrett noted that even though HCA Healthcare is one of the nation's leading health system operators, it does not currently have operations in North Carolina.
"HCA Healthcare is attracted to Mission Health for many reasons, including the reputation of Mission Health clinicians and broader team to deliver best-in-class care and patient outcomes and our shared commitment to innovation," he said.
Mission leaders are also excited that the HCA agreement could include the establishment of a new foundation that would provide substantial annual investments dedicated to improving the health and well being of patients.
"As important, the newly formed foundation will be life-changing for the residents of our region, providing tens of millions of dollars annually in new support for the most vulnerable," Ball said.
"When combined with the ability of the newly formed foundation to enhance access in underserved communities and to invest in solving some of healthcare's most complex and intractable problems — health risks that are beyond the reach of traditional medicine — it's an ideal opportunity for our community," Garrett said.
Milton Johnson, HCA Healthcare's chairman and CEO, stated in the press release that he is excited to formalize discussions with Mission about how HCA can help continue its impressive legacy in this region.
"As a healthcare provider founded by physicians 50 years ago, we appreciate the way Mission Health has served Western North Carolina with a level of excellence that has earned national recognition as one of the top 15 healthcare systems in the country," he said.
Dr. Ron Paulus, president and CEO of Mission Health, said it was a testament to Mission's board and staff that the health care system is in such a strong position to have the option of joining HCA — a decision he said would be the best choice for patients.
"HCA Healthcare appreciates that Mission Health has the capacity to continue its work alone, and yet we both recognize that meeting our core missions could be achieved more effectively together," Paulus said. "We are excited to be considering joining HCA Healthcare and benefitting from its caliber and exceptional capabilities in research, clinical trials, data analytics, graduate medical education and more."
For the past nine years, HCA Healthcare has been ranked as one of the World's Most Ethical Companies by the world leader in business ethics, the Ethisphere Institute.
"It is important to us that HCA Healthcare expresses a commitment to supporting our clinical best practices and our communities' values," Paulus added. "The recognition HCA Healthcare continues to earn for being one of the world's most ethical companies is compelling."
HCA's past
While Mission leaders are confident they will be joining a reputable health care system, HCA has not operated without controversy over the last 20 years.
According to a New York Times article from December 2000, HCA paid $840 million in criminal penalties and pleaded guilty to charges of obtaining money by cheating government health care programs. That settlement — the largest Medicare fraud settlement in American history — was reached after an extensive Department of Justice investigation into HCA's business practices that became public in 1997.
Criminal complaints filed against the company included accusations that it intentionally misidentified marketing expenses as reimbursable patient costs, striking illegal deals with home care agencies, lying on reimbursement forms about how much hospital space was being utilized for patient care, inflating the seriousness of an illness on Medicare billing and more.
Florida Gov. Rick Scott was the CFO of HCA when the investigation was made public and resigned several months later. Scott's company, Columbia, originally purchased a couple of Texas hospitals in 1987 and over the next decade bought up hundreds of hospitals and surgery centers. Columbia purchased HCA's 100 hospitals in 1994 and the companies merged.
The Tampa Bay Times published a multi-part investigation in 2014 regarding HCA's trauma center operations in Florida. The newspaper articles alleged that HCA's trauma centers were charging injured patients tens of thousands of dollars more than others in the state, according to the newspaper's analysis of state records.
For more on HCA and its finances, visit www.hcahealthcare.com and fortune.com/fortune500/hca-holdings/.
Community response
Many people in the community experienced an "ah-ha" moment when Mission made the acquisition announcement. All of a sudden Mission's cuts to personnel and services over the last couple of years all made sense — Mission was trying to make itself more attractive for a buyer. In the last year, Mission has discontinued the labor and delivery units at Angel Medical Center in Franklin and Blue Ridge Regional Hospital in Spruce Pine because they were losing money.
Some have expressed concerns about Mission joining HCA specifically because of its financial past and the concern over increased costs associated with for-profit trauma centers.
Others seem to be in favor of the nonprofit transitioning into a for-profit operation if it will increase resources and investments for WNC facilities. That was the case when Duke LifePoint acquired Haywood Regional Medical Center, Harris Regional Hospital and Swain Community Hospital in 2014. The deal came with Duke LifePoint's promise to invest $43 million in capital improvements at Harris and Swain and another $36 million in Haywood over eight years.
Another plus of a nonprofit health care system becoming for-profit is the additional property tax revenue local governments could collect from Mission facilities.
All those details have yet to be worked out. For more information and updates, visit www.missionhealthforward.org.