Archived News
Students talk safety: Jackson's high school students share insights
Wednesday, March 21, 2018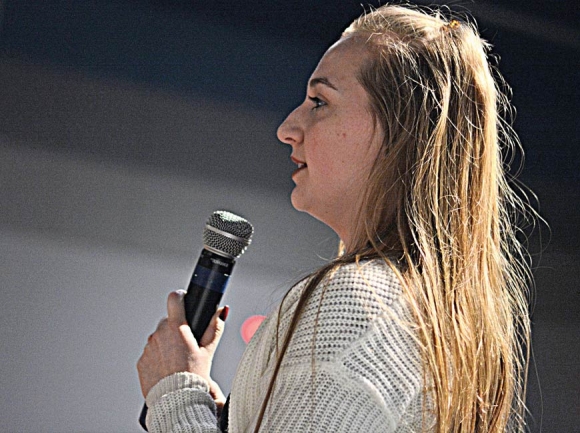 Gracie Ruebel addresses the Jackson County Board of Education in front of an audience at Smoky Mountain High School that included all five county commissioners. Holly Kays photo
Hours after students in schools across the nation walked out of their classrooms to protest gun violence in American schools, students leaders in Jackson County's high schools walked into the auditorium of Smoky Mountain High School to deliver their thoughts on the topic to a gathering that included the entire Board of Education and Board of County Commissioners.
"I think it's so important, because we are here in this school every day, and we know what's going on with our fellow students, so thank you for that," Smoky Mountain junior Holly Miller said to the elected officials in the room.
Students offered ideas ranging from buzz-in systems in all school buildings to increased mental health services to more education as to how to stay safe should an active shooter situation arise.
"I'm all for prevention, but you can prevent and prevent and prevent, and that's not going to stop every bad person from doing every bad thing," said Elizabeth Sellers, a senior at Jackson County Early College.
In her view, the new reality is that a school shooting is something that can happen anywhere, so Jackson County students should be prepared for that eventuality in starkly practical ways. And, while fire drills happen routinely, Sellers says she has not been involved in a lockdown drill since middle school.
"If there's an active shooter in your school, what do you do?" she asked. "For me that's the biggest fear, getting into that situation and having no idea how to handle it, what to do. What is the best way to protect yourself and those around you?"
Other Jackson County Early College students expressed concern over the size of their campus, saying that it's so small that, should someone with ill intent enter, there would be nowhere for anybody to hide.
More police officers in the schools are needed as well, the students said. Smoky Mountain and Blue Ridge School both have one officer apiece already, but the students said there should be two in each building. Smoky Mountain is a big building that also includes Catamount School, and Blue Ridge is actually two schools, containing an elementary school and a high school — Blue Ridge Early College — meaning that one officer can't truly cover the whole campus.
Improved counseling services were another big topic of conversation. Existing counselors at the schools are great, the students said, but there aren't enough of them. Their days are mostly filled with helping students navigate scholarship and college application processes, the students said, with little time left over to help kids deal with hard personal situations.
"Really there's no one saying, 'Here I am to talk to you about your problems,' or 'Here I am to discuss if you have an issue with bullying,'" said Abby Spiro, junior class president at Smoky Mountain. "If you have something that's going on in your life that you don't want to talk about with your parents, there's really no one to go to for that."
There is a counselor from Meridian Behavioral Health Services that comes on campus, she said, but seeing that person requires involving parents and insurance. Sometimes, that ends up prohibiting access, she said.
It's important for students to have help dealing with small problems before they snowball into big ones, added Maya Sterling, a student at the early college.
"Everything builds up and we don't know how to deal with it, and we wait until we're about to explode before we go to an adult to deal with our problems," she said.
From that standpoint, even doing better about advertising the counseling and mental health resources that are available could prove very important, said Gracie Ruebel, a junior at Smoky Mountain.
"I think it would really help and maybe bring kids out that weren't willing to speak and say what's on their minds," she said.
Professional development for teachers surrounding bullying — all the online channels kids use to do it and how to intervene — should also be a focus, said Madison Page, senior class president at Smoky Mountain.
"Teachers' words matter," she said. "You can make or break a student emotionally."
High school students aren't the only ones affected by recent tragedies, added Miranda Pavey, senior class vice president at Smoky Mountain. Her younger brother, a 12-year-old at Scotts Creek Elementary School, is just one of those younger kids who is scared to go to school due to tragedies like Parkland and Sandy Hook. Older students should be involved in reaching out to the lower grades, Pavey said.
"We feel like we would be able to relate to those kids on a level teachers may not be able to," said Pavey. "We want to encourage the administration to ease their fears so kids like my brother can go to school, know they're safe and that as a community we can do everything within our power to protect them."
The adults present were impressed with what the students had to say, assuring them that they were listening closely, taking careful notes and planning to implement these ideas as soon as possible.
"We're listening to you," said Ken Henke, school board chairman. "We're going to try to do as many different things as we can. Some may not be all at once. It may take a while with the help of our commissioners, who help us in terms of funding different things. I'm sure we'll come to a reasonable resolution on this."
School safety talks spur spending
School and county leaders have moved swiftly to address the school safety issue in the wake of the Parkland, Florida shooting, with the Jackson County boards of commissioners and education scheduling a joint meeting Thursday, March 15 — the day after the forum at Smoky Mountain High School — to discuss the issue.
After that initial discussion, they recessed the meeting to continue the following Monday, and when commissioners met for their regular meeting Monday night, they approved $560,000 in spending for new security cameras, safety-related architectural design and equipment for additional school resource officers.
"This is just one more area that we're trying to take care of so that parents can feel safe and our kids when they walk up and down the hall can feel safe," said Ken Henke, school board chairman.
With the funding approved, the school system can start work right away, said Superintendent Kim Elliott. They've already priced the equipment they plan to purchase, so once it's in hand they can begin installation.
Commissioners approved $133,000 for school resource officers through the end of the fiscal year in June. Of that, $98,000 will be for equipment such as police cars and uniforms, with the remaining $35,000 sufficient to fund three deputies through the end of the fiscal year. Funding those positions for a full year would cost $140,000, and commissioners are discussing ultimately adding more than just three positions.
The three new positions would allow one deputy to be stationed at each school in the Jackson County system, but adding four would mean that two could by stationed at Smoky Mountain High School. A juvenile detective position has also been discussed, as has a school resource officer for Summit Charter School in Cashiers.
Commissioners are also considering some significant capital outlay. During their March 19 meeting, they approved $400,000 to purchase security cameras and monitors for all nine schools, as well as $27,000 for architectural designs from Cort Architectural related to safety issues. Though no engineering work has yet been done on these proposals, the county currently estimates it would cost $741,000 to carry them out.
Funding for capital improvements will come from the county's School Capital Reserve. However, finding the money for recurring expenses like deputy positions could be more difficult. For fiscal year 2018-19, the school system is hoping for more than just deputy positions. They're asking for a director of safe and healthy schools position at $70,000 and $366,000 to hire seven additional school counselors. If fully funded, the request would total $692,890 in recurring expenses.
According to County Manager Don Adams, commissioners are discussing whether they should raise taxes to fund the request. An increase of 1 cent on the tax rate would bring in an extra $917,000 based on 2018-19 tax values.
"They didn't say they were going to raise taxes," Adams said. "They started discussing whether there was going to be a need."