Archived News
Beloved Man leaves behind lasting legacy
Wednesday, March 14, 2018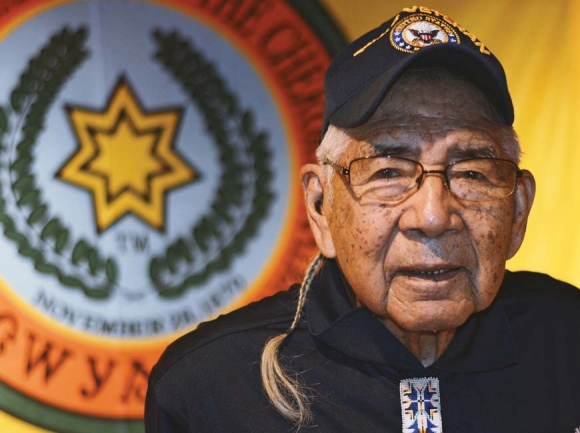 Jeremiah "Jerry" Wolfe, Eastern Band of Cherokee Indians' Beloved Man, passed away Monday at the age of 93.
Wolfe was a respected figure in the Cherokee Nation and was a regular fixture at important community events. For the last 18 years, he was a regular storyteller at the Museum of the Cherokee Indian.
Principal Chief Richard Sneed acknowledged Wolfe's many contributions to the community in a post on his Facebook page.
"Beyond all his public service he and his late wife Juanita raised a family and built a home and served faithfully in the church. For me, he was a friend and fellow veteran who was always quick with a smile and laugh, generous with his knowledge of our people and encouraging to me," Sneed wrote. "Our people have lost a connection to our traditions and the country has lost another of the greatest generation but I have lost a friend."
Growing up on the Qualla Boundary, Wolfe is from the Big Cove community where his family farmed a 500-acre piece of property. He attended the federally run Cherokee Boarding School where he was taught English and punished for using his native language.
Wolfe enlisted in the U.S. Navy when he was 18 — just two years after the bombing of Pearl Harbor. Stationed on the Queen Mary in the Atlantic, Wolfe watched from the ship as the infamous D-Day invasion unfolded before him. He was later aboard the USS Missouri on his way to Pearl Harbor when Japan signed its official declaration of peace there, ending the war.
Tribal Council named Wolfe a Beloved Man in 2013. It was the first time a Cherokee man had been given the title since the early 1800s, and it was a role he took seriously.
"A beloved man is a man who looks after the community — wherever he's needed, he should be there," Wolfe said during a 2016 interview with The Smoky Mountain News.
Just last summer, Wolfe's life of service to country and Cherokee culture earned him the state of North Carolina's highest award, the Order of the Long Leaf Pine. Wolfe has received multiple honors and recognitions over the years for his cultural contributions, winning the North Carolina Folk Heritage Award in 2003 and the Brown-Hudson Folklore Award from the N.C. Folklore Society in 2010.
The Museum of the Cherokee Indian will honor Wolfe's memory by holding a World Storytelling Day at 5 p.m. Tuesday, March 20. Community members will gather to share "stories, laughter and tales" and a video of Wolfe sharing his stories will be shown.