Archived News
Green Energy Park revival discussed; Plan would merge art, education and innovation
Wednesday, March 07, 2018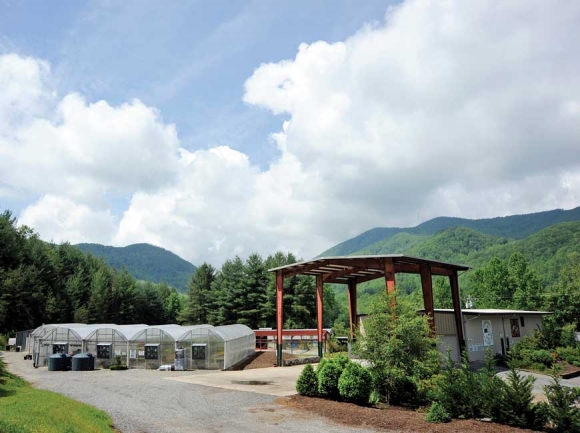 The Jackson County Green Energy Park has long been a topic of conversation in Jackson County — various boards of commissioners have debated whether it should be funded as much as it is, whether it should be funded more, whether it's due for upgrades and renovations and improvements — but a team from Western Carolina University unveiled a new concept for the property during a March 5 joint meeting of the Jackson County Commissioners and Dillsboro Board of Aldermen.
WCU — and in particular Acting Chancellor Alison Morrison-Shetlar — has been interested in using the property as a campus of sorts, a joint venture between the county and the university, said County Manager Don Adams. Last spring the county and WCU decided to contract with a pair of WCU business professors to conduct a study of the possibilities there.
"We really wanted to get a feel for the challenges that are going on currently, what's associated with it, how do people describe it," said Wendy Cagle, director of WCU's Small Business and Technology Development Center. "We asked 25 people to describe the Green Energy Park and we probably got 25 answers."
The Green Energy Park captures methane gas from the old landfill next door and uses that gas to fuel a series of artisan studios, making everything from blown glass to pottery.
"People who know about the Green Energy Park really had great things to say about the park, but a lot of people really didn't know," said Yue Hillon, an associate professor in WCU's College of Business who worked with Cagle on the study.
Through their research and interviews, a variety of ideas and concepts for the property emerged.
"The biggest idea in here was establishing an innovation and design center," Hillon said.
The center could feature a "maker's space," offering students and community members a place to create, combining art with engineering and design.
"This could be a living laboratory and design center for the county," said Arthur Salido, an associate professor of analytical chemistry at WCU. "This space would reflect the interaction of art and design with the school's business to advance contemporary Appalachian culture and regional innovation."
It would be used for college classes, but also for community outreach and K-12 education.
Adams said the agreement would likely work similarly to that between counties and community colleges — the county supplies the brick-and-mortar infrastructure and buildings, while the school takes care of staff, supplies, equipment, programming and other operational aspects.
However, Adams stressed, the proposal isn't just about one program or one building. The conversation is really about turning the property now housing the Green Energy Park into a true campus, with multiple, complementary uses housed right there. Reclaiming the capped landfill would be part of that endeavor.
A frontrunner idea right now would be to locate a new animal shelter on the property and use the reclaimed landfill area as a green space for a dog park and walking trails.
"The vision here is to stop thinking in terms of these are separate operations, because at the end of the day these are all county functions," said Adams.
But if they were all housed together, he said, the place could have a true campus feel, and the different organizations involved could benefit from what the others are trying to accomplish.
"The top choice for students to engage in service learning is with animals, so I can imagine that the service leadership group would have plenty of students that would love to volunteer to help with this animal rescue center," Cagle said.
The March 5 meeting was mostly informational, with the WCU professors presenting their vision and research for Dillsboro and Jackson County officials to absorb. Both groups will likely discuss the concept further before taking any action. However, Adams said, next steps — should the boards decide to move forward — would require the Dillsboro board making zoning changes to allow the suggested uses to take place on the property and Jackson commissioners authorizing Adams to move forward with hiring architects and engineers.
Should the boards decide quickly that they'd like to pursue this option, Adams said, it could be done within two years.
Deeper discussion is yet to come, but during Monday's meeting the leaders of both boards indicated that they're favorable to the idea.
"I think it's a win for everybody, and I'm excited about exploring the options and just to see how we can continue these ideas and go down the road of potentially working to bring something to reality," McMahan said.
"From our personal experience working with WCU — Wendy (Cagle) was there when we started years ago during the recession — they cover all the bases when there's things to think through," added Dillsboro Mayor Mike Fitzgerald. "They're always Johnny-on-the-Spot. They're wonderful people to work with."