Archived Outdoors
Working for the watershed: Clapp steps down after 14 years as WATR's director
Wednesday, February 28, 2018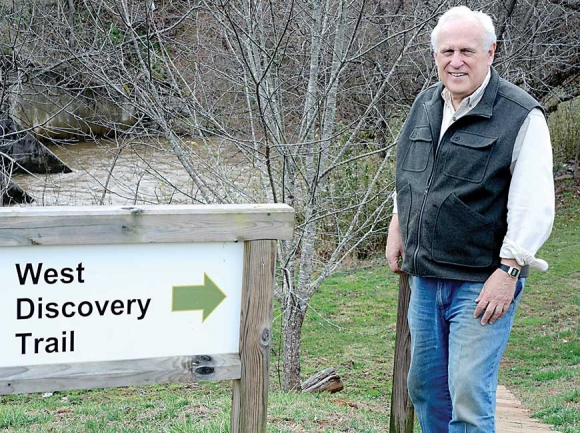 The Discovery Trails at Monteith Farmstead and Community Park are designed to take users on a tour of the plants, animals and ecology that make the place tick.
It's been nearly four decades since Roger Clapp, then a math and science teacher for a middle school in Virginia, saw his life change course.
"Earth Day happened, and it caught my imagination," Clapp recalled.
He started going to night school, taking classes in geology and other science-related topics, eventually making the decision to enroll in graduate school. In 1983, he graduated with a Ph.D. in environmental science and hydrology, getting a job with the Oak Ridge National Laboratory in Tennessee to examine the movement of radioactive substances through watersheds. From there, Clapp started a consulting business and ended up moving to Western North Carolina to be closer to his business partner, a member of the Eastern Band of Cherokee Indians.
That's when Clapp began working with the Watershed Association of the Tuckasegee River, then a fledgling organization just beginning the work of expanding education and volunteerism to support clean waterways in Jackson County.
"I started as a volunteer, and we were looking for a new executive director in 2003 or 2004," Clapp said. "We interviewed a couple of people, and I finally said, 'I think I could do this job.' And they turned around and interviewed me."
Clapp got the position, and since 2004 he's become well known around the region as WATR's educator-in-chief, sampler-in-chief and many-other-things-in-chief. But at the close of 2017, Clapp stepped down after more than 14 years at the helm, opening a new chapter in the organization's future.
"It's important that we get some new talent in," said Clapp, 72. "I love doing it — I'd do it forever if I were younger."
Whack-A-Mole in the water
There was a time, not so long ago, when splashing around in Tuckasegee River tributaries like Scott Creek — which flows through Sylva and Dillsboro on its way to the river's main branch — could result in serious sickness.
Back in the early 2000s, testing at Scott Creek showed astronomically high levels of fecal coliform, organisms found in the digestive tracts of humans and other animals that can indicate the presence of dangerous bacteria such as E. coli. In 2005, five samples taken by the N.C. Department of Environmental Quality — then known as the Department of Environment and Natural Resources — yielded an average nine times the level considered safe.
"We've worked with the Division of Water Quality and identified a couple of sources. One was a clogged sewer drain here in Scott Creek not far from here, kind of back up on that hill, and then a faulty septic system," said Clapp, gesturing to the locations in question from his perch in the pavilion at Dillsboro's Monteith Farmstead and Community Park. "Those were both fixed, and the numbers came down to acceptable levels."
A similar fix improved levels on Savannah Creek, also a Tuckasegee River tributary, with WATR identifying an abandoned house along the creek that had a malfunctioning septic system. The septic system was cleaned up, and contamination plummeted.
However, both Savannah and Scott creeks remain on the federal 303d list of contaminated waterways. They've been on the list since 2008, with the last official sampling in 2014 showing fecal coliform levels outside of the safe limit of 200 colonies per 100 milliliters according to the DEQ website. It's a bit like a game of Whack-A-Mole, with another source of contamination popping up just as another one is knocked down.
While water quality has been improving overall, it's not yet at the optimal level. Measurements taken last summer yielded levels over the 200 limit. However, when Clapp paused the interview to take a call notifying him of preliminary results from a recent sampling effort — WATR volunteers and N.C. Department of Water Quality staff joined forces to execute it — he was pleased to learn that the numbers had clocked in well below the safe limit, with 67 colonies per 100 milliliters in Savannah Creek and 28 colonies per 100 milliliters in Scott Creek.
"Very low," he said. "I'm not surprised with the high water."
With lots of volume surging into the waterways as a result of recent rains, the concentration of bacteria had thinned out, resulting in lower readings — during summertime periods of low water, the levels can be much higher. Temperature also makes a difference. Fecal coliform are bacteria that thrive best in the guts of living animals, so in the wintertime levels tend to be low. In the summer, WATR volunteers will measure once more.
If those measurements also come back below the safe limit, then WATR can ask DEQ to come out and take an official measurement, the results of which could have the power to take the creeks off the 303d list — or keep them on.
"We don't know what the picture looks like now," Clapp said.
Fecal coliform isn't the only contaminant that threatens the Tuckasegee River watershed. Sediment is the other major culprit — dirt and other debris that washes into the stream via erosion, making the water muddy and cloudy. Sediment flares up during rain events, meaning Scott Creek was flowing fast and brown during the interview with Clapp, held at Monteith Park in the midst of a string of rainy days.
"I can't really point to an erosion problem that has really been solved," Clapp said. "The mud in the river is the biggest longstanding problem."
Mud's vice is that it blocks light, keeping aquatic plants and animals that depend on underwater sunlight and visibility from thriving like they would in a clearer stream. The term for the level of sediment in the water is "turbidity," and for trout an optimal stream will have a turbidity level of 20 or below. While they can live for a while in a much muddier creek, a stream that is muddy more often than not will likely find itself without trout at some point.
Clapp took advantage of the interview's location at Monteith Park to draw a quick turbidity sample from Scott Creek, resulting in a reading of about 74.
"That's muddy, but at its peak it was probably a few hundred when the water was highest," he said.
A world where toes are visible
WATR and water health in the Tuckasegee watershed have come a long way during Clapp's time as executive director, and as he reflects on his 14 years with the organization, there's plenty to be proud of.
In addition to hands-on work like water sampling and litter cleanup — WATR volunteers have removed literally tons of trash over the years — the organization is heavy on education efforts.
WATR offers training for construction people, educating them on best management practices for erosion control so that they can carry out state-required measures in a way that actually has a real impact.
"There's a world of difference between a silt fence that's really installed properly and one that's in place only to meet the construction plan," Clapp explained.
The organization works with youth as well, holding an annual Cherokee fish harvest event at a weir that's still in place out by Webster, and centering a variety of education efforts at Monteith Park. Clapp hopes to see those offerings ramp up in the year ahead.
"I think that setting up this park and putting up the signs and teaching stream ecology and stream stewardship is easily one of our biggest accomplishments," Clapp said.
Completed in 2012, Monteith Park is operated by the town of Dillsboro, its creation a collaborative effort spearheaded by WATR. It features a pavilion and three different discovery trails along Scott Creek, with educational signage along the way telling visitors how the ecosystem works and helping them to identify the various types of plants and animals they might find there.
"The problems arise with neglect and ignorance, leaving us with trash on the banks, significant mud in the creek and health problems, and the only way it's going to be solved, really, is by people taking control," Clapp said. "It's not going to be solved by government agencies and regulations."
That's why education is so important, he said. Teaching people why their waterways are important, what they can do to keep them healthy and instilling a love for the breathtaking natural environment that makes Western North Carolina unique is a vital step toward preserving the watershed's future.
While Clapp will be stepping down as executive director, he won't be leaving WATR — his new title is "volunteer scientist emeritus."
"I love it because nobody knows what it does," he laughed, "but the main thing is I'm a volunteer, and I've amassed a lot of knowledge I like to share and stories I like to tell people about their watershed."
Clapp's departure will usher in a new era for WATR as it works to find a new executive director, and Clapp hopes to see that future hold a renewed and vigorous volunteer force of people who are excited about the Tuckasegee River and will work to keep it clean.
"The goal I tell people is, I want streams where kids can wade in the water, see their toes and come home healthy," he said.