Archived News
'On all of our minds': Jackson County leaders plan to prevent school violence
Wednesday, February 28, 2018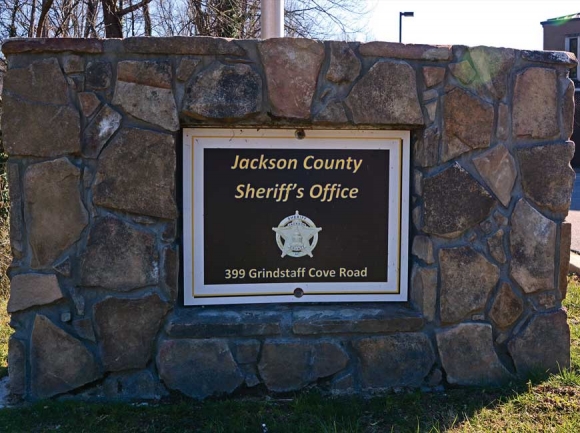 The nine schools in the Jackson County Public Schools system have four school resource officers and one DARE officer between them. The Sheriff's Department has applied for a grant requesting four additional resource officers. Holly Kays photo
When a teenage shooter shattered an otherwise normal day in Parkland, Florida, with gunfire and bloodshed, the ripples of fear and tragedy didn't stop at the boundaries of the previously low-profile town. They spread throughout the country, ricocheting through the halls of far-away schools, homes and government buildings filled with folks asking themselves the same question — how can we make sure this doesn't happen here?
Jackson County is no exception, with the issue of school safety making an unscheduled appearance on the agenda of a retreat county commissioners held on Feb. 20, less than a week after the shooting.
"While we're on schools, I know this is something fresh on all of our minds right now, but do we anticipate anything on the security increase due to what just happened in Florida?" asked Commissioner Charles Elders in the midst of a discussion on school finances.
"We need to make it a priority," agreed Chairman Brian McMahan. "If there's some things on that list (of security projects) that need to be done and need to be done right now, we pull the money out and we pay for it to make sure we send the message that we put our kids as priority."
The discussion concluded with a decision to plan a joint work session with school leaders and law enforcement personnel. That meeting will take place in mid-March — date to be determined — and work is already underway to ensure that Jackson County's schools are as safe as possible going forward.
"Be assured that school safety will continue to be our number one priority," wrote Jackson County Public Schools Superintendent Kim Elliott, Ph.D., in a press release published Monday. "JCPS is committed to addressing this issue in a comprehensive manner that includes prevention, mitigation and response."
Back in 2014, Jackson County completed a safety analysis of its schools based on a walk-through by the Jackson County Sheriff's Department SWAT Team, the Jackson County Emergency Management Department, Jackson Schools staff and a safety consultant from the N.C. Department of Public Instruction.
"They made some changes after that, but they're looking at them again," County Manager Don Adams told commissioners during the retreat.
"Some of these schools are just real unsafe in our county," said Commissioner Boyce Deitz, listing various buildings with multiple, unsecured entrances that somebody could slip into, unseen.
Elliott's plan for preventing violence in schools includes reviewing a variety of safety plans and continuing existing practices such as conducting drills and building relationships with students. She also wants to expand mental health and counseling services, improve the security camera system and teach students to tell an adult if they see something concerning.
While Elliott said that prevention is the primary goal, her plan also calls for preparations to mitigate and respond to any violent event that may happen. Mitigation may involve buying more cameras, better controlling and restricting access to campus and increasing the presence of law enforcement on school property. On the response end, partnerships with law enforcement, emergency services and counseling will be key.
"We currently have four resource officers and a DARE officer on our campuses," Elliott said in the press release. "Sheriff Chip Hall and Major Shannon Queen have requested grant funding for four additional officers three weeks ago. In light of recent events, Jackson County deputies have increased patrols and walkthroughs at all nine of our schools."
However, during the Feb. 20 retreat Adams suggested that commissioners also consider hiring a consultant to dig into the safety question.
"There's got to be resources out there that will provide assistance to the school system to help pull together the needs. None of us in this room are safety experts," he said. "It is a reasonable discussion to start talking about do we have the appropriate resources to help us determine these needs."
The discussion in Jackson County is taking place alongside a larger, statewide discussion following N.C. House of Representatives Speaker Tim Moore's (R-Cleveland) announcement Feb. 20 of appointments to the new House Select Committee on School Safety. The members come from the fields of education, law enforcement and mental health and will be tasked with examining safety standards and procedures in North Carolina's K-12 schools.
"Kids are scared, parents are scared, and I think we need to make sure we do everything we can," McMahan said.
Elders concurred.
"We are scared," he said.
The safety plan
Jackson County leaders are at the beginning of a discussion about how to make public schools safer, but they're not starting from scratch. Multiple safety plans and precautions exist already.
• All nine schools have a safety plan recognized by North Carolina state agencies.
• School staff receives crisis response training for natural disasters, intruders, active shooters and other potential threats.
• Four school resource officers and a DARE officer are present between the nine schools. The Jackson County Sheriff's Department requested grant funding for four additional officers three weeks ago, before the Florida shooting.
• Following the Florida shooting, law enforcement officers have increased patrols and walkthroughs at all nine schools.
However, there is room for improvement — with planning, but also with security measures. Considerations going forward could include restricting the number of entry and exit points in school buildings, upgrading security camera equipment and increasing the presence of law enforcement on school campuses.