Archived News
Homeless shelter question looms in Jackson
Wednesday, February 28, 2018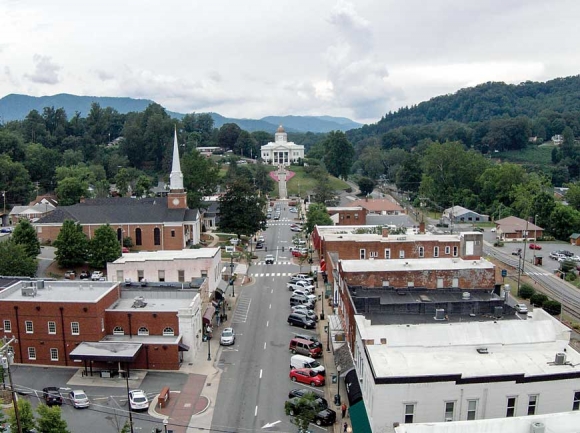 Downtown Sylva. Margaret Hester photo
As a startlingly cold winter lapses into a startlingly early spring, Jackson County leaders are pondering a question they've been struggling to answer for several years now: What is the best way to serve Jackson County's homeless population?
A loose band of volunteers known as Jackson Neighbors in Need began operating a winter-only shelter for Jackson County's homeless in 2010, housing clients in rooms at willing motels. But over the years, the need has grown — causing homeless advocates to postulate that a year-round, brick-and-mortar shelter might now be necessary.
County commissioners have been willing to have that discussion, appointing a task force in April of last year charged with researching the pros and cons of different approaches to serving the homeless. The task force concluded its work around the end of the year, with member Marilyn Chamberlain of the Southwestern Child Development Commission — which took over shelter management from Neighbors in Need in February 2017 — presenting commissioners with the resulting report during a Jan. 16 work session.
There are three main options when it comes to shelter models, she said, but each contains countless sub-options that will take some doing to sift through.
Sorting through the options
The shelters the task force evaluated when doing its research fell into three basic categories: the hotel model, which is what Jackson County currently uses; the brick-and-mortar model, in which clients are housed in a dedicated, dorm-style shelter building; or the hybrid model, in which most clients stay in a shelter building but those who can't be safely housed with the general population — sex offenders, for instance — are sent to a hotel.
The task force assigned an estimated annual cost for each model, with the cheapest being the hotel model at $241,000 and the most expensive being the hybrid model at $368,000. Estimates did not include the cost of constructing a building or purchasing furnishings.
Before any decisions are made or action taken, commissioners have a long list of questions to answer. For instance, who will the shelter serve? Adults only? Or adults with children, too? What about people with criminal histories, particularly those registered as sex offenders? What will be the drug and alcohol policy? And who qualifies as homeless? Is it just people who are living somewhere not meant for human habitation, like a car or a roadside, or are transient people who have been staying with a rotating cast of friends and family included as well? And what about people who have an address but aren't living there due to violence in the home?
To help commissioners sort through some of these issues, the task force researched best practices and conducted a survey of costs, policies and procedures at shelters in North Carolina counties similar to Jackson County. At first, the task force was looking for shelters housed in other Tier 1 counties, a state designation assigned to counties judged to be the most economically distressed.
"We found that the majority of counties that are our size did not have any shelter whatsoever," Chamberlain told commissioners. "Then we had to go to the next level up, and we selected the counties that are closest to us."
By including shelters in Western North Carolina Tier 2 counties, the task force upped its list of comparison shelters from five to 11. From there, some clear trends emerged.
"Most of the shelters are open all year round," Chamberlain said. "We did not have a single hotel model other than ours. Most of them were brick-and-mortar shelters. There were a few that had hotel vouchers in addition to their brick-and-mortar. If they served, say, single men and women they may have vouchers for families in hotels, or if they look at background checks they may have hotel vouchers for sex offenders, convicted felons."
The majority of shelters surveyed did not receive state or federal funding, and none of them were run solely by a government entity. Half were linked to religious organizations and half were linked to general nonprofits.
The task force didn't make any recommendations as to which model Jackson County should pursue — that wasn't the job it was charged with — but Chamberlain told commissioners that committee members felt "overwhelmingly" that the shelter should operate 24 hours a day, seven days a week, and that while they didn't want to see the building closed to residents during the day as is the case at Haywood Pathways Center, they did want residents required to complete certain activities, such as going to classes or looking for a job.
"The next debate in the decision really is going to be these nuances," said County Manager Don Adams as Chamberlain gave her presentation. "What type of shelter model, and then do we do a true low-barrier (entry) or do we do a combination? What's right for Jackson County?"
An ongoing discussion
Commissioners had a lot to think about coming out of that meeting, and the question is still far from resolved.
"I would think that we'll be having a lot of discussions about it, and it will be the topic of future work sessions," said Commission Chairman Brian McMahan. "And probably we'll look to put together some kind of committee that might be comprised of other elected leaders, members of the faith community, representatives of the faith community, other nonprofit organizations in our community to look at this as a complete picture."
Other commissioners seem to agree that this would be a logical next step. As the task force found in its research, homeless shelters are almost never run solely through a government entity, especially when the entity in question is the government of a county Jackson's size. So, partnerships will be key.
"I would love to see us be able to partner with somebody," said Commissioner Mickey Luker. "I don't know who that would be. I don't know whether it's the situation we've got right now, or is there a church group? I think there's a lot of unanswered questions there, but I'd definitely like to see us at a minimum partner with somebody to make it a reality."
"The more people you have involved, the better it can be, because people's got some stake in it," agreed Commissioner Boyce Deitz.
He added that partnership could prove a better financial decision, too, because different types of groups can draw from different types of funding streams and apply for different grants. A partnership approach could result in stronger financial support for the homeless shelter. However, McMahan added, it's clear that the county has been leading the discussion thus far, so it's likely to continue playing a major role in any resulting initiative.
But the question remains: what should the homeless shelter look like? Hotel, brick-and-mortar, or hybrid?
Different commissioners have different takes on that question, at least as of now. There is still plenty of thought and discussion to come before any decision is made.
Commissioners Charles Elders and Ron Mau both said they're not yet leaning one way or another when it comes to which model would be best. "We have to do something, but what is going to be the best way to go about it?" Mau asked.
"The main thing for the rest of this season, during the winter season, we've got to make sure we have the money for whatever is necessary," Elders said. "We can't let people be on the street and freeze to death."
McMahan, meanwhile, had a stronger opinion on the way forward coming out of January's work session.
"If we're going to be looking at being able to meet the needs of a broad range of that population and don't exclude anybody, then I think we have to look at the hybrid model," McMahan said.
The hotel model, currently in use, has been revealed to have a variety of shortcomings in meeting the need. But using a brick-and-mortar shelter would limit the types of people who could be served, as there are safety issues in housing various groups of people of different ages and battling different issues in the same space. The hybrid model would allow most people to be housed in a brick-and-mortar shelter but would provide hotel rooms for those not able to be admitted to the shelter. The model is the most inclusive, but also the most expensive.
Luker said he'd like to at least see some type of brick-and-mortar shelter, and Deitz wondered whether it might be possible to get the benefits of a hotel and brick-and-mortar shelter in one building by putting the shelter in an abandoned motel.
"It would be great if we could find something like that that was going out of use that we could buy and put in use," Deitz said.
However, the commissioners all acknowledge that what they think is only part of the equation. If the effort is to be successful, it will require input and buy-in from groups across the county, especially because a dedicated brick-and-mortar homeless shelter would be so much more visible and permanent a fixture in the community than the temporarily rented hotel rooms used now.
"It would be something we just need to make sure that our community is ready and willing to embrace and accept and support, so that's going to be important," McMahan said. "It's going to be important to do it in the right way and have the right people involved to make sure that this whole concept is done in a way that has broad-based support from the community. That is key in my opinion."
As far as timeline, it's not something that will happen overnight. Commissioners last discussed the issue in January, and no work session has yet been scheduled to follow up. The county is currently in the midst of planning for the 2018-19 budget cycle — the next couple months will determine whether any change will happen in time for next winter.
"I would like to see us be on track to have some kind of plan in place to where we're looking short-term, long-term, and possibly through this next budget cycle it might be that we continue to fund the motel model as it is until we can identify locations and options and factor those costs into a budget process," McMahan said. "I think this will be ongoing for several months and will span the rest of the year."
"I guess we got a lot of questions," Deitz added. "We have so many questions and so many options right now it's not hardly even appropriate to try to say we got an answer."
The recommendations
Though the Jackson County Homeless Shelter Task Force didn't offer a recommendation as to which homeless shelter model the county should pursue, it did agree on several best practices for any future homeless shelter to abide by.
The shelter should be open 24 hours a day, seven days a week, year-round. Residents shouldn't be turned outside each day but should be required to complete activities toward the goal of achieving housing stability.
The length of stay should be 30 days with re-evaluation on a case-by-case basis.
The shelter should serve individuals and families who are living in a place not meant for human habitation, in an emergency shelter, in transitional housing, or are exiting an institution where they had lived for 90 days or more after living in a shelter or place not meant for human habitation. It should also serve people who are losing their primary nighttime residence within 14 days.
Unaccompanied children 17 and under should be referred or relocated to a program specializing in children, and not housed in the shelter. Children accompanied by an adult can be housed in the shelter.
Shelter should be offered to all, regardless of gender or family status.
Criminal background checks should be used to identify behaviors that put others at risk, with alternative shelter offered to those possessing such behaviors.
Drug tests should be used when use is suspected. People who continue to use drugs and can't move toward housing stability will need to leave the shelter.
The full report is available online at www.jacksonnc.org/PDF/work-session/january-16/attachment-1.pdf.