Archived News
Zoning fight, criminal indictments loom for Nudge City
Tuesday, January 30, 2018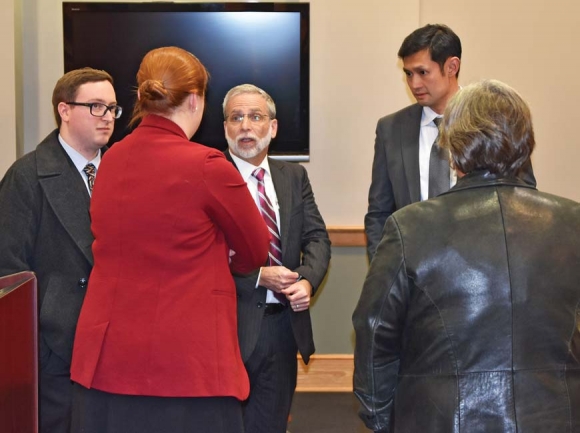 Attorneys (left to right) Adam Melrose, Martha Bradley, Mark Melrose and Jonathan Song speak with Waynesville Development Services Director Elizabeth Teague at a meeting Jan. 24. Cory Vaillancourt photo
Local business owner Tami Nicholson was indicted Jan. 8 for illegally operating video gaming machines after police raided her Waynesville Plaza business last April, but it hasn't stopped her from continuing a similar operation in a different location.
Nicholson posted a secured bond Jan. 20 in the amount of $50,000, but Assistant District Attorney Jeff Jones filed a motion Jan. 26 to revoke or modify Nicholson's bond, stating that "… since the bond was posted, law enforcement has informed the undersigned that Defendant continues to operate and allow to be operated numerous video gaming machines … in violation of the law … at a new location in the town of Waynesville as opposed to the location which is the subject matter of these charges."
That new location? Nudge City, on Dellwood City Road.
Jones' motion further says that Nicholson should have known that "video gaming machines are illegal" due to her role as an informant in a Waynesville Police Department investigation that resulted in the 2015 conviction of Scott Lee Crosby on eight gambling machine-related felonies.
The motion asks that the court order the revocation of Nicholson's bond, or, "in the alternative, order Defendant to not operate, allow to be operated, place in operation, and/or possess with the intent to place into operation … video gaming machines during pendency of the above-captioned criminal action."
Nicholson's attorney Jonathan Song and Jones appeared before Superior Court Judge Brad Letts to argue the matter Jan. 29, but because a witness was unavailable, the hearing was postponed three days to Feb. 1.
"What the public may not know is that my client hires numerous locals as employees and she has spent upwards of $100,000 of her own money to renovate a piece of property close to downtown that looked like it should've been condemned a long time ago," Song said. "I feel that the sequence of events since the zoning issue came up has been questionable, to say the least. It's clear that despite her contributions to this community, she's being made to feel very unwelcome by the Town of Waynesville."
Last summer, her Nudge City video gaming parlor opened on Dellwood City Road in Waynesville, offering the peculiar brand of gaming presumably permissible under ever-evolving state gaming statutes.
The Town of Waynesville maintained that the business should have never been allowed to open in the first place, due to local zoning restrictions, but at no point did the discussion broach the complicated legal and moral issue of gaming in North Carolina.
That November, the town passed a text amendment to land development standards that in the future will relegate such businesses to Regional Center districts like the Russ Avenue corridor and the Walmart area in Hazelwood.
Still remaining, though, was the issue of Nudge City's Dellwood City Road establishment, which Waynesville Development Services Director Elizabeth Teague and the town contend is operating illegally.
"They had an occupancy inspection, but they did not get to zoning compliance," Teague said Jan. 23. "They felt like they had been given town approval, and our feeling is that the use they have there is not allowed by zoning, so therefore they can't occupy that building."
Hearing postponed
Nicholson's attorneys had planned to make their case before the Waynesville Zoning Board of Appeals on Jan. 24 but never got the chance.
ZBA member Stephanie Strickland had to recuse herself due to a familial connection to the property, while Chairman Neal Ensley and board member John Gisler were absent. Board alternate Joshua Morgan was present when Vice Chairman David Felmet opened the meeting with just three members.
Although the trio constituted a quorum, Felmet said that three votes would be needed for any action — a sketchy proposition both for the town and for Nudge — so Mark Melrose, an attorney for the appellant, asked the city to reschedule the appeal.
Martha Bradley, filling in for Waynesville Town Attorney Bill Cannon, agreed to what in court parlance would be called a continuance, but Open Meetings Laws call a recessed meeting.
"We're sorry that you assembled here today," Felmet told the 25 people who'd showed up for the meeting. "But the attorneys and everybody have got their heads together and decided that the better part of valor is to continue this until you can get more people up here."
According to state open meeting laws, if the town had cancelled the meeting and called a new one, it would have had to start from scratch in terms of serving adequate notice of the new meeting to the public.
With zoning matters like this one, adequate notice requirements are a bit more stringent than with meetings held by other public bodies, as they require letters to be sent to nearby property owners, publication of the notice in a newspaper — twice over two weeks — and the placement of signs on the property itself in question.
Rather than go through a time-consuming re-notification process, the zoning board of adjustments in essence opened the hearing and then immediately went into recess while announcing that the appeal would be heard during its next regular meeting on Feb. 6.
"This will be better for the community if more people are involved," Teague said.