Archived News
Jackson will combine health and social services departments
Tuesday, January 30, 2018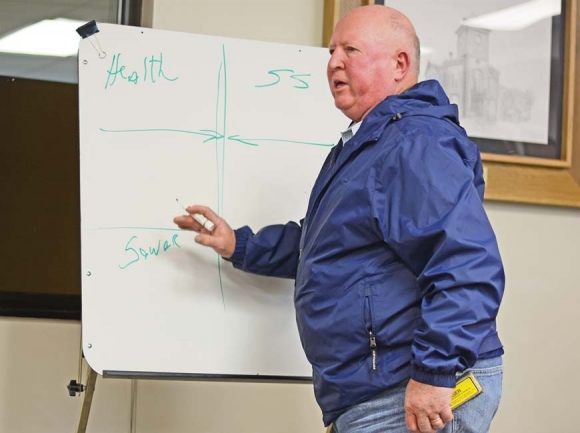 Commissioner Boyce Deitz explains his vehement opposition to consolidation. Holly Kays photo
In a party-line vote that came after a lengthy and impassioned public hearing, the Jackson County Commissioners voted Jan. 29 to merge the county's health and social services departments into a single consolidated human services agency.
"From time to time I'd like to refer back to my childhood and being very active in the 4-H Club," Commissioner Mickey Luker, a proponent of consolidation, said following the vote. "The 4-H Club motto was 'I pledge to make the best better.' We have a good thing going with both (departments), but my pledge is let's make all of that better in the near future."
In interviews before the Jan. 29 meeting, the commissioners favoring consolidation — Ron Mau, Charles Elders and Luker, all Republican — said that they saw the move as a chance to streamline the chain of command, improve communication between agencies that often see a similar list of clients and possibly reduce costs for back-end functions like finance and IT. All took care to express that nothing was seriously wrong in the departments or the boards governing them — they simply felt that consolidation would offer the chance to, as Luker put it, "make the best better."
Concerns from the public
Such sentiment was completely absent from the public hearing that preceded the vote. The commissioners' boardroom was packed with about 60 people that evening, with 11 of them offering comment during a public hearing that ran for roughly 40 minutes. Not a single comment was offered in favor of consolidation.
"The first meeting of the Jackson County Board of Social Services was held in 1937," said Bob Cochran, who retired in 2016 as DSS director after 20 years with the department. "The law governing social services — called public welfare back then — was designed especially to protect and insulate the provision of services from undue personal or political influence.
"I'm very concerned that changes to this structure could result in the ability of county commissioners, through pressure on the county manager — not only now but in future years to come — to exercise political or personal influence on our human services organizations, organizations that should be guided solely by their mission, the law and by professional standards."
Consolidation was made possible by a 2012 law giving counties the option of combining two or more human services departments into a single entity. So far, about one-third of North Carolina counties have taken advantage of this option, and when Luker and Mau were elected in 2016 their campaign included a desire to explore consolidation. In March 2017, commissioners held a joint meeting with the health and social services boards to hear representatives from the University of North Carolina School of Government present the issue. Then, during a special-called meeting in November 2017, they voted 3-2 to pursue consolidation.
Comments delivered Jan. 29 included repeated concerns that a board charged with overseeing both DSS and public health functions would be hard-pressed to carry out both responsibilities adequately.
"If I had a friend, if I had a family member — or even somebody I did not like — I would never recommend that they serve on a board that had to have the comprehensive knowledge of both the Health Department and the Department of Social Services," said Carol Ann Cope, who worked in DSS for 30 years before retiring. "Me knowing what it requires for the DSS department, that's asking too much."
Both departments are charged with carrying out a heavy and complex set of responsibilities, and there can be legal implications for failing to do so correctly, Cope said — putting such a monumental task in the hands of a volunteer board could expose the county and its board members to liability.
"In the event of consolidation, the learning curve would be doubled for board members," agreed Delos Monteith, chair of the DSS board. "The health and DSS departments may share clients — their programs are vastly different and board members would be challenged to maintain the in-depth knowledge they now have to have in their respective agencies."
Health board member Jerry DeWeese, meanwhile, took a different tack, expressing his belief that commissioners had already made up their minds and instead offering a strategy for the county to pursue co-locating the health and DSS functions after consolidation. The departments are currently located across town from each other.
Steven Anthenson, a Jackson County resident and volunteer guardian ad litem with more than 40 years of experience in human services, posed a series of questions to commissioners as to the actual cost-benefit of combining the agencies. Hiring a new manager to oversee the existing department heads would certainly be a cost, he said, if the county goes that route. Or, if commissioners decide to promote one department head to oversee the other, dissatisfaction and resulting turnover is a possible cost.
"Presumably in a rational world, one would only initiate change when the resultant benefits significantly outweigh the costs," he said. "It doesn't appear that such an analysis was conducted."
The department heads of the social services and health departments spoke as well, expressing their opposition to consolidation at this time and offering a variety of suggestions as to how they could work to achieve some of the hoped-for benefits without actually consolidating.
DSS Director Jennifer Abshire suggested that she and Health Director Shelley Carraway schedule regular meetings with the county manager to receive regular input on improving the departments. The two departments could also form a leadership team to help them work together to better meet client needs. Abshire invited commissioners to appoint one of their members to the DSS board — while the health board has long had a commissioner at the table, the DSS board has not. Finally, Abshire cautioned, some of the hoped-for cost savings might not transpire. Both departments need all the IT people currently in place, she said, and the complex nature of the budgets necessitates that they maintain their separate fiscal officers.
"Please remember that we have two departments that work well together, that are representative of the county leadership and public," she said. "We both have engaged and effective boards. We just ask that you not consolidate at this time."
Carraway offered her support to Abshire's comments, saying that if commissioners wanted to improve communication between the two departments co-location should be a higher priority than consolidation. She gave several examples of ways in which the two departments already collaborate to better meet client needs.
"We recently reached out to DSS to help increase our WIC referrals," she said. "In response DSS created a referral program to help refer their clients to WIC. It worked. We kept our case load up in WIC when most other counties are seeing a decline."
As a result, she said, Jackson County will see an increase in WIC funding where other counties are getting cut.
Cullowhee resident Adam Bigelow, who had attended the meeting mainly to comment on proposed zoning changes in that community, was moved enough by the speakers to offer his two cents at the end of the public hearing.
"I don't see how you can actually take into account the input from the community and give it the time and weight that it deserves (if you vote today), probably taking less time than it took many of these people to come up with their comments," he said. "I ask that you table the vote this evening until you can look into some of the details and answer some of the questions proposed to you tonight."
The vote
When the consolidation vote came up on the agenda later that evening, McMahan echoed Bigelow's sentiment when he made a move to table the vote for a later date. He added that, while state laws setting up the existing boards allow for some "wiggle room" if board members meeting specific professional requirements can't be found, the ordinance outlining the composition of the consolidated board does no such thing.
"Given questions of that nature, which are fairly significant given that it determines who this board is, and the board has to be in place before we can operate, I would like to make a motion that we table this item until another time," McMahan said.
Deitz seconded the motion, offering comments in passionate support of those who attended the public hearing.
"Why do they have to beg and plead for us to do that for them?" he said of tabling. "I feel passionate about this. Durn right I feel passionate about this. There wasn't no politician that got up there and talked about this. All y'all were talking about the job that you do, and I agree 100 percent."
However, the motion to table failed, with Republican commissioners Elders, Mau and Luker voting against Democratic commissioners McMahan and Deitz.
Following the vote, Mau suggested that the board fill in the blank spot in the resolution stipulating when the boards should submit their nominations for members of the new consolidated board with the date May 1. He then moved to pass the resolution creating the consolidated department. Luker seconded the motion, and McMahan called for any discussion on the move.
"So we're going to get to discuss this some more?" asked Deitz.
"If you want to," said McMahan.
Deitz then got out of his chair and walked toward a whiteboard set up along the perimeter of the room, drawing a diagram of the consolidation plan.
"I've talked to these fellas trying to understand why it is we're doing this," Deitz said, then proceeding to list the reasons he'd been given — principally to make it easier to get sewer permits (Deitz said he failed to see what DSS has to do with sewer permitting) and to make sure that health department employees tell families about services available at social services (Deitz said he believed this was already happening).
"You can fool some of the people all the time and all the people some of the time, but we're not going to fool all the people all the time," he said to an enthusiastic round of applause from the audience.
Following his comments, the vote was taken without further discussion — Elders, Mau and Luker in favor, and McMahan and Deitz opposed.
While none of the commissioners who voted in favor made comments during the meeting as to why they took that position, in a press conference afterward Mau and Luker both referred to the statements they made for a story in the Jan. 24 issue of The Smoky Mountain News as the best summary.
"It's not a perfect start by any means, but it's going to take some time," Elders said. "Efficiency is a great idea. In other counties that I talked to it's working real good."
In a follow-up question as to why commissioners chose to take the vote right then rather than tabling the decision until next week's meeting, Mau said that his research for the vote included reading newspaper articles from the other counties that chose to consolidate it. In all instances he could find, the existing boards were opposed.
"It's very common and I get that. It's change, it's something different. That can be hard to adjust to," he said. However, he continued, he believes that the new system will be better.