Archived News
Community conversation focuses on homelessness in Haywood County
Wednesday, January 24, 2018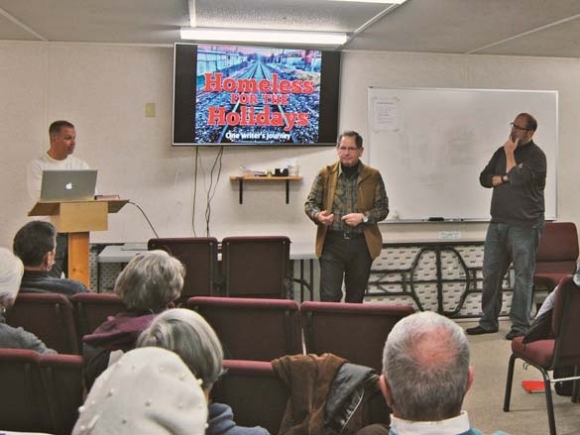 There's a road in Waynesville called the homeless highway. It runs from Frog Level to Hazelwood and during any given week, you'll see folks walking back and forth, back and forth, back and forth. The end points of this beaten path are The Open Door and Haywood Pathways Center, two establishments offering physical and spiritual nourishment to weary souls.
Years ago, Cory Vaillancourt — a Smoky Mountain News reporter — read the book Nickel and Dimed by Barbara Ehrenreich. As a form of immersion journalism, Ehrenreich goes undercover as a blue-collar individual trying to discern if it's possible to survive in America on a minimum-wage income. The results of her study were influential in terms of social and political policy for this population.
Similarly, Vaillancourt shed significant light on what it's like to be homeless in Haywood County when he went undercover this past Thanksgiving as a homeless person. He then wrote an article in The Smoky Mountain News sharing details of his experience.
From sleeping behind a building to registering at Haywood Pathways to walking all day along the county's railroad tracks, Vaillancourt was affected personally and journalistically by his time on the streets.
"It's a very difficult thing to walk up to another human being and ask for a handout," said Vaillancourt last Thursday as he and Rev. Chris Westmoreland of Long's Chapel facilitated a community conversation about homelessness in Haywood County.
The purpose of Thursday's community conversation at Long's Chapel was to continue the discussion initiated by Vaillancourt's journey and his subsequent piece in The Smoky Mountain News. The folks in the room risked icy weather and road conditions to attend, demonstrating their interest in this issue and willingness to thwart the county's homelessness from increasing.
During Vaillancourt's research for his article, it was found the county's faith community and the generosity of those within are largely responsible for assisting homeless individuals in Haywood County. During the community conversation, this point was highlighted several times. Along with the faith communities, the compassion of area law enforcement was also touched upon.
"Chief Bill Hollingsed and Sherriff Greg Christopher are both men of faith, and that permeates the law enforcement here in town and enhances all of our efforts," said Perry Hines, director of The Open Door soup kitchen.
Throughout the decades, law enforcement has been integral in assisting those in need. Vicki Gribble, a native of Waynesville, remembers efforts to battle homelessness from years ago.
"There's always been a desire in this community to help homeless people and families," said Gribble. "We've had other sheriffs who've said, 'No one in my town will freeze to death.'"
Perhaps it's the continued compassion of law enforcement, the fact that churches are now working in harmony, online media heightening awareness, or all of the above, but it seems the desire to help the homeless in Haywood County continually strengthens.
"The churches in this county are not in competition. We're all on the same page when it comes to helping homeless people," said Paul Ervin, director of Generous Living at Long's Chapel.
Three separate, influential entities attended Thursday's community meeting: The Open Door, Haywood Pathways and EACH (Ending Area Childhood Homelessness). EACH is a relatively new program where local churches, Long's Chapel being one of them, purchase or manage properties and offer them to homeless families. In turn, the families create a life plan, setting goals toward sustainability and self-sufficiency. The families are also given opportunities to give back to the community.
EACH was birthed from the need to help homeless families. Haywood Pathways can only accept individuals at this time, though they are working toward the construction of a dormitory that will house parents with children or families.
Paul Butler, director of EACH, said, "It's not the government's job to take care of the homeless. It's our responsibility as good people to take care of one another."
Comments during the community conversation highlighted that a solution to the homeless problem must be a combination of resources and education.
"Being homeless has a stigma attached to it," said Deb Isenberg, community liaison at Haywood Pathways, "but we've found there are a multitude of reasons why people become homeless. I think it's important we continue educating the public on the reasoning people arrive in this situation in the first place."
While recidivism seems to be improving because of organizations like The Open Door, Haywood Pathways and EACH, it's still an issue that has to be dealt with. Christopher saw this on a weekly basis as the same individuals came time and time again to the Haywood County jail, often merely to find a warm and safe place to sleep and eat.
Not only is this pattern detrimental to the rehabilitation of individuals, but it becomes a burden to public spending. It costs $75 to keep one inmate overnight in the county jail, all on the taxpayer's dime, while it only costs $36 at Pathways, all of which is funded by private or charitable sources. Recidivism is extremely costly.
Last Thursday's meeting showed that the faith community, law enforcement and everyday citizens are not OK with the homelessness problem as it stands, including the almost 400 children identified as being homeless under federal guidelines.
"There's a movement happening across Haywood County to combat these issues," said Westmoreland. "I love that I'm part of a community who knows it's not OK to have this many homeless people in our midst."