Archived News
Impact fees to change in Jackson
Wednesday, January 17, 2018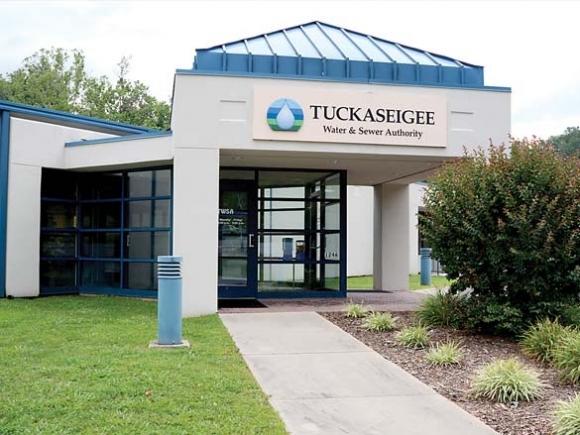 A state law passed in July 2017 will lead to changes in water and sewer fees across North Carolina this year. In Jackson County that change will come amid what has been an ongoing debate about the particular fee that the law targets — the impact fee.
House Bill 436 requires water and sewer utilities to follow a uniform process to decide how much, if anything, they should charge new users in up-front fees. The law requires utilities to hire an independent engineering or financial consultant to map out capital needs for the next 20 years and determine how much new users should be charged to provide for capital needs associated with system growth.
The law stems from a 2016 lawsuit that Quality Built Homes Incorporated and Stafford Land Company Inc. brought against the town of Carthage. The developers argued that the town had no authority to levy water and sewer impact fees and sought repayment of the $123,000 they had paid in fees, plus interest and attorney's fees. The court ultimately ruled in the developers' favor, prompting the legislature to address the issue with a new state statute.
"What is required under the new law is to differentiate between expense for new capacity versus expense for continuation of the existing system," explained Dan Harbaugh, executive director of the Tuckaseigee Water and Sewer Authority.
In completing the analysis, the law says, the contractor will determine the maximum amount that the utility can charge new users, and the utility will then set its fees within those parameters.
The impact fee issue
Under the new law, all such fees will be called "system development fees," a type of fee that is now known in Jackson County as the impact fee. Impact fees are upfront charges that the Tuckaseigee Water and Sewer Authority levies on new customers to offset the capital costs that come as a result of expanded water and sewer service. They're calculated based on the maximum amount of water and sewer that a user could possibly demand — the amount that user would require if, for example, all the toilets were flushing at the same time that all the sinks were running and the laundry was on rinse cycle as the dishwasher ran. Charges vary based on the type and size of the establishment requesting service.
"The whole idea behind impact fees, or any other name for a fee that's charged for a customer to tie on initially, is a means of generating capital revenue," said Dan Harbaugh, TWSA's executive director. "The reason that an upfront charge has been charged in the past by different entities is to say if you tie on, we have got to give up a certain amount of water capacity and a certain amount of sewer capacity from the existing system. The purpose of these upfront fees for new customers is to replace the capacity."
However, impact fees have come under fire in recent years, with some arguing that they prevent new businesses — especially water-heavy businesses such as restaurants — from opening in Jackson County. Perhaps the biggest opponent of impact fees is David Nester, a Sylva commissioner and member of the TWSA board.
"I think it (the impact fee) came out of a time when there was unprecedented growth in the county and it was an easy source to take advantage of. I don't think that model works anymore," Nestler said in a February 2017 interview with The Smoky Mountain News. "I think it's really hurting businesses and residences in the county."
Among TWSA board members, however, Nestler has been mostly alone in this view. His colleagues often point out that, should impact fees disappear, existing customers who have already paid their impact fees would suddenly find themselves with much higher rates to subsidize future users who would be exempt from impact fees. In 2015 TWSA adopted a new policy aimed at mitigating the prohibitive effect large impact fees can have on new businesses — customers can now rent allocation through a monthly payment rather than forking over thousands of dollars all at once.
The process
It remains to be seen what effect the new law might have on the magnitude up the upfront fee.
"We can't speculate one way or another, because we don't have the financial analysis done," Harbaugh said.
The financial analysis, to be completed by Asheville-based W.R. Martin, will look at the types of revenues TWSA receives and how much future repairs might cost. Meanwhile, the engineering analysis, to be completed by Asheville-based McGill Associates, P.A., will inventory the system and develop a capital improvements plan outlining when such projects will need to be addressed over the next 20 years. TWSA will pay a total of about $60,000 for the two consultants.
Maximum system development fees — the new name for impact fees — will then be calculated based on how much it will cost to address capital concerns associated with that increased demand. These fees will be charged based on "equivalent residential units," — ERUs for short — a unit that is supposed to reflect how much capacity a three-bedroom single-family home would require.
"If there was going to be a new grocery store built in Sylva, we would look at that grocery store and use the standards for determining how much wastewater would be used and convert that to ERUs," Harbaugh explained.
However, the devil's in the details. The state law gives no guidelines as to how an ERU should be calculated. It could be based on peak flow, like impact fees are now, a measure of the actual average consumption of that type of dwelling, or some other formula.
"The law doesn't get into the weeds on that, but it has to be a uniform consistent procedure," Harbaugh said.
Harbaugh said that, based on his calculations, it looks like the current impact fee rates are "not far off" from the actual cost of associated system expansion. But the financial analysis will be the final word on that, and if the new rates come in below the existing impact fees, the board may have to look at increasing or instituting other fees in order to make up any shortfall in needed revenue. The board could also choose to set the fees below the maximum recommended rate.
During a Jan. 9 TWSA meeting, Harbaugh told board members that the consultants have accomplished "99 percent of what's on the list."
"They're still digging deep to validate funding sources on projects, dates of various awards that we received," he said.
The consultants will present the board with their draft recommendations during a work session at 5:30 p.m. Tuesday, Feb. 13, and the board will also likely meet at some point the week beforehand to discuss the issue, Harbaugh said. The analysis will then go out for public comment, with a public hearing scheduled for Tuesday, April 17.
"Those timelines are really a hard timeline because we have to accomplish certain things under the law by a certain date to get through the public input process," Harbaugh said.
The consultants will be present at the public hearing and will incorporate that feedback into their final draft, and the TWSA board will vote on the proposal during its May 15 meeting. Those fees will then be incorporated into the 2018-2019 budget, scheduled for adoption June 19.
"The way the law is written, you as a board are meant to be insulated from the process," Harbaugh told the board Jan. 9.
The timeline
• July 20, 2017 — Law is passed requiring uniform process for setting system development fees in North Carolina.
• October 17, 2017 — Tuckaseigee Water and Sewer Authority awards consulting contracts for setting system development fees.
• Feb. 13 — Draft system development fee recommendations and supporting analysis to be presented.
• Feb. 21 — Advertising period begins for public comment on draft recommendations and analysis.
• April 17 — Public hearing to be held for draft analysis and recommended fees.
• May 15 — TWSA board to approve system development fee recommendations.
• May 31 — Proposed system development fees to be incorporated into draft budget.
• June 19 – 2018-2019 budget to be adopted.